Three "active travel hubs" at high schools in Stirling and Clackmannanshire will shut at the end of this month if future support is not confirmed by the end of this week, operator Forth Environment Link (FEL) has warned.
A total of 3,353 pupils have used the hubs at Bannockburn High School in Stirling, and Alloa Academy and Lornshill Academy in the Clackmannanshire town over the past year, including from their linked primary schools. Nearly 300 bikes have been provided for children who don't have them, along with cycle skills and maintenance classes.
FEL executive director Clara Walker said: "If our funding isn't confirmed by the end of this week, we will have no choice, but to close our high school hubs at the end of May.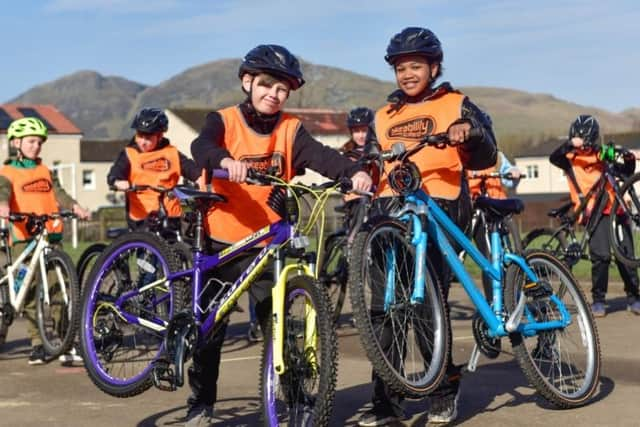 "The Scottish Government has set ambitious targets for active travel, which we wholly support, but delays in receiving funding are crippling charitable organisations like ours. We simply can't afford to run projects like this for free, but we know if we pull out, it will hit the kids who are benefiting from these hubs hard."
FEL active travel manager Shirley Paterson said: "The schools have told us that the hubs have been a complete game changer. They've had former school refusers turning up to school and making meaningful social connections with their peers."
A spokesperson for the Scottish Government's Transport Scotland agency said transport minister Kevin Stewart had met all "active travel delivery partners", including FEL, this week "to discuss the funding circumstances".
They said: "The scale of increase in the active travel budget has meant increasing scrutiny of programmes and, in some cases, potential changes in emphasis, which has meant that some programmes remain under review. This is to ensure that increased investment in active travel is used to maximum benefit.
"The Scottish Government has to deliver a balanced budget, and for 2023/24 the budget is fully allocated, while expecting to face significant in-year challenges across a wide range of spending areas. All departments are continuing to pursue opportunities to manage those pressures as effectively as possible given the challenging fiscal position."