Analysis: No surprises as Scotland's exam results take another step back towards pre-Covid normality
The SQA's 'generous' approach to grading could end next year
Exam results this year will have thrown up surprises for countless young learners, their families and their schools, but there would be few shocks for the officials who oversee the process.
Bosses at the Scottish Qualifications Authority (SQA) vehemently insist they do not discuss the overall level of pass rate they would like to see before a single candidate has sat an exam, but most observers expected what emerged on Tuesday.
It has seemed clear for a long time that pass rates were likely to fall compared to last year, but remain above levels recorded in 2019, the last year before Covid-19 caused unprecedented disruption to the education of younger generations.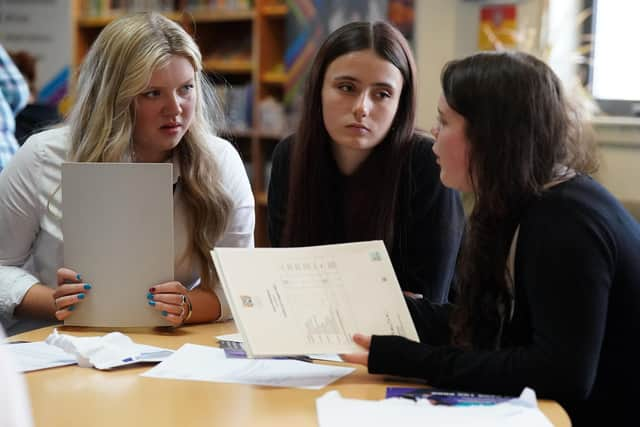 Why? Because the SQA had been clear that it would continue to be taking account of the impact of the pandemic when deciding the level needed to achieve grades such as A, B and C, albeit to a lesser extent than last year.
This "sensitive approach" means that the boundaries of these grades were often moved down.
The SQA confirmed that these "grade boundary adjustments" remained larger than in a normal, pre-Covid year, but smaller than in 2022, when the impact of the pandemic was more acute.
Fiona Robertson, Scotland's chief examining officer, said on Tuesday: "What we are talking about within the context of our awarding approach this year is that we have been more generous than we would be in a normal year.
"And that has led to slightly larger grade boundary adjustments down, so that means that more young people have passed than would normally do."
She added that this does not mean the outcome was "predetermined", pointing to the example of National 5 mathematics, in which the pass rate was 7.3 per cent down on last year, and 3.1 per cent below pre-Covid rate in 2019, bucking the wider trend of pass rates being higher than 2019.
However, to many it has long appeared that this year's Results Day would be a big step towards a return to "normality".
The same is true of the attainment gap between the richest and poorest pupils.
It dropped dramatically from 16.9 per cent in 2019 to 6.4 per cent in 2020 and 7.9 per cent in 2021, when exams were cancelled, before rising to 14.9 last year, and back to the near 2019 level of 16 percentage points this year.
Lindsay Paterson, Edinburgh University professor of education policy, warned on Sunday that the authorities would face a tough choice between continuing to make assessments "easier", which he said would risk "permanently depressing" standards, or alternatively returning to pre-pandemic arrangements, which might be "unfair" on many pupils who suffered disruption at a younger age during the pandemic and teacher strikes.
Education Secretary Jenny Gilruth told The Scotsman this week that she expected the exam system to return to pre-pandemic levels of "rigour" from next year, while continuing to have a "bespoke" approach that supports learners.
Ms Robertson confirmed on Tuesday that the SQA was "moving back to normal awarding", although the approach for grading next year is still to be confirmed.
It means that, while nothing is predetermined, nobody should be surprised if next year's pass rates are fully back at, or around, 2019 levels.
Comments
 0 comments
Want to join the conversation? Please or to comment on this article.