The principal of Edinburgh University has vowed to fully investigate "disturbances" which led to the cancellation of a screening of the controversial Adult Human Female documentary for a second time.
Sir Peter Mathieson suggested disciplinary action would be considered in the wake of the abandonment of a planned showing of the film, which criticises campaigners for greater transgender rights.
He said the university remained "steadfast" in its determination to foster discussion and debate about "challenging topics".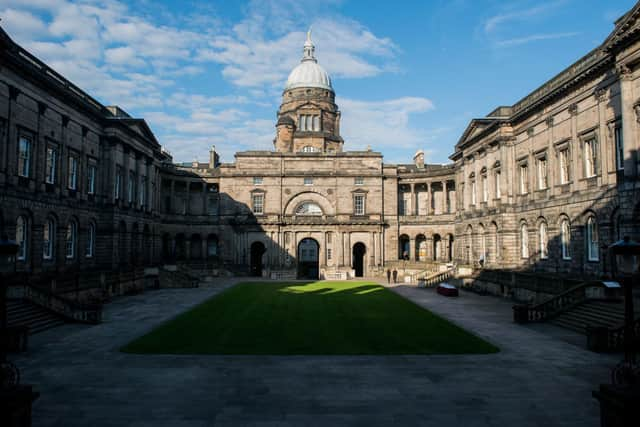 The planned screening on Wednesday last week was cancelled due to safety concerns after protesters were accused of restricting access to the venue.
It was the second time within six months that demonstrators had prevented the showing of the documentary, which has been branded "transphobic" by critics, following a similar incident in December.
Sir Peter said the university had "no alternative" but to cancel the event, which was organised by a group called Edinburgh Academics for Academic Freedom.
"I want to reassure the university community that we will take all steps available to us to fully investigate those who were responsible for the disturbances and to explore routes of action that can be taken to ensure we are not in this situation again in the future," the principal said.
"We condemn the actions which prevented freedom of expression and freedom of assembly on our campus.
"Upholding freedom of expression and academic freedom, and facilitating an environment where students and staff can discuss and debate challenging topics is at the heart of our purpose as a university.
"We remain steadfast in our determination to continue to foster this type of discussion, both within our community and with interested parties in the Edinburgh community and beyond."
Professor Mathieson vowed to "explore different ways of staging events" which represent differing views held by sections of our community.
He added: "We refuse to be intimidated by the unreasonable behaviour of those who sought to prevent lawful discussion of challenging topics on our campus yesterday.
"We have already stated publicly that ensuring respectful dialogue about controversial topics is critical to our raison d'etre as a university.
The cancellation of the screening last week led to demands for the event to go ahead in future, to protect freedom of speech.
First Minister Humza Yousaf said it was important universities could provide safe spaces for "robust" discussion.
However, in a statement published online, Edinburgh University Students' Association said the film's "demonisation" of the trans community creates a "hostile environment in which many trans people would feel unsafe to participate in any kind of conversation or debate".
It added: "We recognise the value of academic discourse in university spaces, however, this film contains many inaccuracies regarding trans people, which has a demonstrable harmful impact on an already marginalised and vulnerable group, without any grounding in reality.
"We have a responsibility to challenge misinformation, particularly that which encourages discrimination against any marginalised community.
"The right to freedom of expression comes with a responsibility to consider the impact our speech can have on others, and the right of others to criticise what we are saying."