Suella Braverman's push to train people in the UK for jobs such as fruit picking as a way to cut immigration shows how the UK Government has "consistently failed" to understand labour challenges in the farming industry, a Scottish union has said.
Addressing a conference in London on Monday, the home secretary said there was "no good reason" why Britain could not train its own fruit pickers and lorry drivers – jobs commonly taken by migrants – to bring immigration down.
However, Iain Brown, a soft fruit and vegetable grower from Fife, and who is the horticulture chairman for the National Farmer's Union Scotland (NFUS), said Ms Braverman's comments showed "a significant degree of naivety over the reality of the current situation".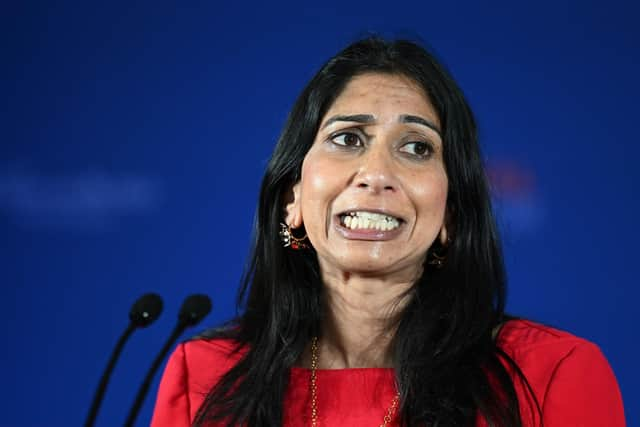 He said for several years now, the farming sector has been trialling different ways of tackling the labour crisis since Brexit ended the freedom of movement for EU workers, Covid-19 regulations restricted work access, and the migrant workers' visa scheme failed to work for farmers.
One of those trials included many Scottish soft fruit and vegetable growers investing time and money in trying to source a local work force, he said.
An NFUS survey, however, found no farm had a positive response. And Mr Brown said this was not through lack of trying.
"We had one Scottish fruit and veg business offer 100 contracts of employment to UK applicants – six were accepted and only three turned up to work," he said.
Mr Brown also pointed out the survey found for businesses who require pickers, the retention rate for EU and other migrant workers is more than 80 per cent. In the UK, the rate falls sharply to 32 per cent.
"These recruitment and retention challenges are a major headache for horticultural businesses," Mr Brown said.
"Migrant workers doing highly valued short-term seasonal work on fruit and vegetable farms is a reality. This is a reality that is not going to change, regardless of the fact that our relationship with the European Union has changed."
He said Braverman's latest comments on sourcing local labour show how the Home Office "has consistently failed to understand the challenges that the industry faces around sourcing labour".
Mr Brown added: "We need the Government to move away from anti-migration politics and rhetoric to make good policy. We need the Government to shift policy, and review and improve the current visa scheme to bring seasonal migrant workers onto our fruit and vegetable farms.
"And we need long-term decisions on the visa scheme now because farming is a long-term industry, and we need to be able to plan ahead."
Ms Braverman has previously said her "ultimate aspiration" is to reduce net migration – the difference between those entering and leaving the UK – to below 100,000. It is expected to hit a record 700,000 this year, according to analysis by the centre-right think tank the Centre for Policy Studies.
The home secretary insisted it was not hypocritical for her – the child of migrants – to push for lower migration.
Ms Braverman set out the Conservative philosophy instilled in her by her parents, whose arrival stories in the UK she recounted in a wide-ranging speech that will be seen in the context of her leadership ambitions.
She said people who come to the UK "must not commit crimes", "need to learn English and understand British social norms" and "cannot simply turn up and say 'I live here now, you have to look after me'".
Her parents "embraced British values", she said, adding that "you cannot have immigration without integration". She said: "And if we lack the confidence to promote our culture, to defend our values and venerate our past, then we have nothing to integrate people into."
She argued Britons should not feel "terrible about our past" and that "white people do not exist in a special state of sin or collective guilt".
Ms Braverman said while preventing "illegal migration" in the Channel is the Government's priority, they "must not lose sight of the importance of controlling legal migration as well".
She said: "It's not racist for anyone, ethnic minority or otherwise, to want to control our borders. I reject the left's argument that it's hypocritical for someone from an ethnic minority, like mine, to know these facts or to speak these truths."
Her speech will be seen as a warning to Cabinet colleagues against relaxing immigration visa rules in a bid to boost growth, and comes as Rishi Sunak grapples with signs of discontent and division with his party's ranks.
Downing Street insisted Ms Braverman's comments on cutting net migration were in line with the Government's approach. The Prime Minister's official spokesman said: "She continues to represent the UK Government views on all issues relating to the Home Office, as you would expect."
Labour leader Sir Keir Starmer earlier urged Ms Braverman to cancel her planned speech on immigration and "get back to the office".