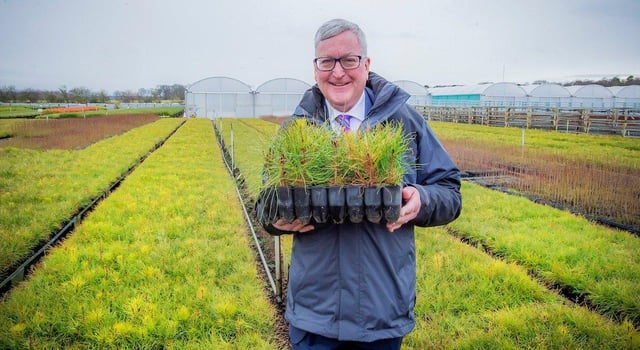 Fergus Ewing MSP
The report - which has been viewed as the first step in freeing up the use of the technology in Europe - concluded that products created using novel genome techniques have the potential to contribute to sustainable food systems, producing plants more resistant to diseases, environmental conditions and climate change effects.
And it is also hoped that the findings can help avoid a major rift in the UK internal market which could arise if England presses ahead with its own plans to allow such crops to be grown commercially, while the Scottish administration maintains a ban.
The report clearly stated that techniques such as CRISP-Cas 9, which introduces no foreign DNA but instead allow genes already present to be expressed, should be clearly differentiated and regulated separately from earlier transgenic GM techniques, which did add segments of DNA from other species.
The review's findings stand in stark contrast to the 2018 ruling of the European Court of Justice to classify the products of all new precision breeding techniques as GMOs, regardless of whether they could have occurred through natural variation or conventional breeding methods.
And the new report concluded that the existing GMO legislation – introduced 20 years ago - is 'not fit for purpose' for new techniques and their products, and added that the regulatory process needed to be adapted to allow scientific and technological progress to continue.
And while a Europe-wide consultation will now be undertaken on the issue, the recommendations have been viewed as an important step towards greater acceptance of the technology and its products which would bring the EU into line with many other developed nations.
Importantly, with a review being conducted independently in England by Defra, such a move could avoid a major divergence in regulation between Scotland and England - as Westminster has made plain its desire to allow the technology to be harnessed commercially, while the SNP has stated it will maintain its opposition to the cultivation of GM crops.
Such an outcome would have put Scottish growers at a serious competitive disadvantage in both economic and environmental terms.
But a reclassification of gene editing by Europe as being distinct from GM techniques could allow an SNP administration, keen to maintain alignment with the EU, to permit gene edited crops to be grown while maintaining its GM-free status.
Speaking at a recent Scottish election hustings, rural economy secretary, Fergus Ewing said that while the SNP policy remained to keep Scotland GM free, the country shouldn't 'shut its eyes and ears' to scientific progress.
Welcoming the report the James Hutton Institute's Professor Lesley Torrance said the institute supported moves to address policy actions designed to harness the benefits of the technological innovations for plant science - but which also addressed concerns around them.