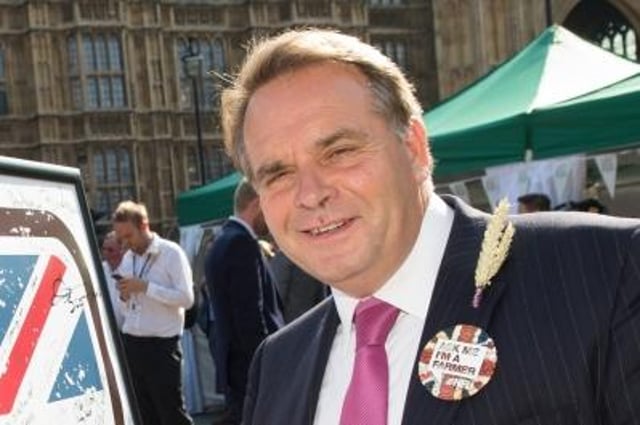 Neil Parish MP.
That was the conclusion of the latest report from the Westminster committee on Environment, Food and Rural Affairs which yesterday called on the Government to pull its Buying Standards for Food (GBSF) "into the new decade", address outdated standards on nutrition and animal welfare, and close loopholes in the existing rules.
Noting the startling lack of monitoring of existing food procurement standards, including by Government departments and NHS hospitals, the report also demands action to push bodies to ensure compliance.
The Committee also expresses disappointment that Government Buying Standards have not been used as a vehicle to support British producers.
Chair of the committee, Tory MP Neil Parish, said that the country's prisons, schools and hospitals spent billions each year on food - yet government buying standards were not up to date and remained poorly enforced
Stating that the Government had a real opportunity to support high standards, small businesses and British farmers through its food procurement system, Parish said: "Our report found that 'buying British' does not have to be more expensive and at the same time we can support local, seasonally produced food, which is often healthier for the consumer, has lower food miles, and chimes with the Government's own 'net zero' and future farming ambitions too."
He said this meant that Government buying standards should be urgently updated and made mandatory across the public sector:
"If we fail to act, ministers are in danger of paying mere lip-service to vital policies and falling short of their manifesto promises 'to encourage the public sector to Buy British, support our farmers and reduce environmental costs' at the same time."
The report recommended that greater focus should be placed on issues such as seasonality which would support British producers. It stated that complying with buying standards set out for the public sector should be made mandatory rather than 'encouraged'.
The report expressed 'disappointment' that the Government had not used the GBSF as a mechanism to promote "buying British" within the public sector – and noted that this was the norm within public bodies in countries such as France.
The report was released on the same day as the Labour party in England launched a major attack on what they termed the UK Government's rushed withdrawal of the Basic Payments Scheme which they said could see many family farms pushed to the brink of closure.
Labour said that an analysis based on figures from the Rural Payments Agency, showed that the economic impact could see over 9,500 agricultural jobs at risk.
The report was released as Labour launched its policy review, announced by leader Sir Keir Starmer at the NFU AGM earlier this year as part of the party's stated ambition to "be the party of the great British countryside".