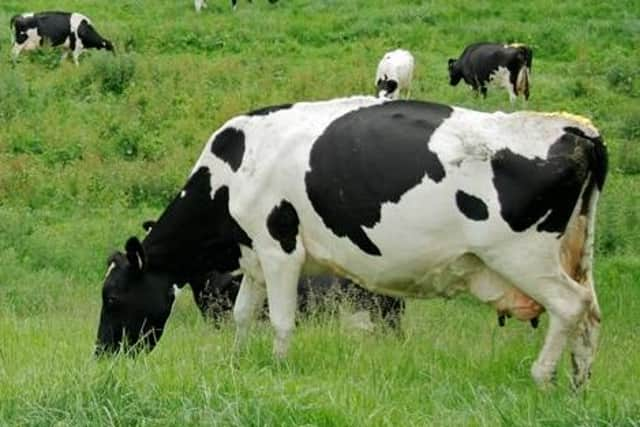 A study of different farm types showed that injuries were more likely to occur through interaction with animals than other operations – while also identifying that cattle farms were likely to have almost three times as many incidents as pig farms.
The study, undertaken by workers at Scotland's Rural College (SRUC) and Aarhus University in Denmark, developed a method to estimate the risk of injuries during different agricultural operations.
The researchers, including Noha Mahmoud, an SRUC postgraduate researcher, divided the production systems into a number of different operations and used experts' assessments to find where the highest risks lay – with the intention of creating a predictive matrix.
The researchers also looked at ways to identify the impact of engineering solutions, policy changes and educational programmes in reducing the level of risk.
The study, which was published in the journal 'Sustainability', found that the type of injury varied considerably between different operations on cattle and pig farms.
Crushing, falling, cutting and poisoning were considered the most common types of injury on livestock farms. Unsurprisingly crushing injuries were estimated to be more frequent on cattle farms – with the risk greatest during the movement and treatment of animals.
Falling injuries were frequent during the repair of buildings on both cattle and pig farms, as were poisoning incidents which included the risk of asphyxiation relating to slurry and manure management operations.
"Agriculture is one of the most dangerous working environments globally and despite the technological advancements in agricultural production, the frequency of injuries and fatalities is relatively high," said Mr Mahmoud.
"This has high adverse socio-economic effects on farmers and societies and there is a need for innovative approaches to enable implementing effective preventive interventions."
He said that the research had developed ways of collecting detailed data on agricultural production operations and assessing the likely impact of changes in the type of equipment used, management systems and handling operations.
"This enables the risk of injury to be linked to separate operations and provides the necessary knowledge for prioritising interventions to reduce that risk, to improve the sustainability of agricultural development," he added.
The study took place against the backdrop of a continued high rate of death and injuries on farms around the country, with a 'Farmers Weekly' survey predicting that farm deaths were likely to stand at 50 in the past 12 months, a figure which is expected to be confirmed by the Health and Safety Executive (HSE) later in the year.
Confirming the research, the list included being crushed or trampled by animals as one of the main causes of death, along with overturned farm vehicles, being hit by falling objects or machinery and falls from height. The HSE is planning a series of online agricultural compliance training courses to encourage safer working practices.