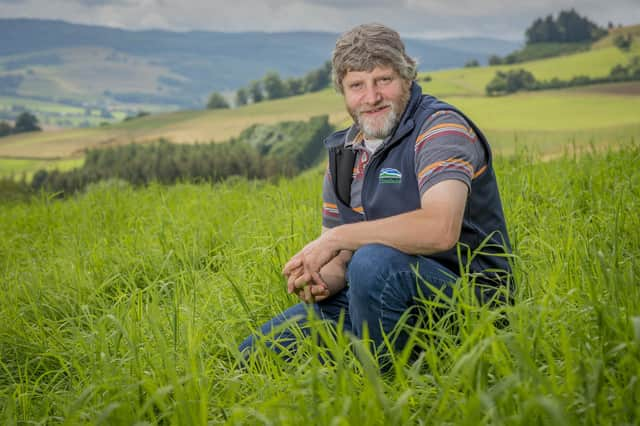 Martin Kennedy said little sympathy was on show from officials from the European Commission
Speaking after a visit to Brussels to attend a meeting of the Europe's farming union organisation, NFU Scotland president, Martin Kennedy said that despite being made at home by fellow farmers, little sympathy was on show from officials from the European Commission.
He said that it had been "blatantly obvious", given the response from the commission to questions, that they felt Brexit had been a UK decision – and that the UK would have to face the consequences for any friction in trade.
He said that attempts to discuss issues such as Scotland's important trade in seed potatoes with Europe – which has now been banned – and the trade of live animals with Northern Ireland were met with the cold shoulder.
"Even calls from other EU farming unions who are deeply concerned about their exports to the UK after January 2022 made absolutely no difference."
He said the tone had left him in "absolutely no doubt" that the European Commission wanted the UK to feel pain for leaving the EU: "I also have no doubt that this is to show other member states that leaving the EU is a bad idea, as I'm sure it is concerned about others who may consider leaving the EU."
But Kennedy found the assertion that the UK had already diverged from EU standards as particularly frustrating.
"This is not the case. This is political. Now we are out of the EU it seems some people want to ensure we suffer from our decision to leave.
"It also said that, due to the lack of dynamic alignment, friction-free trade could not be achieved so we will have simply to accept the consequences."
Writing in the union's blog Kennedy said that in the face of such an approach efforts had to focus on convincing the UK Government that it did not allow the January 2022 date for physical checks on export health certificates and Sanitary and Phytosanitary Standards (SPS) to slip further – and for reciprocal checks to be introduced.
At the moment goods leaving the UK for Europe are saddled with a strict inspection regime and a mountain of additional paperwork – however, goods coming on from the continent can move as before:
"Asymmetrical trade is bad enough, but asymmetrical friction means there's nothing at the minute to bring the Commission to the table as products coming in here from the EU continue to do so pretty much friction-free," said Kennedy.
"The EU is certainly making things difficult for us right now – and until they find it equally as challenging there will be no change.
"That means we will continue to lobby the UK Government to put in place reciprocal trading arrangements on time to ensure the EU sees sense and relaxes some of their political decisions."