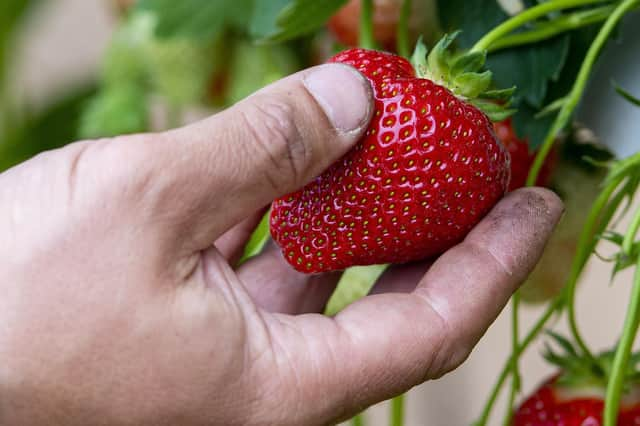 Industry estimates had previously put the requirement for additional workers at between 70 and 80,000 to ensure that next year's crops of soft-fruit and vegetables were safely harvested. However under the settled workers scheme, foreign workers employed in the UK during the past twelve months will also be allowed to re-enter.
James Porter, NFU Scotland's horticulture committee chairman said that while the details of the scheme had yet to emerge, the move had to be welcomed in the face of initial opposition to any increase in the numbers.
He also said that how the initiative was administered and co-ordinated would play a key role in its success – and while he said that there had been particular recognition of the need for additional seasonal labour in Scotland to support local rural economies and the soft fruit sector, the number of workers coming north of the border would be crucial:
"While we probably need close to 10,000 workers in Scotland we could just about get by with 7,500 to 8,000," said Porter who thanked Scottish MP's for their help in getting the deal over the line.
He also stated that it while the detail was still unclear, it was important that the scheme stretched to ornamentals as well to cover Scotland's daffodil growers.
Also welcoming the move, NFU Scotland President, Andrew McCornick said that the deal agreed with the Home Office had been hard won:
"Following close and supportive dialogue with government and MPs, NFU Scotland welcomes this increase on the understanding that the EU Settlement Scheme will allow workers who have undertaken work on Scottish horticulture farms prior to 2021 to return.
And he said that industry-led efforts to recruit domestic workers during the 2020 pandemic would continue with the aim of recruiting as many UK workers as possible in 2021:
"We look forward to working with government to establish the terms and operation of the scheme in terms of cost for employers and which operators will be licensed to operate."
Scottish Secretary Alister Jack said the expansion of the pilot was "great news" for Scottish farmers and would allow them to ensure that next year's harvest of world-class produce was secured.
Defra also announced that it would undertake a review into automation in horticulture, to begin in early next year to look into ways of increasing automation in the sector and reducing the need for foreign labour.
Meanwhle, the veterinary profession yesterday welcomed a new report from MPs highlighting serious concerns about veterinary capacity in light of Brexit.
The British Veterinary Association said the food and rural affairs select committee had drawn attention to the increased requirement for veterinary certification at the end of the Brexit transition period and the important role which overseas-trained vets played in the food supply chain, especially the abattoir sector.