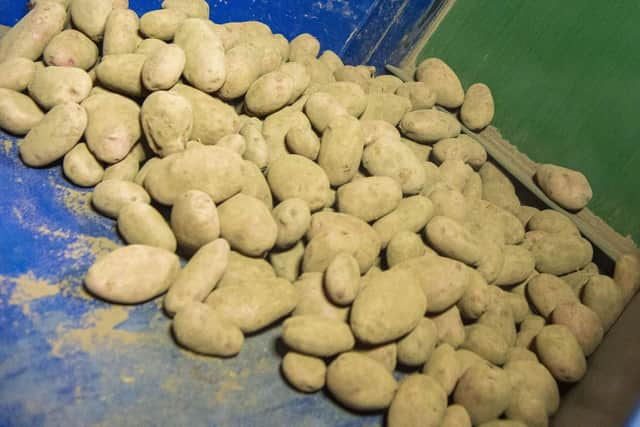 Bexit has hit the potato industry
In a categorical response to the informal consultation on adopting such an approach, the union also claimed that the proposed move would be against the UK Internal Market Act 2020 – and called for priority activity to be channelled into resolving the current issue and building a prosperous, sustainable market.
Currently the export of Scottish and other UK seed potatoes to the continent – and also Northern Ireland – is prohibited as the EU demanded regulatory alignment for the trade to continue after the Brexit transition period ended, a move to which the UK Government was fundamentally opposed.
Applications for "equivalance" to be recognised were also turned down by the European Commission when lodged at the beginning of the year, a move which growers claimed was based on politics rather than science.
However a six-month derogation was granted by the UK Government which has allowed seed potatoes from Europe to continue to come into the UK – a move which has angered the Scottish trade and which has led to calls for a reciprocal ban to be out in place.
Last week the Scottish science agency SASA wrote to producers seeking their views on investigating the possibility of investigating a "Scotland-specific" agreement which would have promised a degree of regulatory alignment to break the deadlock.
While the proposal was welcomed by some in the seed potato sector, others felt that the move was politically motivated.
Dismissing the idea yesterday, NFU SCotland president Martin Kennedy said that the focus of Government efforts should be on exploring all possible avenues to reopen the EU and NI markets to ensure reciprocal arrangements in accordance with the Trade and Cooperation Agreement (TCA) were in place as soon as possible and that there is equivalence across all imports and exports.
He also stated that the union was fully supportive of Scottish Government's proposal to work across Great Britain to develop a thriving and self-contained seed potato market, stating this would help address the ongoing disadvantage being experienced by Scotland's seed potato businesses following the loss of established markets in NI and the EU post-Brexit.
Commenting on the union's consultation response, Kennedy said seed potato growers across the UK were being severely impacted by the continued blocking of the UK's application for equivalency which was incompatible with the TCA.
"There has to be parity for the sector. The current derogation that allows EU seed potatoes to come into the UK until the end of June 2021 has been unhelpful in encouraging an agreement on equivalence and we are calling for this not to be extended."
Kennedy added that the union would continue to lobby both governments with urgency to safeguard Scotland's high-value potato industry – recommending efforts should be focused on what was achievable throughthe TCA.