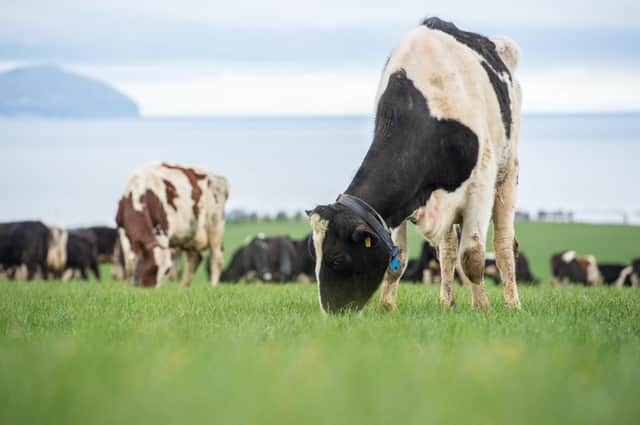 But it is up to UK producers to help spread the word on just how well home-produced foods score on a global scale and help to dispel any guilt associated with climate change or animal welfare issues.
That was the conclusion to be drawn from a survey conducted for the Glasgow-headquartered dairy co-operative, First Milk which highlighted to farmers the importance which consumers are placing on green issues.
The findings also showed that while 33% of those interviewed thought that farming and the production of dairy foods significantly contributed to climate change, that figure stood at almost 50 per cent for meat consumption.
It also found that more than three-quarters of UK adults would prefer to buy milk and dairy products guaranteed to come from cows which had access to pasture/the outdoors with almost two-thirds saying they were concerned about the welfare of dairy cows in the UK.
"This survey reinforces that UK consumers are concerned about climate change, with many taking environmental factors into consideration when choosing food. It also highlights the level of interest UK consumers have in animal welfare and dairy production systems," said Mark Brooking, Sustainability Director with First Milk.
"We know that the UK farming sector takes its responsibilities seriously and has a good track record in terms of animal welfare, with a growing focus on environmental responsibility, especially around climate change."
But he said the whole industry should share the responsibility for communicating to consumers the great work which is going on across the farming sector and highlighting the importance of the many initiatives that underlined the positive benefits of UK farming and food.
"At First Milk, these findings simply strengthen our commitment to our First4Milk programme, which guarantees cows have access to grazing, and commits us to achieving net zero by 2040 at the latest," said Brooking.
He said that making such commitments helped safeguard the future for the sector, ensuring that consumers could continue to enjoy the taste, nutrition and health benefits available from a balanced diet including dairy consumption - with none of the associated climate or animal welfare guilt.
*The survey was released shortly after another milk company operating in the UK had shown that their farmers produced less than half the global dairy industry's average carbon emissions per kilo, the dairy co-op has claimed, following the first year of its carbon accounting scheme.
Arla's Climate Check programme – a third-party audited 'climate database' aimed at speeding up CO2 reductions in dairy company's supply chain – found that its farmers produced 1.15kg of CO2 emissions per kilogram. According to the UN's Food and Agriculture Organization, the global average is 2.5kg.
The data, which was sourced from 8,131 farms across seven European countries in 2020 – representing 95% of Arla's milk pool, showed the best-performing farms were able to produce a kilo of raw milk with a farm level footprint "well below" 0.9kg of carbon emissions, Arla said.