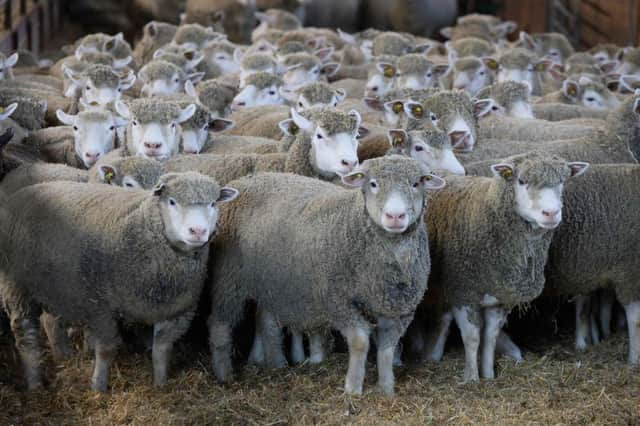 Sheep scabs costs farming millions
A group of experts led by researchers at Edinburgh's Moredun Institute have been successful in a bid for funding from DEFRA for a project aiming to demonstrate the effectiveness of community-led approaches to improve the control of sheep scab – using serological testing to identify where the disease is present.
The work will focus on three areas of England where scab currently presents a significant problem: The North West, the Midlands and the South West.
Sheep scab, a highly infectious disease caused by the parasitic mite Psoroptes ovis, has remained a significant problem for the health, welfare and productivity of sheep since the 1950s, when it was reintroduced via imported sheep.
Moredun's Dr Stewart Burgess revealed that the project will run over two years, offering participating farmers a unique combination of on-farm advice, best practice training, free blood testing using the sheep scab ELISA test developed by Moredun, and the payment of costs of visits by a local veterinary surgeon.
"Sheep scab is a real scourge for the sheep industry in the UK and by using new tools like the sheep scab blood test, this exciting new initiative gives us the opportunity to get ahead of the curve in terms of scab control, setting a new benchmark for how we deal with the disease in the future," said Burgess.
"As populations of sheep scab mites in the UK now have proven resistance to one of the main treatment groups, injectable macrocyclic lactones (MLs), it is imperative that as an industry, we make a concerted effort to bring this disease under control".
The project will engage farmers who are willing to work with their neighbours and their vets in testing, sharing results and undertaking the practical elements required to bring sheep scab under control.
Burgess said that, importantly, the groundwork would be coordinated by local industry groups already working with sheep farmers in each focus area, including the Farmer Network in the North West, ADAS in the Midlands and NSA in the South West, which would help increase participation.
Farm vets will be highly involved with their clients within the project and will be working closely with the regional coordinators within the clusters.
"This is an exciting community-led approach to sheep scab control, with fantastic opportunities involving a team of experts, working collaboratively with farmers to bring this terrible disease under control," said Burgess.
It is hoped that the trials of the new approach will help to produce a blueprint for the best way to treat the problem following outbreaks in any part of the UK.
Prof Richard Wall, from the University of Bristol which is also closely involved in the project, said that after 50 years of attempts to manage this disease, approaches used to date had clearly failed: "It is time, to apply some fresh thinking based on focused management in known scab hotspots."