App to help tackle growing problem of sheep worrying
A local app to inform dog walkers what's going on in fields and funding to set up high-fenced dog exercising areas are among a number of innovative measures being proposed to tackle the growing issue of out-of-control dogs in the countryside.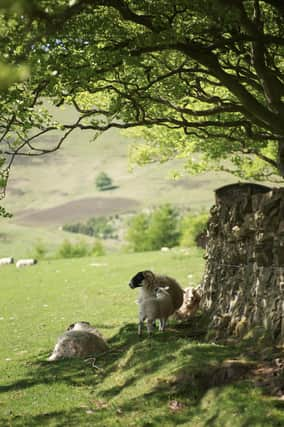 Those working in Scotland's increasingly popular agritourism sector yesterday made plain their desire to welcome visitors onto farms – but called for more to be done to address the serious issue of sheep worrying and wildlife damage on farms.
"Visitors to the countryside are our customers," said Mid Lothians farmer, Jenny Cowan who runs an agritourism business in the Pentland hills, "they are the people who stay in our accommodation, undertake day visits to farms and the people who buy our produce directly from us."
But she said that as all agritourism businesses were linked to working farms, crofts and estates – the sector recognised the growing number of problems which went along with the huge increase in access taking during the Covid pandemic.
Cowan said that while the majority of those taking access still did so responsibly, the actions of the minority who did not was often highly detrimental to animal welfare and human mental health – with the control of dogs being a key issue.
Stating that it was important to avoid creating a "them and us" approach, she said that better communication would often help address many of the issues – adding that the with lambing time and bird nesting just around the corner, the huge increase in both access-taking and dog ownership could spell a "perfect storm" in the coming months.
Cowan said that during this spell there needed to be more focus on keeping dogs on leads:
"No one sets out for a walk with their dog with the intention of injuring livestock or killing wildlife – but without being on a lead, dogs are never fully under control."
Until people better understood what was going on, she said the outdoor access code should advise people to keep their dogs on leads when on farms - but she suggested that a locally run app could be developed to allow farmers to let people know what was going on in fields. This could be used to communicate if lambs, young birds or other wildlife were present, or if a field was empty:
"This app could also tell walkers if a field had a growing crop in it – and it could direct them to paths and safe walking routes. The data could be updated by the farmer and someone could check walking routes well ahead of setting out."
She also said that grant funded investment for dog friendly high fenced exercise areas on farms next to hot-spot car parks would provide areas for dogs to have a safe run around prior to setting off on a walk on a lead.
The sector would also like to see more park rangers working at peak access time, a central point to record all dog related crimes, and a licensing of those walking dogs for financial reward.