Wood Group: Why experts are calling for crackdown on banks over 'green' financial products
Experts are calling for a crackdown on the regulation of so-called "green" financial products provided by banks after new research showed the Aberdeen-based engineering company Wood Group expanded its fossil fuels business by 17 per cent in the wake of receiving a government-backed "green transition loan".
The £430 million five-year loan to Wood, one of Scotland's biggest companies, was announced in August 2021 during the run-up to COP26 in Glasgow, and was designed to help the company transition away from fossil fuels.
At the time, David Duguid, who was UK Government Minister for Scotland, said: "This announcement marks another important milestone in the UK's energy transition, showing how free trade will help deliver on our net zero targets."
Despite expectations the loan would help to re-orientate Wood away from the fossil fuels sector and help it increase the size of its renewables business, the opposite occurred. Campaigners have voiced concerns that it could be a sign of the systematic problems in the way green financial products are created and regulated.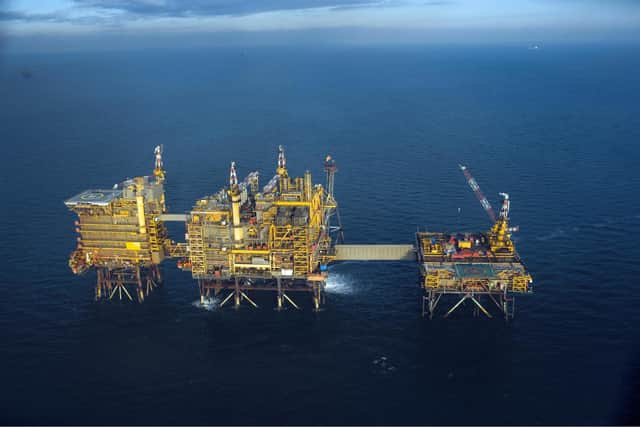 Wood grew its upstream oil and gas business so that it accounted for more than $3 billion (£2.4bn) in revenue in 2022, up from $2.6bn in 2021, according to an analysis of the company's financial results by the Guardian and the research group Point Source.
It also reduced the size of its renewable, hydrogen, and carbon capture business units by 35 per cent so they only accounted for revenues of $222.8m in 2022, down from $344.6m in 2021.
James Vaccaro is part of the Climate Safe Lending Network and is a member of the Transition Plan Taskforce (TPT), a group launched by the UK Treasury at COP26 in Glasgow to develop standards for transition plans and tackle greenwashing.
He said: "Wood hasn't just missed its environmental targets, it has done a full U-turn by doubling down on pollution and scaling back its renewable energy business.
"This goes beyond greenwashing and clearly demonstrates that the regulations governing green loans need to be improved to make sure that they actually achieve the results they say they will.
"This is flagrant abuse and gaming of the existing system and has clearly highlighted where regulation of the system falls far short of what is needed. It raises serious questions about how many more so-called 'green loans' have actually funded the expansion of fossil fuels."
Mr Vaccaro said he believed if Wood had expanded its renewable business and reduced its fossil fuels activities after receiving the loan, it would have helped drive the creation of green jobs in Scotland and significantly boosted the country's position in the global renewable energy sector.
Maaike Beenes, a spokesperson for the environmental campaign group Bank Track, said: "There needs to be far more stringent conditions to make sure that companies that receive this type of financing really follow through with their commitments.
"The banks that orchestrated this loan have all committed to climate targets themselves, but by providing this supposedly sustainable loan they have supported a company to do the exact opposite."
The loan was coordinated by the US-based lender Citi and France's BNP Paribas, while the Paris-based financial group Rothschild & Co acted as an adviser.
Other banks that participated in the loan included ABN Amro Bank, HSBC, Lloyds Bank and The Royal Bank of Scotland.
The loan was facilitated by the government's export credit agency UK Export Finance, which provided it with a guarantee through its "transition export development guarantee" scheme.
Under the terms of the guarantee, UKEF agreed to repay 80 per cent of the loan with public money if Wood defaulted, reducing the risk the banks needed to take on and making it easier for Wood to obtain favourable terms.
Lucie Pinson, the director of the campaign group Reclaim Finance said: "All of the institutions that were involved in issuing this loan to Wood need to be held accountable for this gross misuse of resources.
"Everyone involved knows what the word 'transition' means and it is quite clear that they have not supported the green transition with this loan."
A UKEF spokesperson said: "We are firmly committed to supporting the UK's transition towards a low-carbon economy as part of our 2050 net-zero target. Our transition export development guarantee requires firms to report progress against a climate transition plan to deliver their commitments."
Rothschild & Co and all of the banks involved in creating the loan declined to comment on the deal. In a statement, Wood said it "remains committed to playing a critical role in the energy transition, in the short, medium and long term."
It added: "A significant part of our role is also supporting our oil and gas and wider industry clients to decarbonise their operations. The KPI measures of the loan centre on reducing our own scope one and two emissions and growing our sustainable revenues. We are pleased that we achieved a 65 per cent reduction in our scope one and two emissions."
Vaccaro, Beenes, and Pinson all believe that more transparency is essential to the proper regulation of loans that claim to finance green projects, but as things stand very few details about green loans are required to be publicly released.
Wood and UKEF both declined to say what the loan's KPI targets were, how they were measured, or whether Wood was on course to hit them.
Comments
 0 comments
Want to join the conversation? Please or to comment on this article.