Panicked questions such as "do I have the right skills to use this software", "where can I go for help", and "will I be replaced by a robot" immediately start racing through people's minds when they're told their company is "going digital".
That's because we as a society have fallen into the trap of thinking that tech is just for tech firms. In reality, digital technology is already touching almost every part of our lives, from taking a photo of a cheque to pay it into our bank account, all the way through to ordering a meal on a mobile phone app instead of calling our local takeaway.
Now is the right time to reclaim tech for the wider business community. With rising inflation forcing companies to tighten their belts, harnessing the power of technology can help businesses to both boost sales and trim costs, especially if they focus on three key areas – data, skills, and people.
Getting more from customer data
Most companies are drowning in data; data about their sales, data about their expenses, data about their customers. Yet analysing that data to work out what it really means and how it can be used is still a mystery for many of them.
From programming languages like Python and R to data-visualisation platforms like Microsoft PowerBI and Tableau, there are some great data-analysis tools out there that can give decision-makers guidance to adapt their business effectively. Those tools can help companies to answer basic questions about which products or services their customers like or don't like, and they can also provide powerful insight into unseen opportunities.
Effective data workflows help businesses recognise patterns that can inform action. Tracking order volumes over time might indicate that rearranging stock in the warehouse will make deliveries to clients faster and more efficient. Or monitoring what customers frequently combine in their purchases might highlight an opportunity to create a higher margin in a bundle deal. If all this information exists in silos, then it can be impossible to see the bigger picture.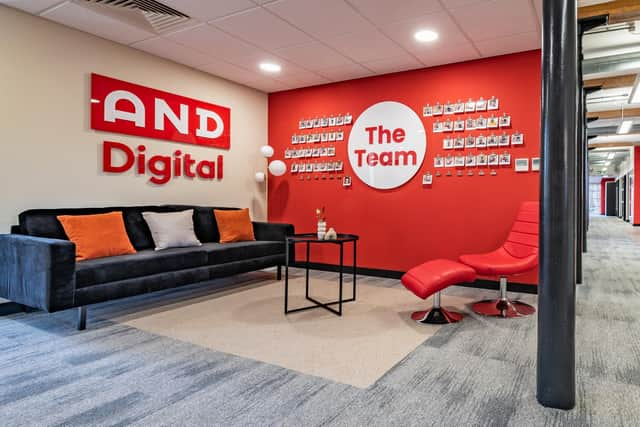 Making sure staff have the right skills
Software is only half the story, though. If members of staff don't have the right skills to use digital applications to their full potential then the latter are not an effective investment. Digital proficiency is not something people are born with, it is like any other professional skill and process that requires work every day to stay strong, and it's never too late to get started.
That's why AND Digital – which is focused on accelerating digital capabilities – puts so much effort into training our clients' teams. It's not enough for us to package a solution independently, then leave the customer to work out the details. Instead, it's much better for us to train teams so they have the knowledge and the skills they need to use all the digital tools we can help develop collaboratively.
Time and time again we're seeing that it is better for a business to invest in upskilling staff rather than engage in lengthy and expensive recruitment exercises. Our own research shows just how big the skills gap and demand for the right people in the right roles are. We found that in the first seven months of 2022, the demand for digital skills was present in 23.5 per cent of all vacancies across the UK. We estimate that the percentage of the current population that could fill those vacancies is only somewhere between 7 to 14 per cent.
Yet digital skills are about far more than being able to use devices like computers or mobile phones. They're also about spotting opportunities to create innovative products, processes, and services to cut costs and boost profits. The common demand of technology and digital tools is to harness, and maybe even surpass, expert human skills and abilities – but emotional intelligence is often lacking because businesses forget to humanise their technology.
The standout brands and businesses are the ones embracing human behaviour and delivering products and services to suit their customers' real needs, not tech trends. The success of digital transformation doesn't come down to how big and rich a business is, it comes down to leadership that listens to and understands people.
Harnessing workers' creative ideas
Once employees have the right digital skills then it opens up a whole world of possibilities for businesses across every sector of the economy. In years ahead, we're going to see more and more companies creating their own apps and other software in-house. Last year taught many businesses, particularly those dependent on social media platforms for their marketing and customer communications, just how big a risk it is to depend on third-party applications for crucial business activities.
If your services were affected by major shutdowns of "big tech" platforms, it's time to re-evaluate your own digital tools. If you catch yourself thinking, "I'm not really a techy person", it's maybe time to catch yourself and ask if you can really afford not to be. The action of going digital isn't scary, but the repercussions of falling behind are.
You no longer need to master complicated programming languages to write code – new software allows you to drag and drop what you need from menus, cutting down the time it takes to develop apps, websites, and other digital tools. Instead of buying ill-fitting, off-the-shelf software packages, companies can start writing their own programs to perform niche tasks within their business, with artificial intelligence making the process even faster.
Ultimately, businesses still need people with the right digital skills to spot where technology could make a product or service or process even better. It's that combination of human input and digital tools that will prove tech isn't just for tech firms.