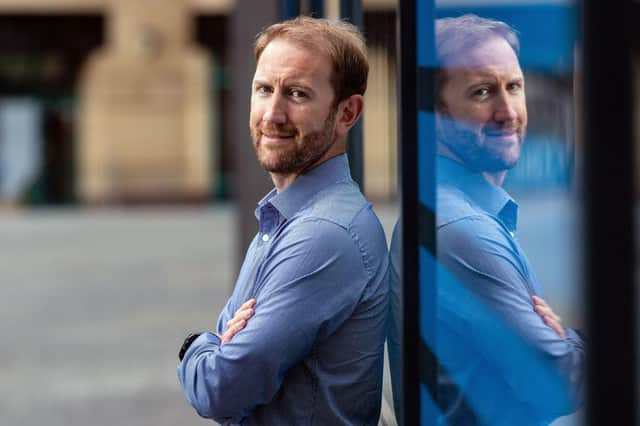 EY Scotland's Oliver Henderson. Picture: Ian Georgeson
From an investor's perspective, there are substantial funds available, and businesses with strong propositions to solve the current financial services challenges are positioned well to benefit, according to Oli Henderson, who leads EY's Scotland Financial Services Strategy and Transactions team.
Sum up the health of the fintech sector in Scotland from a strategy and transactions perspective?
Transactional activity across financial services, as a whole, slowed as a result of the pandemic. Many companies and investors are waiting to understand what the full impact will be, but we have still seen some notable investments taking place.
For example, here in Scotland, the Global Open Finance Centre of Excellence (GOFCoE) recently received £22.5 million from UK Research and Innovation. At the other end of the scale, we saw the start-up Aveni – formerly Hatch-AI – complete a first funding round, which raised more than £500,000 from local investors for further development of its AI-based technology.
Other investments might have been pushed back by the pandemic but the fundamentals for fintech growth are strong in Scotland. There have been some really positive stories over the last three to four years. We have seen a number of firms that started their journey in an incubator like Codebase go from strength to strength – increasing headcount, raising additional funds, and thriving.
Throughout that time, we have also seen successful initial public offerings (IPOs) from a range of Scottish-based fintech start-ups as a route to raising capital, with many of these businesses since going on to achieve further success.
The IPO market has, however, stalled this year across most industries, with volatility making it hard to know where to set a price – but there is an expectation that it will return as a route to new capital.
Some online platforms, such as LendingCrowd, have also seen the funds they lend grow year on year, and have recently started offering Coronavirus Business Interruption Loans to support the SME sector through the current pandemic, alongside all the big lenders.
We are also seeing several firms strike strategic partnerships, including the likes of Eedenbull, deepening its relationship with Mastercard, as well as Modulr's tie up with Revolut.
Just last year, Modulr received £10m from the Capability and Innovation Fund, which was then matched with £10m of its own funds, resulting in £20m of investment to grow its operations.
Other recent positive signs are Scottish-based firms expanding overseas with the likes of Float – a cashflow forecasting specialist – raising £1.5m to open an office in Australia at the start of this year.
What about the overall health of the fintech sector in terms of long-term impacts of the pandemic?
Overall, the sector is well-placed. The EY Attractiveness Survey 2020 showed that the UK remained Europe's most attractive location for foreign direct investment (FDI) in financial services in 2019 and should remain in a strong position to attract investment post Covid-19.
While London received two-thirds of all incoming financial services investment in 2019, Scotland saw a tangible increase in investment from the previous year and attracted the most jobs of any other FDI project , creating almost 3,000 new roles, compared with just over 800 in London.
At EY we talk about the success of fintech hubs in four key pillars: talent, policy, investment capital and demand. Because of the quality of talent available in Scotland, we have seen several innovative, fast-growing firms base the majority of their employees here, and this trend is continuing.
On the policy side, the Financial Conduct Authority has a strong and growing presence in Scotland. This is fostering a greater understanding between locally-based businesses and policymakers. Ultimately, this should help ensure that Scottish fintechs and the wider financial services industry continue to grow robustly.
Another key attribute to the growth and success of fintech here has been the work of FinTech Scotland over the last few years, with strong collaborations forged between the traditional financial services industry and fintechs.
In terms of capital, at EY we see a lot of inbound inquiries from investors, both private equity and venture capital, wanting to know more about the UK fintech market, the growth sectors and the successful players. Currently, investors generally seem to be taking time to survey the landscape and many still have money to invest. Fintech businesses should be well positioned to benefit as many of their solutions provided are needed more than ever.
However, there are inevitably tough times ahead for all sectors in the current environment, with the end of the furlough scheme in October, and again in spring 2021 when repayment of government-backed loans and deferred taxes will commence. The near-term appetite for investment activity across all business sectors – not just fintech – is therefore hard to assess right now.
Which fintech firms are best-placed to thrive beyond Covid-19?
Open banking is very much still at the fore and the positive announcement about the GOFCoE helps to establish Scotland as a leader in that space. Fintechs focused on customer needs should be in a strong position to benefit post-pandemic.
Similarly, we have seen a lot of recent activity in the regtech sector [technology linked specifically to financial regulatory issues]. With a significant increase in online activity, there is a real interest and demand for businesses that can minimise online risk and protect customers and financial institutions.
There is also a lot of interest in capital markets infrastructure. Fintech's working on solutions to support the larger corporates – retail and investment banks, insurance companies and asset management businesses – are perhaps best placed to emerge in a stronger position.
A number of large UK banks have pledged significant investment in Scotland of late. This should be viewed as a real vote of confidence for the country's financial services industry as a whole.
Is it still difficult for growing fintech businesses to raise sufficient investment here?
Scotland has always been pretty good at providing seed funding to start-ups with a strong angel investor community. For example, one angel investor group raised its biggest-ever funding round in 2017 of £3.5m in support of a Edinburgh-based start-up Zonefox.
Growth capital of £5m-plus has always been more challenging. Globally, there are some markets that do this well – notably the US, where the risk appetite is potentially higher and with investors having experience successful tech exits, this opens the floor to reinvestment opportunities. This is something we perhaps have not seen enough of in Scotland yet.
Another great positive is the involvement of the Scottish Investment Bank (SIB). If you raise a certain level of private capital funding, SIB will often join the funding round to offer additional support. They have helped back a number of Scotland's growing fintech businesses.
Money Dashboard further showed there are other ways to raise funds successfully, when it sought a £1.5m raise through crowdfunding, it achieved £3.5m.
Are you positive looking forward?
There will be challenges for the sector and the wider investment market in the immediate future, but financial services and the fintech sector in Scotland remains strong and well placed to attract future investment – especially for those working with corporates to provide solutions to business pain points.
Firms with strong balance-sheets are likely to be on the acquisition trail and there is a lot of capital among investors, many of whom are likely to be looking for the right investments post-Covid-19. I'm optimistic.