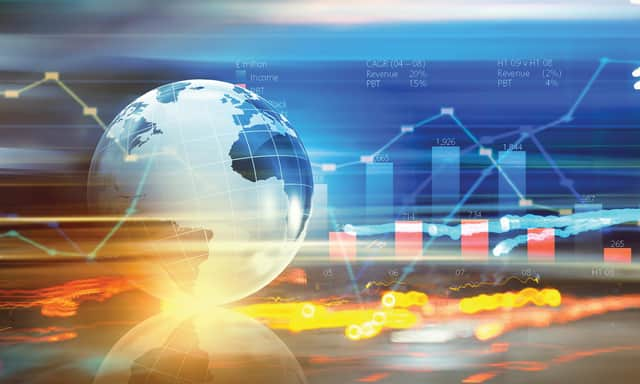 Scotland's strengths in areas from food and drink to oil and gas makes it attractive for global investment.
Despite the shadow of Covid-19 dominating much of 2020, and the uncertainty of what Brexit will bring at the end of the year, Scotland's deals are continuing to become more international.
William McIntosh, corporate partner at Brodies, says: "We are seeing an increasing trend towards consolidation and globalisation."
And the UK's imminent departure from the European Union could actually be contributing to this globalisation in some respects.
McIntosh: As long as are we're participating in that growth at the same rate as everyone else and not getting left behind, it's good
"People are trying to increase their footprint in what could be described as a reverse Brexit play. They have the ability to get into the UK – it's a large market and given the time horizons of Brexit they are keen to do it sooner rather than later," says McIntosh.
In terms of sectors that are attracting the most international intention, it is areas where Scotland is known to be strong.
McIntosh says: "Sectors such as oil and gas, IT, food and drink and life sciences are all fundamentally international.
"What we are seeing increasingly is the ongoing trend towards consolidation and globalisation in companies in these sectors.
"In food and drink, there are premium brands associated with Scotland and with consolidation there is an attraction to buying up such companies."
One of the big driving forces behind consolidation is the availability of private equity money from overseas. McIntosh says: "Private equity has got a huge amount of money to deploy. If you look at the amount of money within the private equity industry globally it's at record levels.
"Private equity investors are always looking for premium assets to buy up and sell on. They will buy a platform which is their starting point company and bolt on more businesses within that sector to build it up until it reaches a scale when it's ready to sell. They are among the most active players in mergers and acquisitions. Private equity-driven consolidation permeates many sectors."
McIntosh gives the example of Scotland-based food safety company Kilco, in Lockerbie, a family business that was bought in 2018 by French firm Kersia which is backed by one of the world's largest private equity businesses, Ardian.
On the back of the Scottish acquisition, the French group went on to buy another UK business, Holchem, earlier this year. This made Kersia Europe's second largest food safety company.
He says: "Kersia made a successful play to buy into the UK market and consolidate the food supply chain because of the private equity backing from Ardian.
"Such deals are filling in pieces of the puzzle for the buyers. They seek out companies that are good in that specific sector."
Looking at which countries are investing in Scotland, McIntosh says that it largely depends on the sector. The US is one of the biggest investors into Scotland and is a global hub for technology, a highly international sector. The industrial sector often attracts money from France, which is generally the second-largest investor into Scotland, and oil and gas has a huge connectivity with Norway.
He continues: "We're finding that, depending on the sectors, inward investment is often a pure economic play in terms of trying to get better yields."For instance, in the real estate sector and the hotel space we have a lot of Asian investors coming in. They like the solidity of UK assets and the economy as a whole. At the moment, with the pound being so low they are looking at a more solid yield from their investment."
Turning to Covid-19, McIntosh says the impact on international deals was felt quickly but has not been as long-term as many would have feared."When it comes to inward investment, we saw the brakes slam on pretty hard when Covid-19 first hit. That was basically because people were wondering what the return on their money was going to be," he explains.
"They didn't know whether they were going to be overpaying for assets they were intending to buy. There was an inevitable period of reflection as investors tried to work out what markets were going to do and what the knock-on effect on profitability of companies was going to be. The other noticeable thing was that bank lending to inward investors stopped.
"That combination meant there was a price gap that investors couldn't plug. They had to wait for the debt funds – alternative sources of lending – to come in and pick up the pieces."But then we saw a rapid return to activity. We thought the impact of Covid-19 was going to last a lot longer. It probably only lasted about six weeks before people started picking up their pens again."A lot of those were processes that had previously started, so they were picking up where they left off, or assets that were already on the market for sale."While Covid-19 did have an impact on pricing, we were quite surprised at how quickly investors returned to the market."
Something that the coronavirus pandemic exposed, according to McIntosh, is the reliance of many European countries on other countries in certain sectors. This led to such issues as a lack of personal protective equipment as weaknesses in supply chains were exposed.
But, overall, the ability of Scotland, and the UK as a whole, to reach a wide international audience is a good thing for the economy, as long as it remains competitive.
McIntosh says: "As long as are we're the ones participating in that growth at the same rate as everyone else and not getting left behind, it's good.
"The flip side is that while many of our clients have been growing and expanding, we are seeing a lot of protectionism coming in. There are a lot of regulations around direct foreign investment effectively preventing deals from happening and investors from coming in on grounds of national security.
"The US has led the trend under the current administration – a trend that looks set to continue. I think we will see more government interest in inward investment."
Discover more information here.