Whisky giant makes carbon cutting tech 'open source' to propel industry to net zero
One of Scotland's biggest whisky producers is making its carbon cutting technology "open source" to help the wider industry hit its net zero goals.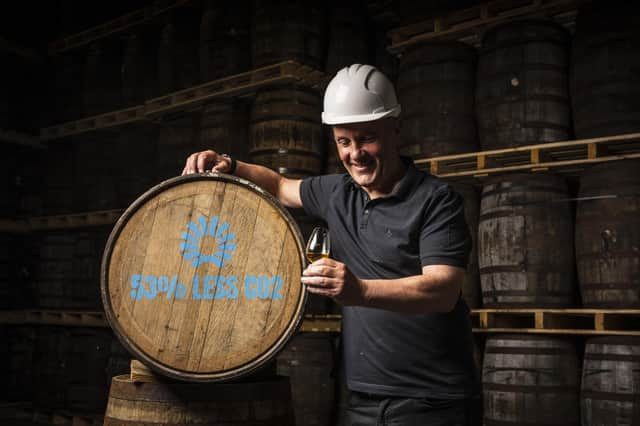 Chivas Brothers, which is part of French spirits giant Pernod Ricard and maker of the likes of Chivas Regal and The Glenlivet, said it was making the move after the application of the heat recovery tech at its Glentauchers site on Speyside showed significant benefit in carbon emissions reduction. The sharing of its design process and implementation insights is intended to "put collaboration ahead of competition" on the road to net zero, the firm added.
The technologies developed by the whisky maker, including mechanical vapour recompression and thermo vapour recompression, are designed to capture and recycle heat generated in the distillation process that would otherwise go to waste. To date, these have reduced total energy consumption by almost half at the Glentauchers distillery, near Keith, slashing the site's total carbon emissions by 53 per cent as a result.
The firm plans to roll out the systems across all viable sites as part of a drive to achieve carbon neutral distillation by 2026. Chivas Brothers expects these technologies to reduce its overall energy consumption and carbon emissions in distillation by 31 per cent, or more than 30,000 tonnes of CO2 per annum.
While the tech may not be suitable for application in every distillery, Chivas estimates that if these technologies were applied by the wider industry's malt distilleries alone, this could equate to a saving equivalent to the annual power required for 605,000 homes.
Jean-Etienne Gourgues, chairman and chief executive of Chivas Brothers, said: "Heat recovery forms a critical part of our commitment to achieve carbon neutral distillation by 2026. Findings with such significant impact must be shared; this technology has the potential to transform our industry and accelerate its progress to net zero. That's why today we're making our design process and implementation learnings available to all. As a business with a long history of innovation, we believe this is the right thing to do. Collaboration across our industry will be fundamental if we are to meet collective ambitions around sustainability, safeguarding the long-term future of our product and our planet."
The company's recent successes in heat recovery are a continuation of its 2021 pilot programme, which achieved energy reductions of 88 per cent on a single pot still and showcased the potential if adopted across distillery operations. The pilot programme at Glentauchers has been part-funded by the Scottish Government through the Scottish Industrial Energy Transformation Fund, which aims to support decarbonisation and energy efficiency in Scotland's industries.
Scottish Government energy minister Gillian Martin said: "Recycling heat from malt that would be the equivalent of powering all the homes in Edinburgh and Aberdeen could be a game changer for the industry, and a boost to Scotland's economic growth while helping reach our climate change goals."
Chivas said it would be hosting a series of dedicated open house events at its Glentauchers site, creating an opportunity for other distillers to see the technology in action. In April, Pernod Ricard said it was expecting "very strong" sales in the tail-end of its financial year after a third-quarter blip.
Comments
 0 comments
Want to join the conversation? Please or to comment on this article.