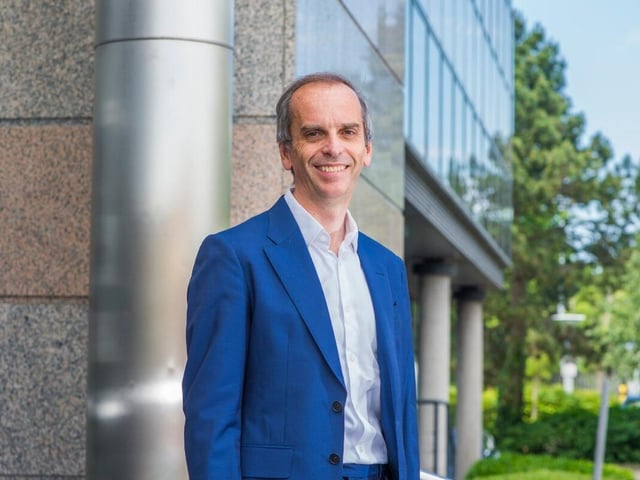 Paul Coffey of GC5G
As a result of the massive shift to working from home and schools being forced to close for months, one thing that has become clear is the nation's reliance on technology.
As a result, interest in such areas as 5G has grown as individuals and organisations seek faster and more reliable technologies as they try to adapt to the "new normal".
Industry regulator Ofcom describes 5G as the new generation of wireless technology, following on from previous generations of mobile technology including 3G, which led to smartphones, and 4G, which allowed faster browsing.
It says the benefits of 5G include speed, greater capacity and more responsiveness, adding: "The connectivity and capacity offered by 5G is opening up the potential for new, innovative services."
And the Scottish Government is committed to putting Scotland in a position to reap the benefits. Almost a year ago the Scotland 5G Centre (S5GC) was set up as a partnership between the University of Strathclyde, which hosts the centre, the University of Glasgow and the Scottish Futures Trust, with investment from the Scottish Government.
The S5GC is positioned as the national centre for accelerating the deployment and adoption of 5G and realising the economic and social potential for Scotland. Its chief executive, Paul Coffey, joined in May during the height of lockdown and has moved from Bristol to Scotland for the role. He has a background in the telecoms and mobile sector, including time working at EE where he played a key role in establishing the UK's first deployment of 4G services in rural communities.
Coffey talks passionately about the potential impact of 5G: "Since 1995 I've worked in the mobile and telco industry. For the best part of 20 years I was working in mobile operators and I spent the last six years running my own consultancy.
"I guess I had something lit within me looking at projects in rural communities over a number of years ago and my consultancy was focused a lot of that type of technology. I saw this role at the 5G Centre and was attracted to it. I thought there was a lot I could bring up to Scotland."
As far as Coffey is aware, the S5GC is the only one of its kind, with its national coverage making it unique, as other players focus on specific regions within countries.
A report commissioned by the Scottish Government from consultancy firm Deloitte found that 4G and 5G have the potential to increase Scotland's GDP by £17 billion by 2035.
Given such a lucrative prize, it is unsurprising that the Scottish Government is willing to pump money into the technology. It put £5 million into setting up the S5GC, and this month it announced a £4m investment in the launch of 5G innovation hubs with the aim of driving economic growth across Scotland.
The first of ten hubs is in Alloa, building on a partnership between Scotland's International ­Environment Centre – which is part of the University of Stirling – and BT to cover the Forth Valley region.
The new S5GConnect Programme, announced on 17 September – and publicised through an online event at which Paul Wheelhouse MSP, minister for energy, connectivity and the islands spoke – will deliver the next stage of the government's 5G strategy.
The programme is intended to help bridge the gap between academia, industry and government bodies to accelerate 5G deployment. It is building on the work done by Scotland's existing Innovation Centres and government initiatives to accelerate the post-­pandemic recovery and address the digital gap that has been highlighted by recent events.
The aim is to ensure Scotland's business sectors, health care and education can thrive in the new economic environment. To reflect the importance of small and medium-sized enterprises (SMEs) to the Scottish economy, the hubs will also provide specific business support packages.
Wheelhouse says: "The 5G revolution presents a significant opportunity for us in the years ahead, and seizing such opportunities is particularly important as we look to build the economic recovery following the lockdown required to suppress the Covid-19 virus."
Coffey explains: "This launch is setting the centre up to support Scotland on its journey to deliver the 5G strategy. The establishment of these hubs is the catalyst we need to bring 5G to communities across Scotland. It is also about raising awareness and increasing the adoption of services, while working with industry to ­increase the skillset.
"We are creating a national network of hubs, which is very ambitious and bold but it's what we need. It's about stimulating demand. Each regional hub will work with existing facilities and regional expertise so we can play to their strengths. We'll be bringing in communities, SMEs and entrepreneurs. It's about creating outcomes that will make a difference to businesses and how we live our lives."
Covid-19 has focused attention on inequalities in society, including digital gaps and uneven connectivity, that made such challenges as home schooling more difficult for certain parts of society than other. Coffey believes that 5G can help boost economic activity as the world battles its way through the pandemic.
"In Scotland, there's a lot of focus around the Central Belt. We need to ensure that, on the back of Covid, any gaps aren't broadened." says Coffey.
"It's about 5G as a critical national infrastructure and we need to ensure appropriate investment goes into that. From a rural perspective, 5G has the ability to address challenges we've had previously with mobile coverage. We can close the digital divide in the rural economy and give people ­choices about where they want to work and live."
There has been high-profile negative publicity about 5G, with fears around health and safety. There are claims it can cause harmful radiation, is primarily for surveillance purposes and can even create pandemics. This has caused some backlash against the rollout of 5G, and Coffey believes education is required to address such conspiracy theories.
He says: "A lot is led by misinformation, unfortunately, but that is the world we live in. The universities have led their own research and there is literally no evidence to back any of this up.
"From the centre's perspective, it's about education and the hubs will be set up to direct people to the right sources of material. It's also about making sure people are aware of the benefits. That's what this is about, the transformational impact 5G will deliver to people's lives around skills, jobs and the economy coming out of this pandemic.
"While the focus of the hubs is the business community, they are also centres where we will have events for the general public to educate them about 5G. We are also creating a mobile hub that we will take to Highlands and Islands to get people engaged."
And Coffey has lofty ambitions for 5G, with a key aim being to attract inward investment and put Scotland on the map. He says: "It's recognised on the back of Covid that 5G will play a critical role in economic recovery."