West Lothian electronics firm 'extremely positive' as revenues head towards £20 million
West Lothian-based electronics contractor CB Technology is on track to achieve £20 million in turnover by 2025 after sales jumped by more than a third in the past year.
Founded in 1999, the company has expanded rapidly since a 2015 management buy-in, supported by Maven Capital Partners. From its custom facility in Livingston, CB provides services to a diverse mix of clients across a range of sectors including energy, industrial, medical, communications and space.
Bosses said the business remained on track to hit its ambitious revenue goal after delivering a 36 per cent increase in turnover for 2022-23, to £14.3m. Over the last 18 months, the firm has continued to diversify its manufacturing capability beyond its traditional energy sector involvement with the addition of new clients in communications, Internet of Things (IoT) and the life sciences sector. It has also invested in new equipment, along with increasing its headcount to 85 over the last year. The firm is developing the next generation of electronic engineers by taking on three apprentices while planning to increase that number over the coming year.
Managing director John Cameron said: "Our latest financial results are a testament to the skills and hard work of our team with the continued support of our innovative customers and dedicated shareholders. We remain extremely positive about our growth trajectory and the broader electronics manufacturing sector in Scotland.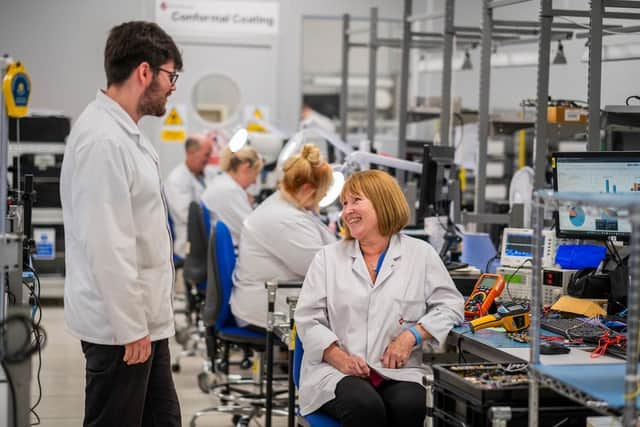 "Despite a range of significant events creating a challenge for the global manufacturing industry, CB Technology has established a strong position for itself within the electronics manufacturing sector through strategic alignment with cutting-edge customers in the IoT, sensing technology and life sciences sectors."
The firm is sticking with its growth forecasts despite an expectation that the UK economy will contract by around 1.4 per cent in 2023, with industry body Make UK, formerly the Engineering Employers' Federation, expecting a 3.2 per cent reduction in output in the manufacturing sector compared to last year. CB Technology has built a strong reputation for supplying complex and reliable electronic components worldwide, manufactured out of its dedicated facility in West Lothian. Revenues have increased 500 per cent since the 2015 management buy-in.
A recent report suggested that the Scottish engineering and manufacturing sector remained optimistic despite orders ending a run of growth in the third quarter. Trade body Scottish Engineering said the run of increased orders that the sector had enjoyed since the middle of 2021 came to an end during the period. UK orders were down by a balance of -12 per cent, while those for exports were down by -11 per cent. However, optimism rose by 12 points.
Paul Sheerin, chief executive of Scottish Engineering, said: "It's always difficult when the pendulum for a key measurable swings from positive to negative to balance a reaction which puts facts against choosing to call for patience. In this case with other indices remaining positive and a look back at a normal summer order profile, we opt to reserve judgement, mindful of the importance – and fragility – of business confidence in shaping our economy."
Comments
 0 comments
Want to join the conversation? Please or to comment on this article.