'We have a huge commonality with Scotland in driving the net zero agenda' - Chris Hayward, City of London Corporation
Scotland's vast financial services sector can help power the UK to become the lead country in achieving net zero targets, according to one of the most prominent figures in London's Square Mile.
Chris Hayward, policy chairman at the City of London Corporation, said green finance as a tool to drive net zero was of "fundamental importance" as he highlighted the strengths of the banking and financial services sectors on both sides of the Border.
Hayward was speaking to The Scotsman during a two-day visit to Scotland accompanying the Lord Mayor of London, Nicholas Lyons. First Minister Nicola Sturgeon, industry body Scottish Financial Enterprise and funds giant Abrdn were among those meeting with the City representatives.
The trip has been taking place just weeks after Edinburgh was the focus of a shake up of the UK's financial sector. Outlining a package of more than 30 reforms in the Scottish capital at the start of last month, Chancellor Jeremy Hunt insisted the overhaul would cut red tape and "turbocharge" growth across the UK. He said the changes would seize on "Brexit freedoms", with measures including a review of accountability rules for bankers and easing capital requirements for smaller lenders. The "Edinburgh Reforms" have been described by some as Big Bang 2.0 - following the financial Big Bang of the 1980s that kicked off a wave of deregulation.
Hayward said his key message had been to highlight the strengths of Scotland and the City of London as a combined powerhouse of the UK economy. "We have been discussing elements where we have a common interest," he said. "For example, green finance and delivering a just transition are areas where the Scottish financial cluster has a huge role to play. If we don't have a successful financial services sector in Scotland and down south then we cannot invest in the many projects that government want to invest in. The wealth has to be created in order to be redistributed."
He pointed out that almost 150,000 people were employed within financial services in Scotland, with thousands more dependent on related support areas. In the region of £700 billion of assets are under management or administration in Scotland.
"We have a huge commonality with Scotland in driving the net zero agenda," added Hayward. "In the City of London, for example, we've set ourselves the target of 2027 for our own in-house operations and the whole of the Square Mile to be net zero by 2040, so there is massive opportunity out there. Green finance as a tool to drive net zero is of fundamental importance. We both have strong sustainability agendas and both have large amounts of capital to be deployed and utilised. Working together I think there is potential for the UK to be the lead country in driving net zero, both from a capital deployed perspective and a 2050 [net zero] target." He dismissed notions of greenwashing, arguing that the measures and actions were "quantifiable".
Outlining the government's reforms last month, the Chancellor said he was committed to "securing the UK's status as one of the most open, dynamic and competitive financial services hubs in the world", adding: "The Edinburgh Reforms seize on our Brexit freedoms to deliver an agile and homegrown regulatory regime that works in the interest of British people and our businesses."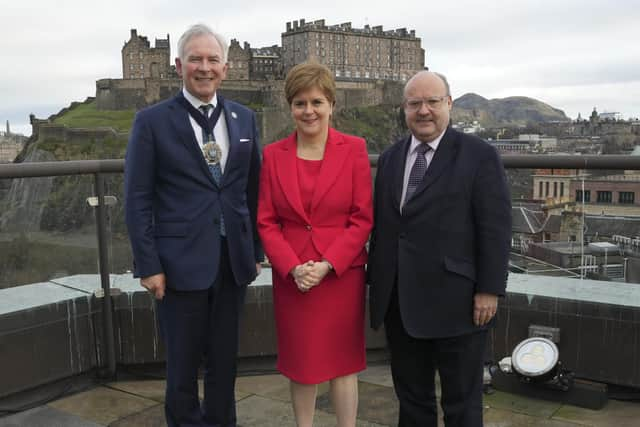 The UK government has already announced that it will scrap a cap on bankers' bonuses and allow insurance businesses to invest in long-term assets such as housing and wind farms to boost investment. Hunt has also promised to reform the UK prospectus regime to support stock market listings and capital raises.
While many in the financial services sector lobbied for the UK to remain within the EU, Hayward said it was time to move on from the Brexit debate. "It's done and dusted," he said. "We have to move on. One of the things the Lord Mayor and I have been doing up here is initiating a vision for financial services, called Vision 2030, to give a commonality of strategy and vision to take to all political parties.
"When I look at competitor markets like Singapore or New York, they all have clearly defined visions and strategies on where financial services is going and we would like to mirror that. That would be driven by regulatory reform of which the Edinburgh Reforms mark a positive step. Of course, they need to be implemented carefully but they are good news for the financial services sector overall. The reforms will drive our vision and so will the forthcoming Spring Budget, as will the financial services and markets bill, which is probably the most progressive piece of legislation in 20 years. In a post-Brexit environment we need to be hugely competitive."
Hayward declined to be drawn into the debate on Scottish independence, amid the prospect of a second referendum. "What we want to do is try to cut across that argument and say that the financial services sector is a key asset on both sides of the Border," he said. "It's important that we work together to address the common challenges regardless of the political environment."
The policy chairman also pointed to "huge commonality" in the area of financial technology - or fintech - with Scotland now home to more than 200 fintech start-ups and SMEs. "The question is how to support these firms so that they remain in the UK and we don't lose them to the US," Hayward said. "We need to harness fintech as a real opportunity for Scotland and the City to grow and develop."
Comments
 0 comments
Want to join the conversation? Please or to comment on this article.