'We are a laughing stock': Poundstretcher staff say stores should close after describing conditions as 'a joke'
Staff at Poundstretcher say stores across the country are a high health risk and should be closed after describing the working conditions as a "joke."
Staff at Poundstretcher say stores across the country are a high health risk and should be closed after describing the working conditions as a "joke."
The Scotsman spoke to employees in the Central Belt following reports they had been sent "DIY instructions" to make protective kit for the money-saving stores during the coronavirus pandemic.
In a branch in the Lothians, one staff member, who wishes to remain anonymous, said he and his team had to use materials from the shop to tape together after their "DIY kit" never arrived.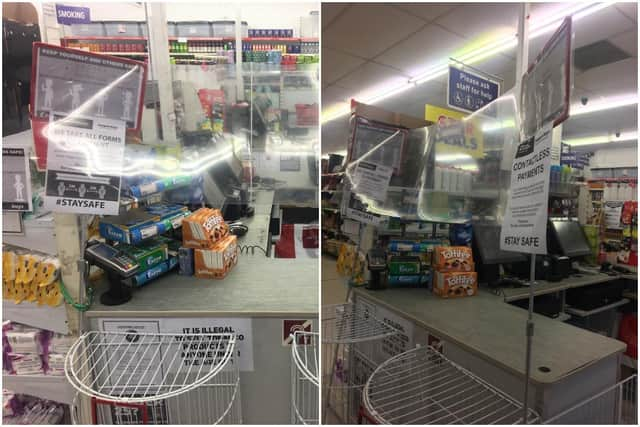 "We are a laughing stock," he said.
"At first I thought the DIY kits were a joke. I heard about them from other staff members because we didn't even have one sent here.
"The conditions are ridiculous. There are no coronavirus-related regulations and no protective kit so we are putting not only ourselves but others at risk.
"We've been firmly told that we must keep these stores open, but I think they should close given the health risks."
The concerned staff member said most of the items delivered to Poundstretcher stores are not what the government currently classify as "essential".
"We are getting sent more and more non-essential items delivered to stock the shelves with," he said.
"Shelves that used to be filled with soups, pasta, coffee and sugar, are now being replaced with bedding, sports water bottles and gardening equipment.
"If shops are only meant to be staying open for essential items then we shouldn't be open.
"Looking at the profits, we made three times as much cash on the non-essential items than we did on the remaining essential items that we sell.
"They are all about profit this company and not following government guidelines. They are putting profits before our lives."
One customer at the same branch said the protective gear was "a monstrosity."
"I cannot believe the conditions these people are working in," she said.
"The company is clearly trying to stay open to make money but it's putting its customers and staff at a huge risk."
A Poundstretcher staff member at a different branch, who also wishes to remain anonymous, described the working conditions as "a joke."
"When it gets busy I end up working physically back-to-back with one of my colleagues at the cashier," she said.
"The company has made no effort to install any equipment to keep us safe and we've had to put down our own tape marking the two metre distance."
She said staff are given grief every day from customers about the lack of protective equipment in the shop.
"It's distressing the amount of complaints we get from shoppers," she continued.
"We all want to be with our children, our grand-children, we have the same worries as everyone else, but on top of that we are getting abuse for something that is out of our control.
"We have to buy our own masks and hand gel, and we do what we can, but when it gets busy, it's impossible to control."
The employee said her branch were sent an email from company bosses asking staff to monitor the door during peak shopping times.
But due to the lack of employees in the shop, it is hard enough managing customers inside.
The Scotsman has reported on other supermarkets bringing in specialist teams to fit plastic screens to protect staff including Sainsbury's and Poundland.
Both staff members said the company's rival, Poundland, are currently treating their staff much better and have efficient protective measures in place across their stores.
Poundstretcher has been approached for comment.
Comments
 0 comments
Want to join the conversation? Please or to comment on this article.