Top 5 CBD Oil Products in UK 2022
CBD oil has become increasingly popular in the UK. Learn how CBD oil works and check out our picks for the 5 best CBD oils in the UK for 2022!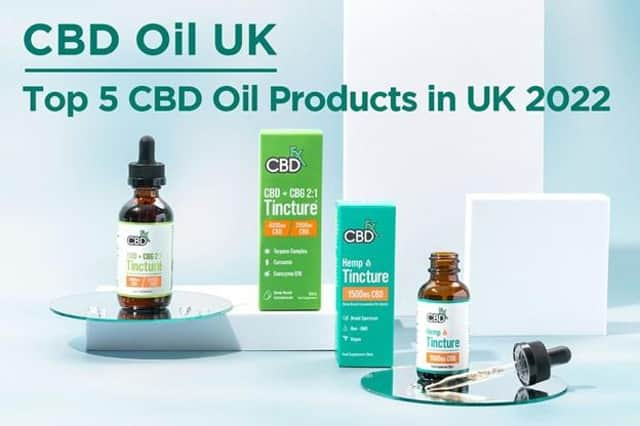 CBD has become increasingly popular in the UK and all over the world. While using hemp to enhance wellness is hardly a new idea (humans have been doing it for thousands of years!), restrictive cannabis laws in the UK have only recently relented to allow brands to sell hemp-derived CBD products. But the response from consumers has been overwhelming, and CBD oil has become one of the most popular health supplements on the market!
CBD oil drops are a particularly popular way to take cannabidiol. Sublingual oils allow you to get the CBD into your bloodstream fairly quickly, compared to edible CBD products, and they also allow you to customise your dosage, right down to the slightest mg.
We'll get into what CBD is and what goes into making a good CBD oil below, but first let's get to the products themselves. We've identified what we believe are the best CBD oil UK products for 2022. So, without further ado, let's have a look at the best of the best in CBD oil!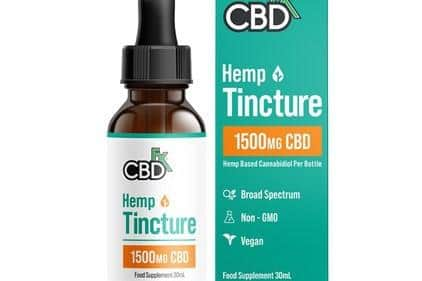 Top 5 CBD Oil UK Products for 2022
1. CBDfx CBD Oil Hemp Tincture
CBDfx has been a leader in the CBD industry since 2014. They consistently deliver CBD products with the highest quality in terms of both purity and potency. All of their hemp is naturally grown, with no pesticides or other harmful chemicals. They extract their CBD oil using clean carbon dioxide, which leaves behind no solvent residue as you'll find in the products of some cheaper CBD brands. And they are completely transparent with all of their CBD products, providing independent, third-party lab reports for every product, allowing you to verify not only how much CBD is in it, but also whether there are any contaminants.
Unlike many other CBD oil products that cloud your CBD experience with additional ingredients, their vegan CBD Oil Hemp Tincture allows you to simply experience pure broad-spectrum CBD. The only additional ingredient, beyond the CBD itself, is natural, coconut-derived medium chain triglyceride (MCT) oil. This oil allows your body to better absorb the CBD. And that's it! CBDfx's CBD Oil Hemp Tincture is the purest CBD experience you can buy in the UK, perfect for first-time users and CBD veterans alike.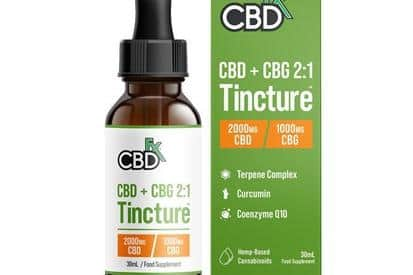 Save 25% with code CBDFX25.
2. CBDfx CBD + CBG Oil Wellness Tincture
CBDfx's other CBD oil tincture makes use of the compound known as the "Mother of All Cannabinoids." This, of course, is CBG1 (cannabigerol) which is the parent compound from which all other cannabinoids are synthesised. By bumping up the CBG content in their CBD Wellness Oil, CBDfx has crafted a great product for allowing you to experience the entourage effect (we'll explain how important it is in a bit). They also add healthful curcumin, coenzyme Q10, and a special blend of terpenes to the mix to further enhance the energy and wellness effects of this pure, vegan CBD oil. The result is a great CBD oil product for energy and focus in the mornings, as well as a wonderful wellness boost.
Save 25% with code CBDFX25.
Blessed CBD is one of the more prominent UK-based CBD brands. They adhere to the same practices we touted above: naturally grown, pesticide-free cannabis hemp, CBD oil extracted by clean CO2, and independent lab reports for transparency. Their broad-spectrum CBD oil drops are a great CBD-only option, much like CBDfx's CBD Oil Hemp Tincture above. The difference is that CBDfx's CBD oil uses MCT oil as a carrier oil, while Blessed CBD Oil contains hemp seed oil as a carrier oil. Hemp seed oil does not contain additional cannabinoids, terpenes, or flavonoids (it's mainly used for skin care products), but it does make a good carrier oil — giving you a quality CBD experience in the process.
4. Medterra CBD Immune Boost Oil
Medterra is another top-shelf CBD brand that makes quality CBD oils. Their Immune Boost CBD Oil is great for cold and flu season, when everyone is looking for a little immune system help. Not only does this all-natural oil product contain broad spectrum CBD, it also contains a powerful blend of elderberry, echinacea, ginger root, ashwagandha, reishi mushroom, and lemon balm — plus, 35 mg of additional vitamin C per serving! Medterra's Immune Boost CBD Oil is a great addition to any daily supplement routine.
5. cbdMD Coconut CBD Oil Tincture
If you like the taste of coconut — and we do! — cbdMD's Coconut CBD Oil Tincture is a delightful CBD experience. Their proprietary cannabinoid blend of broad spectrum CBD calls to the fore CBG, the Mother of All Cannabinoids, and CBN, known as the "ultimate relaxation cannabinoid." The result is a great relaxation CBD oil, perfect for chilling out at the end of a long day. This tasty oil product also contains MCT oil, as well as natural and artificial flavours.
CBD oil is the oil that is extracted from buds, leaves, and stalks of the cannabis hemp plant. CBD oil should not be confused with hemp seed oil, which has very different chemical content and is mainly used for skin-care products. CBD oil, on the other hand, is packed full of healthful cannabinoids, terpenes, flavonoids, and fatty acids. There are over 100 cannabinoids in hemp-derived CBD oil, including CBD, CBG, CBN, CBC, and even trace amounts of THC.
The body produces its own cannabinoids, which are called endocannabinoids. These act as neurotransmitters in the body's endocannabinoid system. This system interacts with receptors in the central and peripheral nervous systems, as well as the brain and other various organs and systems. When endocannabinoids interact with these receptors, they help those various systems and organs to maintain homeostasis, or balance. This helps the body to regulate such important functions as sleep, stress, mood, memory, appetite, pain management, immune function, and much more.
When you consume cannabinoids, like CBD (cannabidiol), they interact with those same receptors, almost mimicking the body's endocannabinoids and helping the body with homeostasis. It is because of these benefits that CBD has been embraced as a popular wellness product (including CBD for dogs and cats! In the last year, in fact, it was estimated that CBD sales alone accounted for £690m in the UK. So, people have experienced the calming wellness effects of CBD and are embracing it!
CBD & the Entourage Effect
Because broad spectrum CBD retains a robust mix of cannabinoids, terpenes and flavonoids, it allows the user to experience the entourage effect. This term refers to the phenomenon by which various cannabis compounds (including CBD), when taken together, actually bolster each other's effects. So, in the case of CBD oil, your CBD works harder for you in broad spectrum CBD than it does in its isolated form, which is called CBD isolate.
CBD isolate is 99% pure CBD, with all other hemp content removed. CBD isolate is actually great for bath or vape products, because it is odorless and flavourless, allowing the scents and tastes of the product to shine (note: always insist on natural flavours when you buy CBD products!). But in sublingual CBD oils, CBD isolate doesn't quite measure up in terms of wellness benefits or calming effects.
How to Take Sublingual CBD Oils
While all CBD products — from sublingual oils to CBD gummies are made with CBD hemp oil, the products on this list are, themselves, CBD oil products (sometimes called tinctures). These sublingual CBD oils are meant to be held under the tongue for 60 seconds before swallowing. This allows the CBD to be absorbed into your bloodstream through the capillaries of your mouth. Sublingual CBD oils get into your system much quicker than edible CBD products, which have to travel through the digestive system to be absorbed. Sublingual CBD tinctures can enter your system as quickly as 15 minutes, depending on bioavailability factors, such as height, weight, metabolism, and tolerance to CBD.
How Long Do Sublingual CBD Oil Products Last?
The effects of sublingual CBD can last as long as four to six hours, depending again on bioavailability issues. This is much longer than CBD vape products, but not as long as edible CBD, which can stay active in your system for up to eight hours.
Cannabidiol & Bioavailability
Since we've mentioned bioavailability a few times, it's worth reminding everyone that we all have different bodies, and CBD (like most other things) affects each of us differently. As we said, height, weight, body mass, CBD tolerance, metabolism and other factors can affect how quickly and how powerfully we feel the effects of various CBD oil products.
So, when you try CBD oil (or any CBD product) for the first time, you should consider taking half of the recommended dosage. If you feel the desired effects, great! You've found your own personal dosage, and you'll be able to stretch out your CBD oil much longer than some other folks. If you don't feel the effects of your CBD oil (and remember, it can take up to 90 minutes for the CBD to kick in), don't take a second dose. If you do end up feeling the effects of the CBD, you won't know whether it was your first dose finally kicking in or the second one. And you might accidentally build up an unnecessary tolerance to CBD in the meantime. If you take CBD and don't feel anything, wait until the next day to try again with a slightly higher dose. Eventually, you'll find your own ideal CBD serving size.
Shopping for Premium CBD Oil in the UK
There are a lot of CBD oil brands in the UK market, and they aren't all producing high-quality CBD oil products. In fact, there's a lot of garbage CBD out there. So, it's important to know how to shop for quality CBD. We've given you a few recommended CBD oils above, from trusted brands, but it's worth it for you — if you intend to buy CBD — to know how to find premium CBD oil in the UK.
In the UK, brands can't legally advertise that their CBD products are organic (even if they are). But you can look for brands that don't use pesticides and other harmful chemicals on their hemp. You should also buy your CBD oil from brands that use carbon dioxide to extract the CBD from the hemp plant. CO2 doesn't leave chemical residues as you often find from brands that use cheaper solvent CBD extraction methods. The only way you can know, of course, whether or not your CBD is pure is to be able to look at lab reports on your product, and those reports should be created by independent, third-party laboratories. If your CBD brand doesn't offer you the transparency of a third-party lab report for all of their products, you should find another CBD brand!
The Last Word on CBD Oil UK
Today, you've learned about what CBD oil is, as well as some of its benefits. You've even learned how to buy CBD oil when you shop in the UK. And we've given you five great CBD oil products, that we highly recommend on the basis of purity and potency, to get you started. Now, it's up to you to experience the benefits of CBD for yourself!