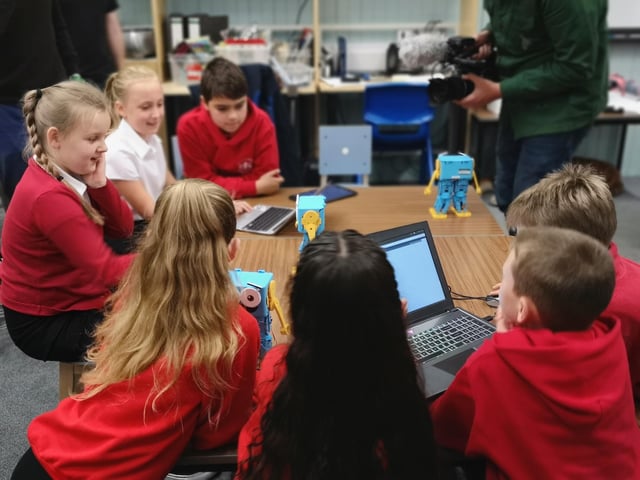 It's in the classroom where one of the greatest catalysts for change exists, says Ms Duncan. Picture: contributed.
Aged 16, how different was your view of what your adult life would hold? For young minds not defined by demographics, the possibilities seem endless. Irrespective of circumstances, it is pure imagination that holds the key to unlocking our future selves.
Or that's what we would all like to believe. The harsh truth is that gender stereotyping is imprinted on us from childhood; whether consciously or unconsciously, our society breeds gendered generations.
This sense of being categorised by gender norms is seen most acutely in the make-up of our economy. Women tend to work in lower-paid sectors and occupations that are less likely to offer progression whereas men dominate in construction and engineering and are more likely to aspire to leadership positions.
Siobhan Duncan is lead developer at Robotical. Picture: contributed.
The Women and Equalities Committee's recent report on the gendered economic impact of Covid-19 corroborated what we already know exists in Stem (science, technology, engineering and mathematics) – a glaring gender bias towards men. According to diversity and inclusion specialist Wise, more than 1.1 million women are employed in core Stem occupations in the UK and despite the number of women in engineering professional roles doubling in the last ten years, only 10.4 per cent of the UK's engineering workforce are women.
The Gender Equality Roadmap published in 2019 aims to stem the tide of inequality in Stem and stimulate the recruitment and retention of women in the workforce, but it's in the classroom where one of the greatest catalysts for change exists.
Robotical polled more than 100 primary school teachers to gain insights into the delivery of Stem activities and learner engagement. Around half of respondents stated that Stem is a core subject adopted by all year groups at the school, and yet a startling 6 per cent don't teach Stem at all, despite it being an area within the Curriculum for Excellence.
Funding for resources, teacher confidence and IT issues are the three greatest challenges teachers face when it comes to teaching Stem.
As for evidence of gender-based perceptions around the curriculum among primary learners, teachers told us that attitudes begin to form from as early as Primary 1, opinions becoming more firmly held the older the child. Girls are seen to increasingly disengage from practical tasks, not because they are unable to, but because boys are more openly confident and enthusiastic and because girls labour under the misapprehension that "science" is for boys.
The consequence of this is that girls then gravitate by peer or societal pressure towards the subjects in which they don't feel disadvantaged. Research by WorldSkills UK and the Careers & Enterprise Company highlighted that alongside parents, teachers are key influencers on children and that providing them with the right information and support will lead to young people having higher expectations and aspirations.
In spite of the Scottish Government's pledge in 2017 to commit £1.6 million over four years to train teachers in numeracy and mathematics as part of its Stem Strategy for Education and Training, our system is still failing our children because teachers do not feel suitably equipped to deliver Stem.
Empowering
Wise and other organisations such as Equate Scotland are campaigning hard to shake off stereotypes in Stem by empowering and upskilling women to increase take-up, contribution and success across each discipline. It has been estimated that reducing gender gaps in labour market participation and Stem qualifications and wages could increase the size of the UK economy by around 2 per cent – or £55 billion – by 2030.
Is it not to the benefit of all of us, therefore, that we breed generations of young adults, regardless of gender, background or ethnicity, that are self-motivated individuals driven by dreams – not what society expects of them?
Let's tell that six- and 16-year-old to reach for the sky, like Buzz Lightyear, be an astronaut – that's what I wanted to be when I was six and that dream is very much still alive, be a scientist, be an engineer. Let our actions be governed by the uninhibited inner child that is still in there somewhere, not by a response that society has conditioned in us.
And while the Covid pandemic has painted a bleak picture of gender inequity in our economy, it has conversely shone a spotlight on how world-leading our scientific community is. Never before has the population paid such close attention to our scientific endeavours, and at the helm of our vaccine programme is Professor Sarah Gilbert, who until this crisis hit and was thrust into the limelight, would have carried on with her research with no global fanfare.
If you're a woman in Stem and are passionate about what you do, make your voice heard. Tell as many young girls and boys as you can that their future does not come in a pink or blue box, the sky really is the limit. Get involved with your local school, talk to teachers, talk to children, hold workshops and after-school clubs, engage your company in fundraising and corporate social responsibility initiatives to give our young people the chance they deserve.
No matter how small you believe your light to be, don't hide it under a bushel – because our children need everyday amazing role models in Stem. #choosetochallenge
Siobhan Duncan is lead developer at Robotical, which "brings Stem learning to life"
A message from the Editor:
Thank you for reading this article. We're more reliant on your support than ever as the shift in consumer habits brought about by coronavirus impacts our advertisers.
If you haven't already, please consider supporting our trusted, fact-checked journalism by taking out a digital subscription.