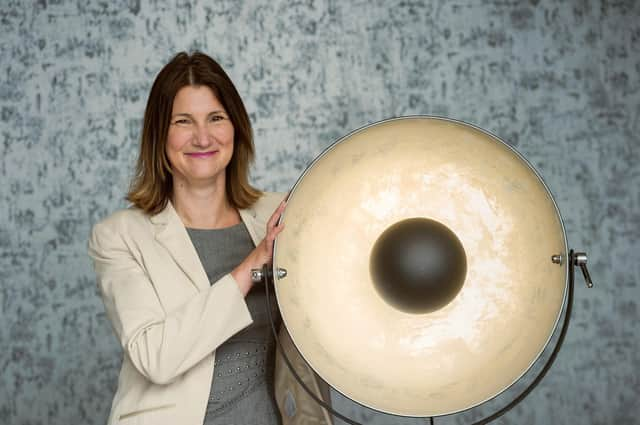 Carolyn Currie is adamant that women's enterprise deserves to be in the spotlight. Picture: Malcolm Cochrane.
The businesswoman is a chartered banker, with her CV including a spell as head of business lending at Royal Bank of Scotland (RBS) where she managed the multi-billion-pound lending book. She has also contributed policy papers to the World Economic Forum in Davos, and is a founding member of the UK Women's Enterprise Policy Group, for example.
WES has just launched its 2021 Manifesto for Change, focusing on the importance of developing and supporting women's enterprise as part of Scotland's future economic prosperity. Ms Currie said when the initiative was unveiled: "We simply must prioritise the key actions which will close the quite frankly shameful and accelerating gender gap in enterprise participation and allow women to fulfil their economic potential."
Why did you take on the role of WES chief executive and how would you describe what you want the organisation to achieve?
I took on the role for two reasons. Firstly, because of the opportunity to work with the strong, talented and supportive women that make up the WES team. We all have different skillsets and I've learnt so much from all my colleagues over the years.
We've celebrated some great highs, but we have also helped to pick each other up during the more dispiriting times. It's the same with the WES Ambassadors and the other women and men in our extended network. There's a real sense of "all for one and one for all" and that's very compelling.
The other reason I took the role was because I could see there was a huge opportunity to place Scotland at the forefront of women's entrepreneurship and business ownership. We have the talent and expertise to lead the way in creating a gender-balanced business ecosystem here in Scotland and to then export that model globally.
I want to see WES help more women to harness their skills into starting a business and then to access the opportunities to grow those businesses, hone their leadership skills and play a central role in boosting Scotland's economy. Helping businesses to develop and grow is exciting and rewarding.
You have highlighted how the pandemic is disproportionately affecting women. What is WES doing to help combat this issue?
We have launched the digital Women's Business Centre, the first freely accessible digital platform of its kind, which supports women as they start and grow their own businesses. We worked with RBS and Crowdfunder UK to launch the website, which has been accessed by thousands of businesses and women at the pre-start-up and start-up stages.
We have extensive data on women-owned businesses from our years of research and we have applied these insights to developing the platform and bridging gaps in mainstream support. Ensuring that women can navigate the specific challenges they face and have the best foundation from which to launch and grow their businesses.
We have also issued several policy briefs to provide insight on the needs of women-owned businesses to the Scottish and UK governments. Our first-ever manifesto has just been launched ahead of the Scottish Parliamentary elections. The manifesto draws from research and our practical experience to outline five priorities for positive change, which together will deliver the targeted action needed to mitigate the serious impacts of the pandemic on women and their access to the economy.
What do women bring to entrepreneurship, for example to what extent can they boost the economy, and what can they gain from it?
Women bring gender diversity to entrepreneurship in Scotland and the UK. That's important because studies show gender diversity powers radical, step-change innovation – the kind we need to boost productivity and regenerate the economy.
There is much work to be done to capitalise on what we are currently leaving untapped, As it stands, women-owned businesses comprise fewer than 20 per cent of all businesses in Scotland. This is a shockingly poor statistic, which shows how much of women's economic potential is currently being wasted.
On the plus side, women-owned businesses already contribute £8.8 billion to the economy every year and have created more than 230,000 jobs – that's 13 per cent of all private sector jobs in Scotland. Doubling those numbers to 40 per cent would put another £8.8bn into the economy and start to unlock an extra dividend in terms of innovation and productivity.
The Covid-19 pandemic has resulted in women being forced out of the labour market due to job losses and redundancy. Requests for furlough are frequently being denied, leaving many women in an impossible situation as they juggle their work and caring commitments. Starting a business gives them control and choices. It ensures their skills and talents are not lost to the economy and they have the opportunity to work flexibly and balance home-life commitments.
There has been an increasing focus on gender inequality in recent years with the likes of the #metoo movement and Caroline Criado Perez's work on data bias. How has this helped accelerate WES' activity?
Once you look at life through a gender-lens you see things you didn't before. Many people are shocked at the data, as we tend to perceive life as more equitable than it actually is. More women and men have a greater understanding of the need for our work and have stepped forward to ask how they can help WES. This has helped us to develop our manifesto and offer more free support to our Women's Business Centre subscriber community.
For example, we are working with First Sentier Investors to offer businesses free sessions with experts in areas such as legal, finance and marketing. This support is vital in ensuring women-owned businesses can access the resources they need to successfully start up, grow and achieve their aspirations.
You co-founded and launched the Women In Business initiative at RBS/NatWest – can you explain more about the intention behind this and its achievements? How did it help your work with WES?
It started out as a pilot with 12 staff to follow up on research indicating that women faced distinct challenges in business. We wanted to understand if a bank could provide more need-based support and the response from customers was a resounding "yes".
I expanded the team to provide expert support in local areas across the UK and more than 100,000 women chose to bank with us when they started up in business. With a team exceeding 200 people, I was able to create leadership roles and broaden the career opportunities for women in the bank.
I am a huge supporter of women's leadership capabilities and this expertise has helped with my work at WES. As businesses grow, it's crucial to develop strategic analysis, governance and leadership skills – and we provide training in those areas.
My work at the bank also clearly evidenced the benefit of providing needs-based, gender-specific support for women-owned businesses. This insight helped me at WES to guide the development of programmes for women, founded on research, gender-specific techniques and practical expertise – which is a powerful combination in unlocking business growth potential.
Can you explain your career path pre-RBS – what led you into financial services?
I went straight into banking when I left school. It offered the opportunity to do paid work while studying for a professional qualification. Once you were qualified, you could access a lower rate-mortgage and buy your own flat, which I thought was brilliant. Although I hadn't thought much about the reality of years of working during the day and studying at night, which did take a bit of determination (and less social life!).
Banking and working for a bank that was expanding gave me a varied career. I've worked in lots of different areas from local branches to legal, lending, marketing and strategy. I've always lived in Edinburgh but spent years commuting to London as part of my work.
I've sat on and chaired a number of different boards and all of these experiences have helped to develop my own skills. I'm proud to be a chartered banker and to be able to use my expertise to work at WES and help progress women's entrepreneurship.
Can you cite some good and/or bad examples you have seen or heard about of the way women have been treated in the workplace?
Throughout my career I've seen women passed over for promotion. We talk about the value of diversity in teams but there's still work to be done on valuing different leadership approaches in practice. I've seen this single issue be responsible for talent leaving workplaces – not just those being unsuccessful in securing promotion, but also their peers who can simply choose to use their skills elsewhere.
As workplace automation increases, future skills evaluations point to the need for leadership qualities that align more closely with women and I hope this will help achieve momentum on greater parity.
You've cited Michelle Obama as an inspiration – which other women do you admire, and why?
I admire women of courage. It takes courage to stick to your principles, courage to speak out when it's not your forte, and courage to set out on a path less well-trodden. It especially takes courage to speak truth to power.
I admire our WES ambassadors who have been pioneers in women's enterprise, each in their own way. I admire Pheona Matovu, founder of Radiant and Brighter, the organisation that bridges the gap between the needs of the growing black and minority ethnic refugee and migrant communities and existing support provision in Scotland, for her dignity in the face of adversity and her sustained focus on achieving the vision of a much more inclusive Scotland.
A message from the Editor:
Thank you for reading this article. We're more reliant on your support than ever as the shift in consumer habits brought about by coronavirus impacts our advertisers.
If you haven't already, please consider supporting our trusted, fact-checked journalism by taking out a digital subscription.