The Big Interview: TVSquared founder and CEO Calum Smeaton
Straitened finances and a boom in viewers since the pandemic are a win-win for Calum Smeaton at TVSquared.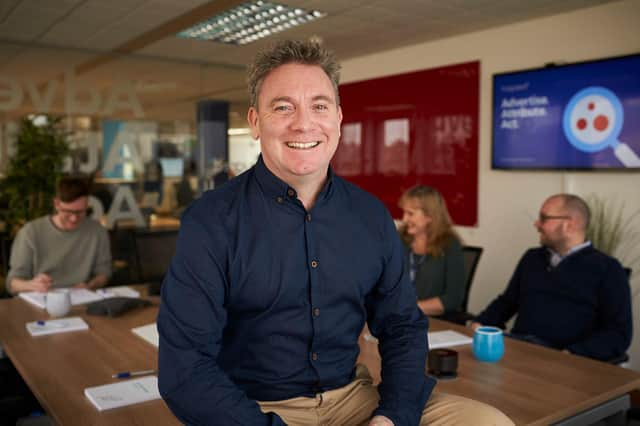 Calum Smeaton is the founder and chief executive of TVSquared, the Edinburgh-based technology firm that helps businesses measure returns from ­TV advertising.
It describes itself as a single, unified platform measuring impressions, reach and outcomes across linear and digital TV anywhere in the world. The firm has raised about £20 million to date and boasts a network of international offices and clients including InterContinental Hotels Group, Expedia and GoDaddy.
Serial entrepreneur Smeaton has for the past two decades focused on launching and growing software and e-commerce start-ups. After building up in-depth knowledge of data analytics, he founded TVSquared in 2012 to bring state-of-the-art analytical capabilities to TV advertising. He saw a gap in the market to bring performance insights to an industry that was relying on ratings data delivered six weeks after an ad aired.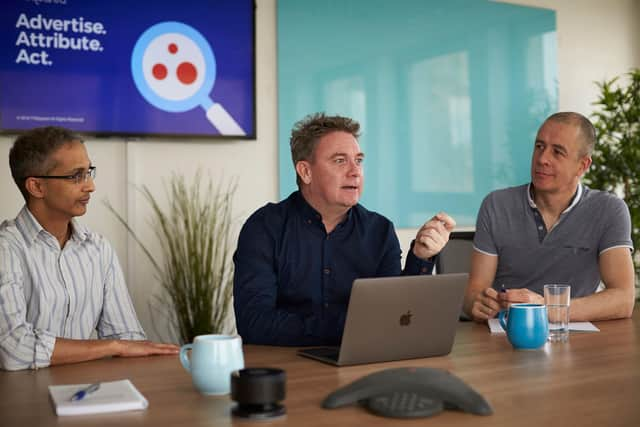 Can you explain what TVSquared does – and what your own role entails?
TVSquared provides global TV attribution and advanced audience analytics for thousands of brands, agencies, networks and publishers in 76 countries. We're the only single, unified, always-on platform that measures impressions, reach and business outcomes across linear and digital TV – Over the top (OTT), Broadcast video on demand (BVOD) and Connected TV (CTV) etc – anywhere in the world.
Since I've been involved from the start, I've worn many different hats. Early on, I focused on developing our platform and building the talented global team we have today.
While I've since transitioned into more of the "traditional" CEO role, I'm still very much on the ground, [before lockdown] travelling often between our six offices, meeting with clients and partners regularly and advocating for better transparency and proof of performance across the advertising ecosystem.
People have been watching more TV during the lockdown – an extra eight hours a week, according to one study – and you have been offering a free 30-day service. How would you characterise the effect Covid-19 has had on demand for your services?
While Covid-19 has dramatically increased cross-platform TV viewing, it's also forced advertisers to look critically at cost optimisation. Every dollar in their ad budgets has to contribute to the bottom line – return on investment is everything. They need to know their TV buys are reaching their audience, but also at the right places and times to drive response. Because of that, we've seen even more demand for attribution in the past few months.
Some advertisers have certainly pulled off air since the start of the pandemic, we've seen more actually come on to TV (many for the first time). The increased viewership, in addition to the decreasing inventory rates, have really lowered the barrier for entry for younger brands looking to get on air.
This is especially the case for direct-to-consumer (DTC) brands. We've seen off-the-charts TV performance for DTC categories like fitness, education, beauty, online food delivery and subscription services since March. Not only are DTCs coming on air, they are thriving on air.
With new brands coming on to TV, we began offering a 30-day free trial to make attribution more accessible to them. A lot of the new-to-TV brands on air now are digital natives and used to the real-time measurement and optimisation that comes with digital platforms. We wanted to show them that they can get the same type of insights across linear and OTT too.
You founded TVSquared in 2012 as you saw a gap in the market for analytics in the TV advertising space. Can you give more details on this decision?
I've spent most of my career in fintech, where real-time analytics underpin every decision (many of which have to be made in nanoseconds). After I sold my last company, I was looking for a new venture and spoke to an old friend, Kevin Dorren, who was then running Diet Chef. For his brand, he knew TV worked, but he didn't know what aspects of his buys were driving those results.
There were no data-backed ways to measure performance and no insights to utilise to optimise buys. From there, I learned that worldwide TV advertising – an industry worth more than $200 billion (£162bn) – had no fast, accurate way to prove campaign performance, which I found astonishing. So, we founded TVSquared in 2012 to change that.
We took the core principles of systems we created for fintech and applied it to TV advertising, creating a platform that could process performance insights in real time, scale on demand, take in any type of data and operate to the highest standards of privacy and security. Today, our ADvantage platform is used by thousands of clients across the globe and has changed the way advertisers think about and use linear and digital TV.
You have said that you use "unique" management strategies – what are these?
My management strategies are hands-on and focused on performance. To create a world-class company, it must be reflected in all aspects of the business. I expect a lot from the TVSquared team, and high-quality work and a sense of accountability are the norm here.
But I also hold myself to those same standards. I believe that for a company to be successful, the CEO has to be on the ground too – talking to customers to regularly learn about their needs and challenges, and being a consistent, accessible presence for all of my employees, no matter where they are in the world.
Before TVSquared, you were the CEO of Sumerian, and the co-founder and chief technology officer of Orbital Software. Can you explain how your career started and how it progressed?
I started my career at Marconi Simulation, writing software, before a two-year stint at a university research project between Cambridge, Heriot-Watt and Strathclyde. It focused on the early days of the world wide web and Java, which was an invaluable experience for me to be involved in right at the start of the internet revolution.
It was certainly the catalyst for me to start my own company, Orbital Software, in my mid-20s, along with Kevin Dorren. I moved to Silicon Valley at 27 to immerse myself in the US tech world for a while.
What has been the most pivotal moment of your own career or the progress of TVSquared to date?
For me, cracking the US market was a massive achievement for TVSquared and the gateway for our international success. The US is a notoriously challenging market that demands a lot of time, commitment and resources to be taken seriously. Today, the majority of our client base is in the US.
For TVSquared, the most pivotal moment was winning the Effectv [formerly called Comcast Spotlight] contract, as we have helped transform how attribution can be used at scale inside an organisation the size of Comcast and for their end advertisers.
You have said that the biggest challenge at the beginning was advertisers' long-held beliefs about TV – where are the biggest pressure points now in a more fragmented market?
Today, TV spans multiple platforms and devices, it's not just linear. Fragmentation is often associated with challenges, but I think that's the wrong way to look at it. Fragmentation means opportunity.
For advertisers, it's about educating them that they can measure, optimise and manage TV from a single platform, whether it's a linear or OTT campaign (or a mix of both). It's about being a resource for them to test and learn new cross-platform strategies, and apply insights to continuously improve their media buys for performance.
For the sell-side, this evolution has been a bit slower, but it is happening. It's about creating a culture where transparent performance is front and centre, new currencies are introduced and data interoperability exists to make proving TV's value the norm.
TVSquared has in recent years opened offices in NYC, Munich, Australia and Tokyo, and recently extended its partnership with MediaMath to include Europe and Asia. Which global areas will you be targeting in coming years?
TVSquared is truly a global company, our platform works in every country, so we'll be continuing to build out our market share in 2020 and beyond.
Where would you like the business to be if we look to 2022 – a decade after it started?
In 2022, I would like to see us continue the path we are on and help transform the way TV is measured and optimised. We currently have more than 1,000 advertisers running on our platform, and with the new enterprise deals we have in place, we expect to see that number rise to more than 20,000 this year.
A message from the Editor:
Thank you for reading this story on our website. While I have your attention, I also have an important request to make of you.
The dramatic events of 2020 are having a major impact on many of our advertisers - and consequently the revenue we receive. We are now more reliant than ever on you taking out a digital subscription to support our journalism.
By supporting us, we are able to support you in providing trusted, fact-checked content for this website.
Comments
Want to join the conversation? Please or to comment on this article.