The Big Interview: Professor Jacqui Matthews, chief technology officer at Roslin Technologies
Professor Jacqui Matthews is chief technology officer (CTO) at biotech firm Roslin Technologies.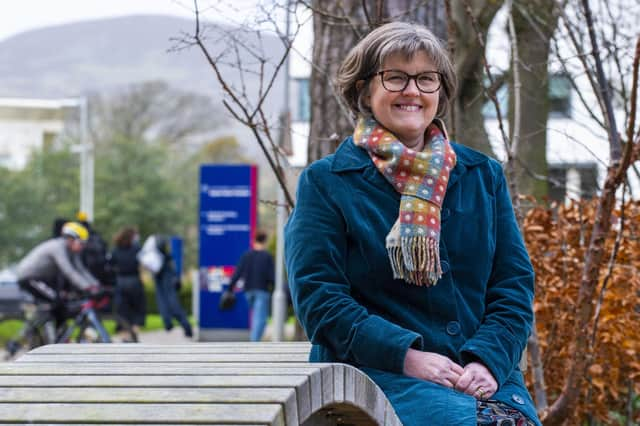 The firm is based in the Midlothian Science Zone, a leading global hub in animal science innovation. Picture: Lisa Ferguson.
The firm, based in the Midlothian Science Zone, is a joint venture between the University of Edinburgh and two investment and business development partners. It works to solve global challenges in agricultural technology (agtech) and animal health. Prof Matthews leads on strategic partnerships and manages the research and development programme focusing on bringing scientific innovations to the agri and animal health sectors. Her achievements prior to joining the firm include managing scientific programmes in academia supported by funding of more than £13 million – and inventing the small redworm diagnostic, marketed by Austin Davis Biologics. She is also an honorary professor at the Royal (Dick) School of Veterinary Studies.
What does your role involve and what do you aim to achieve?
I'm chief technology officer; in a company with "technology" in the name, and where it's the basis of the product that we're selling, it's a central role. But in some ways, the title hides the real significance of what my job is and that's to bridge the gap between the academic side and the commercial and investor side of the operation.
Things are moving very fast for the firm at the moment and the energy is palpable, the professor says. Picture: Lisa Ferguson.
Roslin Tech's role is to be a conduit between great science and the global market. So much of my time is looking at the great opportunities, and at innovations coming out of the University of Edinburgh and Roslin Institute in particular. That science can be in a wide range of subjects: genetics, gene editing, infectious disease, to name but a few.
We look to match up those innovations to the needs of end users and to find where the science can help plug gaps in the market. For any number of the issues facing the agricultural and veterinary sectors at the moment, whether that's related to disease, efficiency, or new ways to get food to the global population, my job is to mine the science that will help provide the solution.
The business launched a £50m capital raise in July and recently announced that it was expanding its executive team, saying it's an "exciting time" to be at Roslin Tech. Can you explain more about these moves and their aims?
Being at a young company is always an exciting time; things are moving very fast for us at the moment and the energy is palpable. It was only three years ago that we started up with just £10m and an agreement that allowed us to help commercialise the amazing science and technology that's being developed around the University of Edinburgh's Easter Bush Campus.
Professor Jacqueline Matthews Chief Technology Officer Roslin Technologies Limited
It all started when a group of investors saw the potential in Scotland's agtech expertise – it is worth pointing out that Scotland should be really proud of being a world leader in this area. And the reason why it's exciting now is that the thesis has been proved right. We are successfully developing the technology; engaging with the market who are interested in what we're doing and attracting interest from investors from all over the world.
As a fast-growing business, we are bringing in new talent rapidly, adding more capacity into our executive and across the company as a whole. One of the key new roles we're looking to fill at the moment is an insect technologist – not surprisingly in a technology company, these roles are as key as those of the people running the company.
How has the business been able to function during the Covid crisis and what changes have you had to make?
We are a streamlined operation, so the changes that we needed for Covid were straightforward. Our breeding programmes work continued, but we did have to stop some activities for a while. Many staff were able to work from home, but of course with scientists there are tasks and research activities that need specialist equipment.
For example, the work that we are undertaking with stem cells – the cells from which we are able to build any cell that makes up an animal's body – has to be done by skilled scientists in a laboratory. We went back into the laboratory as quickly as we could but obviously we've had to introduce protocols about hygiene and social distancing – we feel we're in safe hands at our HQ in the wonderful Roslin Innovation Centre!
Fortunately, we have now caught up on anything where we had to take a pause and aside from that we have coped very well – many of our scientific partners, portfolio companies and current and potential investors are dotted around the world so we usually work with them remotely anyway. And during the pandemic, we've managed to take on quite a few new hires, including the person that is going to head up our insect genetic nucleus, so we haven't let the pandemic interfere with our strategic direction.
Roslin Tech has said the partnership between science and industry is central to its strategy and business plans – while sustainability is key to your customer base and the investment community. Can you give more details on these priorities?
Our targets are key sustainability targets, and how we get there is through sustainable processes. There is a lot of talk about sustainability these days, and often it seems companies try to shoehorn their business under that heading. I think we might be unusual in that the very essence of what we are doing is about sustainability – our key overall task is to make the production of protein more efficient.
There is a shortage of food in the world today, and with the population growing that's only going to get worse; we help the agriculture sector be more efficient, using diagnostics, vaccines and treatments for animals to make for healthier and happier livestock. I'm particularly proud of the work that we're doing to create a diagnostic to help tackle trypanosomosis, which has a major impact on the livelihoods of livestock keepers across Africa and South America.
But that's just the tip of the iceberg – our stem cell technology means that we can help companies create meat – "cultured meat" – but without any animals, opening up huge potential for those who might for ethical reasons want to avoid meat derived directly from animals. Our recent investment in insect technology is with a partner who can produce vast amounts of protein efficiently and at the same time in the process, fertiliser, all from recycling food waste. By being more efficient, this obviously means less waste, lower emissions and a healthier planet.
How is Brexit going to affect the business and what measures are you planning to take?
As an internationally focused company that holds much value in diversity, we are keen to ensure that any barriers to working with us are kept to a minimum. The main areas of concern would be in recruitment – we want to be able to take on the best-in-class people from wherever they are. We always looked far and wide for the best talent – our senior geneticist came to us from Chile via New Zealand and South Africa, and other colleagues come from across the EU and China.
Another area of concern is that scientists with whom we work have relied in the past on the EU funding programmes, but we've strategically adapted by expanding our funding portfolio to UK and non-EU based streams, and are well-placed to exploit these new opportunities.
How did your career progress before joining Roslin Tech – were you always keen to pursue a career in science?
Yes, absolutely. The two things I loved in childhood, and consequently during my school time, were science and animals. I was extremely privileged to be able to attend vet school, and while there, I realised I might have a wider impact through research into animal diseases, rather than working as a practitioner.
I was truly inspired by the fantastic veterinary research ethos at the Glasgow School in the 1980s – that had a big impact on me; I was taught by some of the leading veterinary scientists of their generation, especially in infectious disease. I did a short locum in practice after my degree but from there I went straight into a PhD. My academic expertise? Worm vaccines and diagnostic tests. While most people have a healthy aversion to these creatures, by studying them we can tackle some of the most debilitating and lethal diseases animals face.
My career trajectory accelerated when I got my first lectureship at the (relatively young) age of 24 at Glasgow Vet School. The great thing about lecturing is it allows the combining of things that really enthused me, the research element and the ability to impart my knowledge to others.
After that I moved to the Liverpool Vet School. My husband, another parasitologist, was working in Manchester at the time. That was a fantastic job – I was able to combine research with practice at the Liverpool school's world-renowned equine hospital. My research there developed to try to tackle a worm that was emerging as the cause of severe illness in horses around the world and in which drug resistance was becoming a big problem. I invented and since commercialised a test based on that early work.
We came to Edinburgh in 2004. I was very lucky to be able to continue my research on parasites, looking at applied areas such as tackling worm drug resistance and developing vaccines. Latterly I was head of a big EU programme and it was during that time that I became more inspired by the translational aspects of science, and what fascinated me was how to address the gap between what science can create and what the agtech sector needs. So when the opportunity came up at Roslin Tech to do that very job, I made the transition.
Women are still under-represented in science, technology, engineering and mathematics careers – what more do you think should be done to help address this?
There has to be a bottom-up and top-down approach to this, and the responsibility falls in part on women who are already in senior roles. Women need to be engaged in mentoring other women to become scientists; I have taken this role seriously over the years.
Another issue is to recognise the breaks that women might take in their careers when they have children, and unfortunately that often happens to coincide with the crunch time in a scientist's career when they try to move from temporary to permanent employment. In some of the work, I am trying to help address this and mitigate the impact that can have on individual progress.
What would you like Roslin Tech to look like by, say, the end of 2022?
Science is a long-term intensive business. For those products that are now just hitting the market, for example our cultured meat proposition, I see our technology being a gold standard in this area by that time. I am really excited to see the uptake in our insect business and expect this protein source to be much more widely used in just a couple of years.
I also expect we'll have key partnerships exploiting our breeding programmes and genetics technologies and, obviously, as a veterinarian, I would like to see our animal health solutions coming closer to market. More generally I hope we'll be seen as a leader of innovation in the agtech sector and a company that takes this responsibility seriously.
A message from the Editor:
Thank you for reading this article. We're more reliant on your support than ever as the shift in consumer habits brought about by coronavirus impacts our advertisers.
If you haven't already, please consider supporting our trusted, fact-checked journalism by taking out a digital subscription.
Want to join the conversation? Please or to comment on this article.