The business was founded in 2017 by husband and wife Gordon and Adrienne MacAulay, following their discovery of limited ready meal delivery options for his mother.
Mr Dorren is a founding member of the business, and took the CEO reins in mid-2019, having previously founded Move Fresh, an investment company for e-commerce fast-moving consumer goods brands and the holding company of healthy meal delivery firm Diet Chef. He has founded a number of start-ups, while other previous roles include leading tech firm Orbital Software.
Parsley Box in 2019 saw Minecraft and gaming mogul Chris van der Kuyl join the board and invest in the firm, which is now based in Edinburgh's Quartermile, it last year turned over £24.4 million, and has seen its business boosted by Covid restrictions, with its number of active customers jumping 188 per cent between December 2019 and December 2020. Last month it announced plans to float on London's junior market Aim to boost its brand-recognition and capitalise on what it sees as a growing market.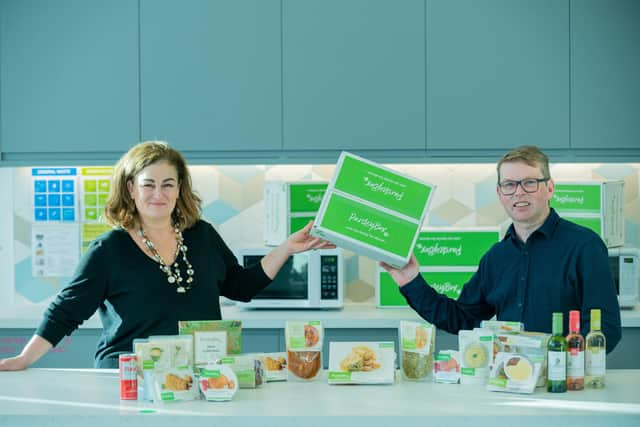 The firm recently unveiled plans to float – saying this marks an "important milestone" – and you personally have experience of taking a firm public, with Orbital Software. Can you give more details on the motivation behind the initial public offering (IPO) – and what this means for both the company and for you?
As Parsley Box prides itself on a direct relationship with its customers, we felt it was important to follow the lead of companies such as BrewDog to include our customers as advocates and shareholders. This was best achieved by giving them the opportunity through share ownership via a listing of the company on Aim.
Additionally, an IPO provides us with an attractive platform to realise our growth ambitions. We want to be a household name and be known for redefining the ready meal category for the Baby Boomer Plus demographic, broadly defined as those aged 60 and over.
Why did you target this part of the market?
We see ourselves as a challenger brand catering for a demographic that is not only growing rapidly, but is also the wealthiest in the UK – and underserved. It is a growing segment due to falls in historic birth rates and increases in life expectancies. They are searching for product and service models that suit their lifestyle and we have tailored our business to meet their needs.
This segment is expected to grow further; it represented about 24 per cent (16.2 million people) of the UK population in 2019 and is the only age demographic that is forecast to grow materially in the next ten years.
Parsley Box was formed specifically to target this highly attractive, fast-growing market, unlike meal-kit box delivery service companies that have typically focused on millennials or Gen X demographics with less spending power.
We don't think that advertisers have listened closely enough to this demographic and their aspirations. We seek to understand and champion the needs of the life-loving, 60-plus population whose voice has gone too long unheard.
Those in the Baby Boomer Plus category feel decades younger than their parents did, lead much more active lifestyles, and are looking for convenience to live life to the full. Part of this structural change is that they are rapidly embracing the shift to online shopping.
We have developed our business to meet the needs of our customers. Our offer provides a one-stop-shop when it comes to mealtimes, providing convenience, simplicity and long shelf life – allowing our customers flexibility at an affordable price and delivered to their door.
What is the biggest challenge for the firm – is it competitors entering the market?
No, it is effectively managing the speed of growth and demand without compromising on quality or service. We now deliver 900,000 products per month to in excess of 150,000 active customers, take more than 2,000 calls per day, and have had a 250 per cent compound annual growth over the last two years.
It is critical that we maintain the high levels of engagement that we have with our customers, that we keep learning and understanding their needs and desires.
Parsley Box has a high-profile chairman in the form of Chris van der Kuyl. What led him to join the firm and how pivotal is he in its development?
While so many companies are thinking about how best to serve millennials and future generations, Chris was attracted to a brand and a service catering to the demands of a market demographic he understands well from his involvement in other companies. The breadth of experience he brings from a range of sectors is invaluable to our team.
You have founded or been second in command at a number of start-up companies in the UK and USA – did you want to be a serial entrepreneur from a young age and do you plan to be involved in more early-stage firms in the next few years?
Even at 16 I was keen to get involved in setting up my own business – I actually wanted to create a grocery service inspired by my next-door neighbour who had trouble getting around after a hip replacement. So, leading Parsley Box is a culmination of a childhood dream of mine – it has just taken me 36 years to get here!
Who in business do you admire – and why?
My hero is Sir Malcolm Walker, who founded frozen food firm Iceland. I have followed his super successful journey through the years and was fascinated by his book, Best Served Cold: The Rise, Fall and Rise Again of Malcolm Walker. I was lucky enough to meet him a few years ago. It was an honour and really interesting to converse with someone I have looked up to. He was, as I had expected, good with people and hugely impressive.
I have also admired all the work Sir Tom Hunter has done through The Hunter Foundation and he has been a central part of my inspiration to think more holistically about life – particularly about how we can all give back to society. We are committed to doing business responsibly.
Every business today needs to be thinking of how it can incorporate social and environmental best practice into the core of its operations. I believe that inherently makes a better company.
If we fast-forward to two years after Parsley Box's IPO, what would you like the firm to have achieved and look like by then? For example, you have cited the potential to offer other products and see the firm's offering as replicable in other countries.
The most important driver for our business is serving our customers, not purely for the short term, but investing in making sure we have exceptional service and engagement. Our main focus is the UK where we certainly plan to be a household brand name in the next few years.
Ultimately, what we have is a business that engages with customers and that has done that well so far. We will continue to endeavour to do that to the best of our ability.
We have a platform that delivers high quality product to a large, but discreet audience. Understanding that audience is critical. I look forward to building a company that has integrity, continues to be trusted, and has a very deep understanding of what its rapidly growing cadre of customers wants. From there we can extend our range of products in the knowledge that they will be well received by our customers. Our journey has only just begun.
A message from the Editor:
Thank you for reading this article. We're more reliant on your support than ever as the shift in consumer habits brought about by coronavirus impacts our advertisers.
If you haven't already, please consider supporting our trusted, fact-checked journalism by taking out a digital subscription.