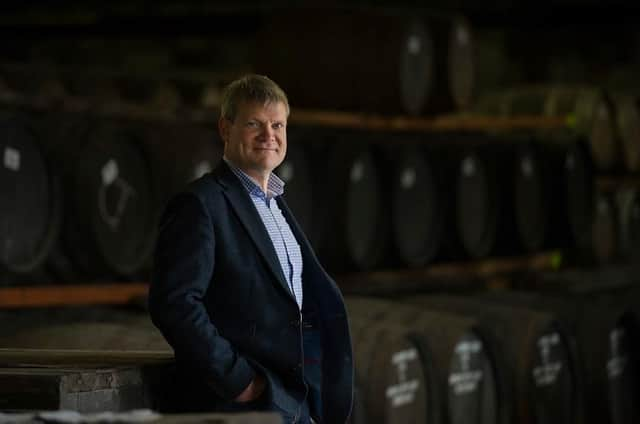 Scotch whisky is a long-term business, with the spirit having to mature for at least three years and most products being aged for a lot longer. So it's perhaps not surprising that once people join the industry they tend to stay for a while.
That is definitely true of Kai Ivalo, spirits and marketing director of the Edinburgh-headquartered Scotch Malt Whisky Society (SMWS), which was founded in 1983 and has the impressive mission of being the "world's most entertaining whisky club". Ivalo joined the SMWS 16 years ago and has now spent more than half of his career in effectively one job, although his role has expanded to reflect how the organisation has grown and evolved.
SMWS has venues in Leith and Queen Street in Edinburgh, London and recently its Members' Room in Glasgow city centre. It has around 27,000 members worldwide. But, along with the rest of the hospitality industry, the Society's Members' Rooms are in lockdown as a result of Covid-19.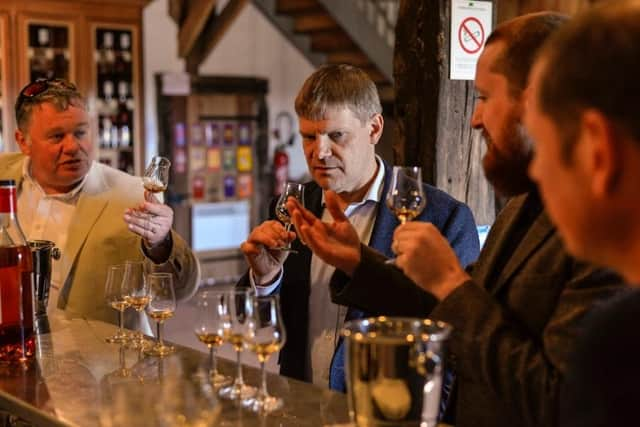 It has been devoting its time in the last few months to keeping in touch with members remotely and ensuring they still feel part of a club through online whisky tastings and virtual pub nights with live entertainment.
What is your background and how did you get into the Scotch whisky industry?
I spent just under half of my career with marketing and advertising agencies, which is a very different world from what I'm doing now, and I wanted a career change. I had an interest in whisky and when pitching for a new client, The Macallan, we decided to hire the tasting room of The Vaults, the SMWS venue in Leith, for inspiration.
The whole pitch team decamped there for a day or two and wrote the document that won The Macallan account. That was my first crossover experience with the Society.
Tell us about your role with the SMWS.
I started off with the SMWS as marketing director in 2004 and that's an area I still look after. In 2009, I picked up the whole of the spirits side of the Society too. This involves everything from planning to buying spirit casks, the maturation programme, including what casks we are buying from Spain, France, the US and Speyside, and bottling.
The maturation we look after ourselves is significantly larger than it was back in 2009. Having a foot in both camps, so to speak, is good. From a marketing perspective you're looking at things and thinking how they will be of interest to members. Looking at spirits, we're thinking more about what we will buy and how we will use them.
Have you always liked whisky?
My liking for whisky goes back to my student days in Aberdeen in the late 1980s. I got introduced to malt whisky and it has stayed with me since. When I think back to that time, most pubs, even in Aberdeen, a stone's throw from Speyside, only had three to four single malts sitting on the bar. It's amazing how much things have moved on in a relatively short period of time in terms of availability and the popularity of the whole single malt whisky category.
My then future father-in-law gave me my first taste of a single cask malt whisky. He was part of a shooting syndicate and they would buy a cask and split it. I tried one in the early 1990s and thought it was fantastic.
How has the SMWS changed since you joined?
When I joined in 2004 we were owned by Glenmorangie. That remained the case until 2015, when we took the opportunity to become an independent organisation. The main changes have taken place since then.
The people who came on board to invest in the Society have massively shared our vision about what we can do and where we can go. They have helped fund a really ambitious programme of buying casks of whisky. We also started looking at opening new venues for members and launched in Glasgow, but that was unfortunately just before lockdown.
We've expanded the offering for members and, while our focus is still obviously single cask Scotch malt whisky, we have started exploring such areas as small batch blended malts, whiskies from other countries, even malt whisky from England, and other spirits.
We offer everything from fantastic single cask cognacs to barrel-aged gin. Every month we have a programme of engagement for our members with themed campaigns, whiskies built around experiences and we invest in lots of content, such as articles, podcasts, video, print and digital material.
In terms of existing venues, we revamped our Members' Room at 28 Queen Street in 2017. We re-shuffled the building and now have the Kaleidoscope bar on the ground floor, which is open to non-members.
This means people can come in and get a sense of what we're about, maybe enjoy a flight of whiskies and have something to eat. It's like a "try before you buy" experience. Queen Street has two floors of members' bars to offer more space exclusively for them than they had before.
Have the changes you've made attracted new members and a wider variety of people?
Our membership demographic has changed slightly, in line with the way Scotch whisky has changed in recent years. It feels like a much more inclusive place than when I joined, when it was more male and an older clientele.
Now people are more curious about Scotch whisky and join the Society to learn and that's what we're all about. We welcome anyone with an interest in whisky, whether they are starting out or are long-standing enthusiasts. At the heart of what we do is sharing, fun and enjoyment.
We are a whisky club above everything else – with the mission of being the world's most entertaining – and our members are at the heart of what we do. That gives us a great remit. We've always had an unconventional approach to whisky in that we focus on the flavour and variety, rather than the distillery. We release 20 to 25 new single cask whiskies and take a fun approach to tasting notes and how we explain whiskies.
How has the Covid-19 lockdown affected you?
We had always planned to develop more of an online experience for our members and the current situation has accelerated ou plans. The Society experience is always about sharing, so with Members' Rooms closed and tasting events cancelled, we're getting members together online.
In the last few months we've improved the quality and variety of our online output with such things as pub nights, live music and virtual tastings. The team has come on leaps and bounds to provide entertainment that brings members together. We're also offering private tastings for groups on Zoom where we send out miniatures to everyone taking part and one of our ambassadors hosts the call.
Our Queen Street venue is offering an "at home" three-course dinner with our chef making a video of how to prepare and serve the food. Our bar tenders have done little films about the whiskies chosen to go with each course. It's that creativity of thought that's keeping members engaged. We're experiencing a new virtual world of coming together to enjoy whisky and I'm sure that will continue.
How has your supply chain been affected?
The short answer is "not badly". To some extent we had things in place as a result of Brexit planning. But in April, at height of lockdown, was when he had the greatest concern about materials coming through on time. After that, we've recovered pretty well and all of our partners have been absolutely fantastic in terms of their responsiveness and creativeness. And the Scotch Whisky Association has been in contact almost every day with information to guide us.
What do you think the impact of the pandemic will be in the longer term?
The Scotch whisky industry has always had to take a long-term view and is resilient. The demand for and interest in malt whisky has remained strong, and the more time people have had to study it might see them wanting to upgrade what they drink. Some distilleries have closed temporarily, so in 10 or more years' time a vintage 2020 whisky could become quite a rare thing for collectors. We're keen to get back to normal and open our venues when it's safe and sensible to do so.
What are your plans for the SMWS?
We're lining up a raft of interesting single casks and experiences. We'll be introducing whiskies from other parts of the world to offer something different to our members. We normally have a big annual festival in September and we're thinking about how best to do that this year as it will clearly need to have a strong digital element.
A message from the Editor:
Thank you for reading this story on our website. While I have your attention, I also have an important request to make of you.
The dramatic events of 2020 are having a major impact on many of our advertisers - and consequently the revenue we receive. We are now more reliant than ever on you taking out a digital subscription to support our journalism.
By supporting us, we are able to support you in providing trusted, fact-checked content for this website.