The firm is a seaweed producer that hand harvests in Fife with a mission to "awaken the world to the power of Scotland's secret superfood and encourage everyone to swap seaweed for salt". Its products are stocked by the likes of Tesco, Morrisons and Ocado, and it has worked with chefs including Nick Nairn and Paul Hollywood. Over the years Ms Houston – a former journalist – has reeled in an Entrepreneur of the Year award and the firm has been honoured in The Crown Estate's Scottish Marine Aquaculture Awards.
Can you tell us about Mara Seaweed's offering – and what your role as "SeaEO" encompasses?
Mara Seaweed is a seaweed company that encompasses a food brand and a seaweed farming and production company. Mara is a mission-led, social, environmental and health impact company: our mission is to bring Scotland's sustainable superfood back onto the menu, not just in Scotland, but around the world.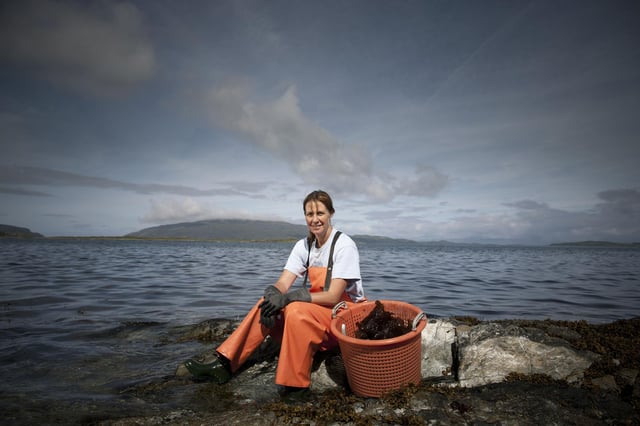 Within two years, Mara Seaweed will be a brand name around the world, the businesswomen forecasts. Picture: contributed.
Our products are award-winning healthy seasonings and condiments that are tasty and good for the planet. They are easy to use as an everyday seasoning and a great way to reduce your sodium salt intake. Our production company harvests and farms several seaweed species in the East Neuk of Fife, and processes it into all sorts of seasonings, flakes and powders.
Seaweed captures 50 per cent more carbon than the tropical rainforest, is incredibly nutritious, providing essential minerals such as iodine that are lacking in the Western diet, and especially important for women's health and for vegans. And our products are full of umami, the "Holy Grail" of flavour – so they play an important role in improving taste in dishes without loading up on the salt.
My role encompasses both sides of the business, and I make sure I invest enough time in high-level strategy work, as that makes the biggest impact on the business. I am responsible for the long-term growth of the company, and that necessarily involves raising finance for growth. We are currently raising investment and that is what is taking up most of my time.
'We are currently raising investment and that is what is taking up most of my time,' Ms Houston says. Picture: contributed.
Could you recount the history of the firm to the present day – starting with you meeting Xa Milne outside your children's school in Edinburgh?
The kernel of what is now Mara Seaweed began when Xa and I met and decided to write a book together, Seaweed and Eat It, in 2008. Through that, I taught myself about seaweed and I became fascinated by Scotland's forgotten superfood, and began experimenting with the different seaweeds and flavour pairings. We gave our products to chefs, like Roy Brett of Ondine in Edinburgh, and were convinced we were onto something when we tasted the incredible dishes they were able to create as a result.
We raised a friends and family round, and started what is now Mara Seaweed in 2014. Our first line of products launched and soon captured the imagination of stockists across the UK, including Harrods, and chefs such as James Martin who featured us on BBC's Saturday Kitchen.
It hasn't been easy – we have had to design and implement the whole supply chain for our seaweeds, as it didn't exist. Everything we have done has been innovative and we have developed a deep expertise in all aspects of seaweed and the supply chain, from farming and harvesting, through drying and milling to blending, and packing and distributing products.
I am very proud that Mara has been pioneering – not just on eating Scottish seaweed, but building the platform for scaling up.
The business went to another level in 2016 when we started exporting to a huge meal box customer in the USA. We were also the first UK seaweed company to reach the supermarket shelves.
And as well as continued growth through foodservice and retail distributors, we've also experienced a rise in sales through our website.
You have said that Mara Seaweed has had to battle both Brexit and Coronavirus simultaneously – for example having to put major fundraising and expansion plans on hold due to the pandemic. Have you and other firms in your sector had enough government support?
The pandemic and Brexit have made life extremely challenging, because everything just stopped. And it has been exhausting for all of us who have had to keep the show on the road through it all. Our conversations with investors stalled and we still have absolutely no idea when orders will come back from our restaurant partners. As people are usually more experimental when eating out rather than at home, we've not only lost orders but also a major gateway to consumers.
However, the upside of the pandemic is that it has really made people think about the world, the climate, and their local food chains. People have also had to rediscover home cooking – all these trends are in our favour for the future. I am a naturally positive person, so we can only look forward, and move the business forward.
But we're fortunate to have been able to still trade during this time, and watching the impact the pandemic has had on our friends in the hospitality industry has been truly heart-breaking.
We've had some support but applying for government support is a job in itself. We have had to make difficult choices between dedicating huge amounts of time that would otherwise be spent on the business itself, at a crucial time, or sacrificing that time to apply for support.
You've forecast that 2021 could be the "summer of seaweed" – how is it gaining traction among chefs and consumers? How do you plan to increase this?
It's been a difficult year, but through the pandemic people have been trying different ingredients. Social media gives us real insight into the people who are becoming real advocates for our products and how they're using them – we can see there's genuine momentum building.
Given everything that's happened in the past year, consumers are increasingly interested in how healthy products are. Ours are naturally nutrient-rich and provide a natural, healthy salt alternative – everyone has a reason to use seaweed in their meals, that's why we expect sales to continue to grow online.
Soon the restaurants that use Mara Seaweed, including Martin Wishart, The Three Chimneys in Skye and Sexy Fish in Mayfair, should be able to re-open, which is a vital route for our products to reach consumers.
We continue to export to countries including the USA, and we are involved in the forthcoming Scottish Development International (SDI)/Scotland Food and Drink Global Virtual Food Service Summit. I am really looking forward to meeting 60-plus buyers and chefs from around the world virtually. Chefs like Gary Maclean and Mark Heirs are showcasing our products and we are also doing a virtual Meet the Producer slot.
Working alongside other ethical, forward-thinking brands on the Tesco Incubator programme has filled me with yet more confidence as it feels the tide is starting to turn. Consumers are looking at the provenance and sustainability of food. Given that our seaweed sequesters 50 per cent more carbon than the tropical rainforest per square metre, it has a very positive environmental impact, which has captured the attention of modern consumers.
Orkney Craft Vinegar recently released a product infused with our smoked dulse powder, which sold out very quickly and shows the opportunities available in collaborating with other brands, something we plan to do a lot more of this summer!
What has been the most pivotal moment for the business so far?
Being selected for the Tesco Incubator programme for the last two years has been significant for us. We've followed in the footsteps of companies like BrewDog and Fever-Tree who have grown to become huge brands.
And we have a similar ambition. We're working with Tesco to convince shoppers to use our seaweed spices to flavour their home cooking as an alternative to normal salt.
The other brands in the cohort, such as THIS, Dr Will's and Buttermilk, are just as ethical and ambitious as we are. It's been great to be part of. We are collaborating together and continue to inspire each other.
International Women's Day took place recently, and you have said you are proud to be a women-led business. What can be done to encourage more female entrepreneurs and what can women gain from running their own business?
I think the media can play a huge part in celebrating the successes of female entrepreneurs. I often hear other women talking about imposter syndrome and the fact that so many women feel that way is a failure of society.
I am close to many different successful entrepreneurs and it is a joy for us to celebrate each other's successes. We also support each other through the bad times: female support networks are very important. I also get inspiration from other females who have backed themselves and been "bossy" and "tough" enough to not take no for an answer. It is still a male-dominated world, in finance especially, and that so needs to change – give women financial power and we can make the world a better place.
I was pleased to read that the UK government decided to donate £50,000 each to 40 visionary female entrepreneurs, but in the grand scheme of things that's a drop in the ocean and feels like more of a PR stunt on International Women's Day than a genuine move towards reducing the gap between the opportunities available to men and women. Gender equality must be a conversation we're having all year long.
What would you like Mara Seaweed to have achieved in two years' time?
We're extremely ambitious and within two years I believe Mara Seaweed will be a brand name around the world, available in all major markets, and all major retailers.
Our plans for significant growth are sustainable because of a scalable seaweed supply chain. We are also working hard on product-development, and have plans to significantly expand our range.
A message from the Editor:
Thank you for reading this article. We're more reliant on your support than ever as the shift in consumer habits brought about by coronavirus impacts our advertisers.
If you haven't already, please consider supporting our trusted, fact-checked journalism by taking out a digital subscription.