The Big Interview: Cumulus Oncology founder and CEO Clare Wareing
Clare Wareing is the founder and chief executive of Cumulus Oncology, which describes itself as the first oncology drug development accelerator in Europe.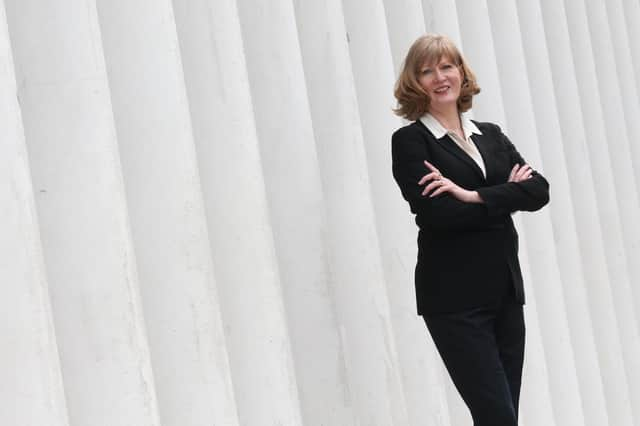 The Edinburgh-based life sciences firm was founded in 2017, and creates spin-out companies developing anti-cancer therapies and fast-tracking treatments into clinical trials for cancers that don't respond well to existing procedures. Dr Wareing – who has a PhD in cancer cell biology from the University of Edinburgh – has worked with big pharma players, biotech companies and clinical research organisations and previously founded Nexus Oncology, which was bought by US-based Ockham in 2012, with a second successful exit two years later when Ockham was acquired by Chiltern Development.
Can you explain what Cumulus does and what your role is?
Everyone at Cumulus Oncology has a strong track record in creating and developing successful businesses in the oncology drug development sector. At the same time, we believed a bolder, more radical approach could produce even better results for patients, scientists and business alike.
Essentially, Cumulus is one of the leading players in a new paradigm of cancer drug development where a core team of experts identify, evaluate, acquire and develop a number of different cancer therapeutics, each through specially created companies.
These subsidiaries are founded, owned and overseen by the experienced Cumulus team, which is responsible for ensuring the created entity is an attractive investment opportunity for venture capitalists (VCs). We then look to take these companies to a successful exit point – initial public offering, acquisition etc.
This contrasts with the traditional biotech model where one team is dedicated to one project or portfolio of projects. In this traditional scenario, there is vested interest in moving forward, even when the signs indicate that newer, more effective therapies may prove more viable. The Cumulus model offers a nimble, more incisive approach that can evolve as the science evolves. This makes us more efficient and effective.
As the original founder of Cumulus Oncology, I was responsible for developing the business model concept, which came from four key observations over many years. Firstly, that the most successful therapeutics in cancer are based on solid scientific data.
Secondly, the specific characteristics of a new medicine are critically important and these need careful characterisation before moving into clinical development. Thirdly, the ability to design and run clinical trials that confirm the new treatment provides patient benefit is absolutely key to success.
And, finally, a lean team of dedicated and experienced drug development experts, working effectively together, is better able to commercialise cancer therapies.
What effect has the pandemic had on the business – what challenges have you faced and how have you adapted?
First of all, we've been extremely fortunate to have the backing of Scottish investment firm Eos Advisory, who have been fantastic at supporting us throughout the pandemic. But as the cancer research programmes we are involved with are not yet at the clinical research stage, the pandemic has not had as much of an impact on our activities as it would have done were our programmes at the later clinical stage.
Like many businesses, we rapidly embraced online meeting technologies and, if anything, we have covered more metaphorical ground from our kitchen tables than we would have done via face-to-face meetings. Our model has been a virtual one from the start with key team members in France and Denmark, so we were already used to working remotely with each other. We have been highly productive during this period.
Scientific conferences and networking opportunities have perhaps been a little less impactful and I know that cancer research charities have been hit because of lower donations. The pandemic has been very negative for many frontline cancer treatment specialists.
You have outlined ambitions to scale from a base in Edinburgh – how do you aim to achieve this? What would you like Cumulus to look like in, say, two years' time?
Oncology drug discovery and development is a global effort so we will continue to spread the net wide in our search for novel cancer treatments that can form the basis of new companies. However, we do see our focus over the next couple of years to be Europe and Asia.
We already have one company established (Modulus Oncology, in collaboration with the University of Sheffield), for which we are currently seeking series A funding. A further company is in stealth mode and we will be looking to form at least one more company under the Cumulus umbrella, with VC funding in place for all three newco subsidiaries within the next two years. We will also be rolling out alliances with a number of global cancer drug discovery organisations, as well as a VC syndicate partnership.
In this pandemic year, it is noticeable just how much more accessible global collaboration can be, as organisations have embraced online meeting platforms for everything from initial meetings to closing large investment deals.
What is your view of the relationship between VC and life sciences in Scotland – with burgeoning firms often having to look to London and Europe?
I wish there were more life science-focused VCs in Scotland but I am confident that, in time, there will be. The Scottish angel investor syndicates have been very active and supportive locally and, without this, it would have been harder to scale Cumulus.
However, I still think there is a disconnect between the world-class science emanating from the research institutes here and translating it into commercial products. The low number of Scottish-based VCs is one of the issues but it is not the only one. For businesses in life sciences to flourish, we need to get more people with strong commercial track records to translate this cutting-edge research into successful products.
The more successful companies we have in Scotland, the more we can build that momentum. I believe wholeheartedly in these virtuous circles and am happy to be making a positive contribution to the life sciences ecosystem in Scotland.
Can you summarise your career before Cumulus – for example you founded and then sold Nexus Oncology…
I was always motivated to see how science translates into therapeutic advances for cancer patients. So rather than continue in pure bench-based research after my PhD, I moved into an applied research role. Initially specialising in clinical development (which involves the coordination of clinical trials), I worked for large pharmaceutical companies, a small biotech firm and then moved to the services sector.
In the contract research side of the business (referred to as the CRO sector), you get to work on a wide range of projects with a diverse number of pharma and biotech clients. I was highly motivated to continue working in cancer research and specialised in this area from the get-go. In this earlier part of my career, I was lucky enough to work on four projects that led to the approval of new cancer treatments, which are all still in active clinical use.
In 1999, I founded Nexus Oncology, a CRO offering specialised clinical research support to the biotech sector. Over a 12-year period, a fantastic team of first-rate clinical researchers and I grew the company to more than 120 people with offices in 13 countries from our base in Scotland. As well as a wide range of early-phase clinical projects, we worked on two large global clinical projects that led to new drug approvals to treat different cancers.
In 2012, US-based Ockham Development Inc acquired Nexus and our team continued to work very closely with the new owners until they, in turn, were acquired by Chiltern in 2014.
You have flagged Cumulus's pioneering role in Europe – what impact is Brexit having? Is this your biggest challenge (and if not, what is)?
For now, Brexit has not had a major impact as the life sciences and biotech market is global. However, to remain competitive, we need to ensure continued collaborative efforts in Europe and beyond. Our biggest challenge is continued access to capital. Many of the major players in life science investment are VC companies in Europe and the US with a growing number of significant life science VCs in Asia, most especially China.
Who do you admire in business?
Anyone who has created a successful business that gives back to humanity in some way. Mission-driven business leaders are a real inspiration too. Rachel Jones at SnapDragon, which specialises in brand protection, is one such company founder in Scotland. In the life sciences sector, I admire companies working at the forefront of biological advances in any medical area. Without the historical focus in these areas, we would not have an mRNA vaccine for Covid today.
Antibiotics is another therapeutic area that I think is vitally important. For now the commercial viability arguments are not strong and yet the future medical need is potentially huge. There is a number of research teams and companies undaunted by the short-term commercial viability arguments, working tirelessly to develop new approaches to treat bacterial infections. One day we will be very grateful for their unwavering belief in doing the right thing, regardless of commercial gain.
You've said it's crucial to love what you do – can you explain your passion for your area of life sciences?
Most of us have first-hand experience of people we love whose lives have been cut short by cancer or, conversely, rejoiced in successful treatment outcomes.
My own very early experiences of the impact that cancer can have on people's lives – my grandfather and a best friend's father both died far too young, as did, later, my own father – have continued to motivate me throughout my career, from my choice of degree, through my subsequent PhD to the projects I am involved with at Cumulus.
My key motivation is to continue to be part of the global effort to turn scientific discoveries into meaningful new treatment options for cancer patients.
A message from the Editor:
Thank you for reading this article. We're more reliant on your support than ever as the shift in consumer habits brought about by Coronavirus impacts our advertisers.
If you haven't already, please consider supporting our trusted, fact-checked journalism by taking out a digital subscription.
Comments
 0 comments
Want to join the conversation? Please or to comment on this article.