The Big Interview: Barbara Smith, MD of Scotland Brand Homes for Diageo
Barbara Smith earlier this year joined Diageo to lead the Johnnie Walker Princes Street visitor experience in Edinburgh and the company's network of 14 distillery "brand homes" in Scotland.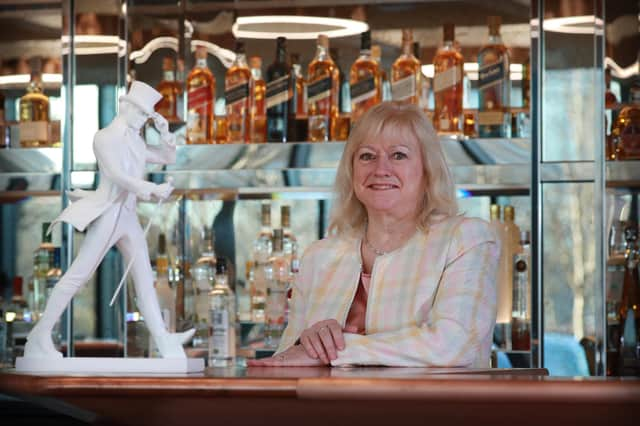 Diageo on announcing her appointment had deemed her "one of the UK's most respected culture, leisure and tourism business leaders". Her previous role was chief executive of the Royal Zoological Society of Scotland, while her CV also includes leadership roles at Edinburgh Castle, and Chester and Edinburgh zoos. Her appointment comes in advance of the opening next year of the flagship Johnnie Walker Princes Street attraction, part of major investment by Diageo to create a "unique" Johnnie Walker tour of Scotland. The spirits group – whose brands also include Guinness and recently acquired gin brand Aviation – said in August that operating profits fell 47 per cent to £2.1 billion in the year to June 30, while sales fell by 9 per cent to £11.8bn.
What does your current role involve and what led you to take it on?
I am the managing director of Scotland Brand Homes for Diageo, leading the teams who run our current portfolio of 12 distillery visitor experiences across Scotland, which includes world-renowned locations like Lagavulin and Talisker.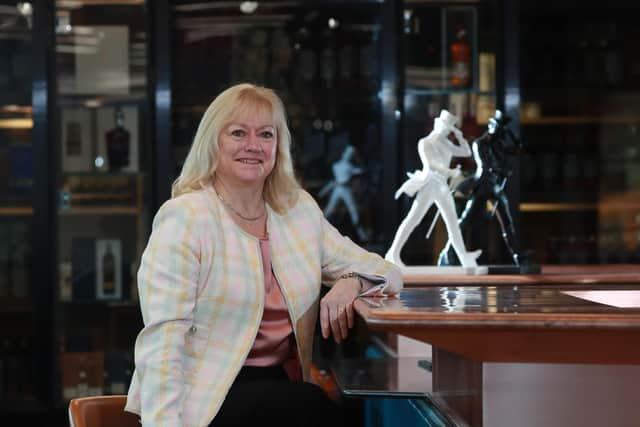 I am also part of the leadership team for Diageo's £185 million investment in Scotch whisky tourism, the biggest single investment ever seen in this sector, and which is transforming our distillery visitor experiences and bringing the iconic lost distilleries of Brora and Port Ellen back into production.
But probably most excitingly of all, I will also be responsible for running the new Johnnie Walker Princes Street global visitor experience in Edinburgh when we open next summer.
Glenkinchie in East Lothian was the first of our transformed distillery brand homes to re-open in October and it really gives a thrilling first taste of what's to come. Cardhu, Caol Ila and Clynelish will re-open to the public in the coming months, completely transformed. And that leads up to the opening of Johnnie Walker Princes Street which, I can confidently say, is one of the most exciting new visitor experiences to open in Scotland for decades.
Diageo recently announced that it was looking to fill 150-plus roles at the visitor experience – can you give more details on this and what the attraction will offer when it opens?
The range of roles gives a hint of what's to come at Princes Street and we are looking for experience ambassadors, performance artists, bartenders and front of house and retail staff. Our team will guide visitors through the experience, bringing to life the story of Johnnie Walker and Scotch and serving in the retail area and stunning rooftop bars.
Johnnie Walker is a whisky of exceptional character and, most importantly, we are looking for real characters to tell our story and to create an unforgettable experience for every person who walks through our doors. People are at the heart of all our distilleries and will be key to the success of Johnnie Walker Princes Street.
Inclusion and diversity are a crucial part of Diageo's approach to how we do business and they will also be reflected in the recruitment for Johnnie Walker Princes Street. Everyone has the potential to play a role in what we do and we encourage everyone to consider applying; it is definitely not just something for people who know about or like whisky, it is open to everyone.
People can apply now and training begins in spring 2021 ahead of next summer's opening.
How has its development been affected by – and how will it continue to be affected by – coronavirus?
Construction at Johnnie Walker Princes Street was paused for three months as Scotland went into lockdown, but we were able to resume work in June, in compliance with all government safety guidelines. This has been an incredibly difficult and disruptive year for everyone and we know there is still a long way to go, but during this time we have kept walking with confidence and are looking to 2021 with positivity. The safety of our contractors working on site, our people, our visitors and the local community will continue to be our main focus as we progress.
At our distillery visitor experiences around the country, Covid-19 has obviously also had an impact. Before the crisis we had seen consistent growth in Scotch whisky tourism and we would normally have been welcoming almost half a million people to our brand homes throughout the year.
We have worked hard to make our distillery brand homes safe for visitors, with strict protocols and layers of protection to ensure a safe environment, whilst also giving a warm welcome and a memorable experience. All our distilleries have the VisitScotland's We're Good to Go accreditation, which verifies we have the highest standards possible.
How does the attraction tie in with Diageo's wider £185m boost to whisky tourism in Scotland?
All roads lead to Princes Street and the Johnnie Walker brand home in Edinburgh is the centrepiece of this plan. We have chosen Glenkinchie, Cardhu, Caol Ila and Clynelish as the Four Corner distilleries, representing the Lowland, Speyside, Island and Highland whisky-making regions that produce single malt whiskies that are part of Johnnie Walker.
There are many more single malts that go into Johnnie Walker, but these four distilleries have particularly close links with the brand and have been part of the Johnnie Walker inventories for well over a century.
We want Johnnie Walker Princes Street to be the mile-marker zero on people's whisky journey around Scotland. It is the starting point, but we will encourage people to get out to the four corners of Scotland and to visit the remarkable rural communities that are integral to the making of Scotch whisky.
What is most exciting about the project is that it completely reimagines the traditional whisky tour experience. Distilleries have always offered a fantastic experience for whisky aficionados but we have worked with BRC Imagination Arts, who have helped create some of the world's best-known visitor attractions, to build on that and create an experience that is not only multi-sensory, but appeals to people of all ages and backgrounds – from the expert to the first-time taster. It is a hugely exciting project to be a part of and one that will offer so much to Scotland's tourism industry.
Diageo has also just unveiled 25 goals in its Society 2030: Spirit of Progress plan – with responsible drinking a key focus. Can you give more details on this?
This is the decade of action and our plan and targets for 2030 are carefully selected to align with the UN Sustainable Development Goals. It is not just about environmental sustainability – although we have committed to achieve net zero from production by 2030 – it is about all forms of sustainability.
That's why promoting positive drinking and tackling alcohol harm is just as important to us as reducing our carbon emissions. And equally important are inclusion and diversity, because we are committed to making the world a better place for our employees and for our communities.
In terms of promoting responsible drinking, we are expanding our programmes that tackle underage drinking, drink-driving and binge drinking. By 2030 we are committed to reaching one billion people with a dedicated message of moderation and educating people on the risks of alcohol-related harm through our global DRINKiQ platform.
We will also educate more than 10 million people on the dangers of underage drinking through Smashed, our award-winning alcohol education programme. In so many ways it builds on the legacy of our founders, who have always strived to make a positive impact on our communities.
Can you summarise your career before joining Diageo? For example, you were previously chief executive of the Royal Zoological Society of Scotland.
Before joining Diageo in February 2020, I spent seven fantastic years with the Royal Zoological Society of Scotland, first as a managing director and latterly as chief executive. Prior to that, I worked as managing director of the North of England Zoological Society after two years at Chester Zoo and worked as executive manager of Edinburgh Castle between 2000 and 2010.
Chester Zoo is the most-visited wildlife attraction in the UK, and Edinburgh Castle Scotland's premier visitor attraction. I have more than 30 years' experience working in sport, leisure, tourism, culture, heritage and the charity sector and my work has often bridged the gap between the private and public sectors.
I chaired the Edinburgh Tourism Action Group between 2007 and 2009 and I am currently a member of the board of directors for the Association of Scottish Visitor Attractions, who help such landmarks deliver sustainable, world-class experiences.
What would you like the visitor experience to achieve in its first year?
The immediate aim is to establish Johnnie Walker Princes Street as a must-visit destination for people from Edinburgh, from Scotland and from around the world. But more importantly than what we want to achieve for ourselves, we want to provide a beacon of hope for the hospitality and tourism industry as we recover from the Covid-19 crisis.
We want our commitment to our investment programme and the quality of visitor attraction we are creating to be a catalyst for recovery for the wider economy, because we know that we can only succeed in our ambitions if we are part of a thriving tourism industry.
Over time we want to make Johnnie Walker Princes Street to Edinburgh and Scotland what the Guinness Storehouse is to Dublin and Ireland – a must-visit destination that is part of the fabric of local life and culture.
A message from the Editor:
Thank you for reading this article. We're more reliant on your support than ever as the shift in consumer habits brought about by coronavirus impacts our advertisers.
If you haven't already, please consider supporting our trusted, fact-checked journalism by taking out a digital subscription.
Comments
 0 comments
Want to join the conversation? Please or to comment on this article.