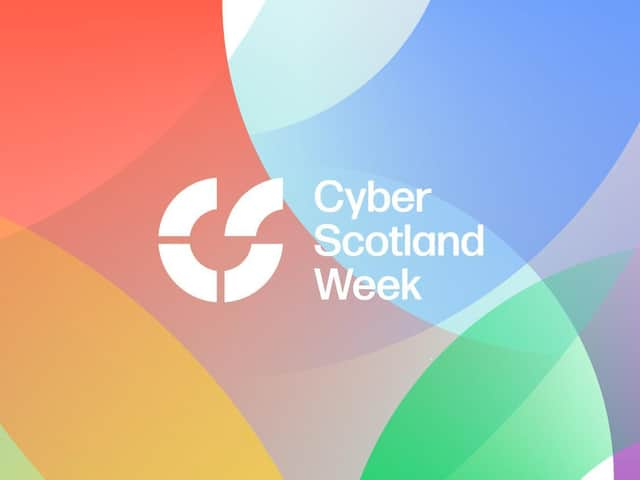 Picture: CyberScotland Week
The Scotsman will also be hosting its own State of the Cyber Nation Annual Debate in February 25 at 1.30pm and we have brought together some of the leading authorities from across industry, government and academia to share their perspectives on Scotland's cyber resilience journey over the past five years, as well as identifying their key priorities for the future.
Speakers include Minister for Innovation Ivan McKee, Head of Cyber/Cluster Manager, ScotlandIS Ciara Mitchell, Chief Executive Scottish Business Resilience Centre Jude McCorry, Head of Cyber Security Division, Abertay University Dr Natalie Coull and Chair of the National Cyber Resilience Advisory Board David Ferbrache.
Cyber criminals are constantly changing their scams to try to trick people and it can be difficult to stay updated on what to look out for. This webinar will provide an accessible introduction into the murky world of scams, both online and through email.
Online harm expert, Jess McBeath will give hints on how to review and refine your personal digital brand. Ethical Hacker, Abdullah Khan will also give an overview of Open Source Intelligence and provide a demonstration of just how much information can be gained about you from open sources.
An online basics course for over 50s covers everything you need to get to grips with the internet, from emails and video calling to staying safe on social media. The session will focus on how to avoid common mistakes and how to make browsing online easier.
Cybersafe Scotland are hosting an online safety Facebook Live for parents, carers and children. Join online safety expert and Cybersafe Founder Annabel Turner, DS Lesley Clarke from Police Scotland, Dr Joshi from CAMHS and Child Protection expert Hannah Bennett to discuss how children are coping online during lockdown.
Women in Cyber Scotland are having a special event for Cyber Scotland Week 2021 with Jane Frankland, a world renowned cyber security influencer, speaker and bestselling author.
Jane will provide an overview of her successful career in the cyber security sector, sharing insights on how she succeeded in such a male-dominated environment, covering aspects such as supporting each other and retaining female talent.
James Lindsay, an interim manager at Cambridge Analytica, talks about his experience at the scandal-hit data company and gives an insight - with a focus on the ordinary staff members involved - into how the company responded internally as news of its activities made headlines around the world.
A panel discussion focusing on the world of fake news. The UK Safer Internet Centre talks about their latest research on misinformation with young people while TikTok also discuss their experience in identifying and responding to inauthentic content, and the steps they're taking to improve user safety.
While many organisations have embraced the concept of building teams that include people from different genders, ethnicities, religions, sexualities, and disabilities, few have understood the value that neurodiversity can bring to their organisations.
Maria Hamilton, an Autism Advisor, will explain what is meant by the term neurodiversity and highlight the benefits of having a neurodiverse workforce.
Join Glasgow Science Centre and IBM for this Cyber Security workshop where pupils are tasked with stopping a cyber-attack on an airport. The workshop will also include information about careers within the industry with some real-life examples from IBM staff.
This seminar is for anyone working in childcare in Scotland. It is run by the National Cyber Security Centre, and supported by the Scottish Government, Education Scotland and Care Inspectorate. It will provide advice and steps to take to minimise the likelihood and impact of a cyber attack on your setting, and information about where to get help and advice if you need it.