Technology provides us with solutions to sustainability - comment
We're currently living through an era of big themes and big issues.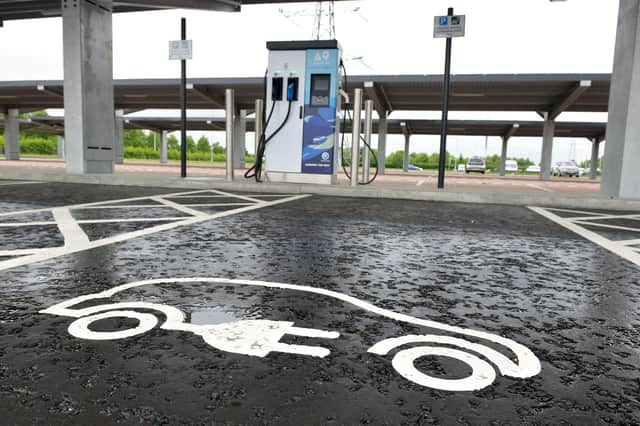 Sustainability is a worldwide concern, says Hawkins. Picture: Michael Gillen.
Many disruptive technologies mean we are reimagining how we live our lives, but they have led to a worrying digital divide. Those same technologies are also game-changing in ways that truly matter and of the many impacts of our recent rapid acceleration to digital, the opportunity to create a more sustainable future is by far the most exciting.
Technology provides solutions to reducing our carbon footprint, eliminating waste and embracing a robust circular economy.
In research launched last month, we found that greening cloud services could lead to a global reduction of 59 million tonnes of CO2 per year. This represents a 5.9 per cent reduction of total IT emissions or the equivalent of taking 22 million cars off the road.
Michelle Hawkins is managing director of Accenture in Scotland. Picture: contributed.
Through the analysis of cloud migrations for hundreds of clients globally, the report, The Green Behind the Cloud, outlines how companies can achieve the most value from environmentally friendly use and operation of cloud services.
It shows that cloud migrations can unlock clean energy transitions through cloud-based geographic analyses, material waste reduction from better data insights and indeed efficient drugs development as a result of faster analytics platforms. Sustainable cloud can deliver a double helix effect of shareholder and stakeholder value by simultaneously reducing costs and carbon emissions.
This is especially important because businesses are under increasing pressure to help solve large socioeconomic challenges. Investors demand better environmental governance; new recruits are drawn to corporate values and consumers expect brands to act. Demonstrating purpose around sustainability and operating responsibly, while boosting profitability, is now paramount.
Those imperatives are translating into action. In the latest Accenture Strategy-UNGC study, 59 per cent of CEOs say they're deploying low-carbon and renewable energy across their operations today while 44 per cent see a net-zero, carbon neutral future for their company. Moreover, two thirds view technologies like cloud as critical factors for accelerating change and making their commitments a reality.
COP26, which will arrive in Scotland this time next year, is another driver for change. It will create unprecedented access to international thinking about sustainability for local businesses, but more importantly, it will inject more urgency into the process of making us work together to implement new, more ambitious sustainability strategies.
Expedite
That's important because how we expedite the transition from traditional carbon energy sources to renewables, how we build and heat homes, how we transport goods, all require the partnership approach across society, business and government that COP's presence brings.
For ourselves, sustainability is now one of the values that we measure success against, and we have created a new sustainability leadership role, both globally and here in Scotland, to drive this mission through the organisation and out to our clients.
We have set ourselves ambitious emissions, waste reduction, recycling and water targets to meet by 2025, and have in place an internal network of eco-champions across nearly 70 countries promoting climate mitigation, circular economy and biodiversity through a mix of virtual and in-person events, challenges and volunteer opportunities.
As business leaders look inwardly to make changes, so too are we looking outwardly, with many in the international community sharing experiences and expertise. Scottish innovators and entrepreneurs taking forward new green technologies can, for instance, access global industry leaders through the Circular Accelerators' tailored mentoring programme. It is part of the recognition that sustainability is a worldwide concern and the means to adopt circular practices at speed and at scale is critical to success.
How we tackle climate change and embrace sustainability is without doubt a big issue of our times. And it will be the companies that can embrace the new technologies that have the greatest capacity to drive change and who will make the biggest leaps forward, both for sustainability and for business growth.
Michelle Hawkins, managing director, Accenture in Scotland
A message from the Editor:
Thank you for reading this article. We're more reliant on your support than ever as the shift in consumer habits brought about by coronavirus impacts our advertisers.
If you haven't already, please consider supporting our trusted, fact-checked journalism by taking out a digital subscription.
Want to join the conversation? Please or to comment on this article.