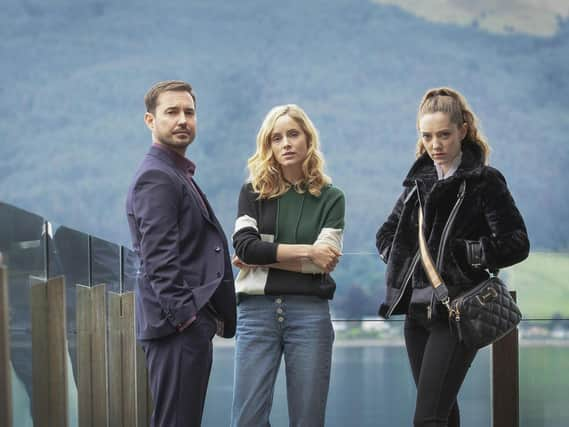 In a first of its kind study, Goldsmiths University, in partnership with Smart Energy GB analysed 45 of the UK's most watched shows scoring eco-behaviours on screen and awarding a red, amber or green rating.
Across over 150 hours of viewing, only 2.4% of TV households were seen to recycle compared to the Scottish national recycling rate of 44.9%.
And despite millions of homes and small businesses having smart meters installed to manage energy use, none of the TV households analysed showed evidence of a visible smart meter or its in home display.
Conversations around the environment, climate change or sustainability were lacking too. Across 90 episodes, the topics of climate change, sustainability or the environment didn't make it into dialogue once, despite supporting research finding almost half of Scots (46%) discuss such topics at least once a week.
Glaswegian thriller, The Nest, was rated fourth worst on account of its excessive high-energy appliances in Dan and Emily Docherty's Lochside pad, however it was pipped to the post in terms of greatest enviro-villain by Luther and Gangs of London – which both feature criminal figures exhibiting glamorous lifestyles with several luxury cars at numerous properties.
Fresh Meat, Normal People and Grand Designs came out top with Green ratings. Fresh Meat was noted for carpooling and regular evidence of clothes drying naturally, Normal People for evident use of composting and recycling, double glazing and relying on natural rather than electric lighting in homes and Grand Designs was noted for frequently depicting recycled building materials.
The analysis was carried out alongside research that found Scots are now watching an extra 3.6 hours of TV per day (24 minutes more than the UK average) and 34% claim they are more influenced by what they on screen than ever before.
Not only has the pandemic led to Scots watching more TV, but nearly one in five (18%) have re-evaluated their priorities and now feel more passionately about environmental causes. This signals a change, with 18% of climate conscious consumer in Scotland saying they think TV characters – fictional or not – should advocate and demonstrate behaviours that are positive for the environment. One in five Scots (20%) go as far as to say that if their favourite characters demonstrated greener behaviours, they would be inclined to follow suit.
In fact, with over 23 million smart meters installed across Great Britain, it's clear that TV is lagging behind.
Smart meters are upgrading Britain's energy infrastructure and simply by having one, households are helping to fight climate change. With many people inspired by their favourite TV characters, the Green on Screen report and research highlights the need for popular shows to take a leading role in advocating the small sustainable choices that will help Great Britain reach its net zero carbon emissions target.
In terms of the eco-behaviours of TV households that are likely to be mirrored by Scotland, 16% feel that watching shows where characters make a point of turning off lights and reducing their energy use makes them more incentivised to live a 'greener' life. 14% have even been inspired to start growing their own fruit and veg after seeing their favourite TV characters get green-fingered.
Lockdown may have seen Scottish households use on average 18% more energy, however the nation's urge to be greener is clear, nonetheless. 24% of Scots now want to manage their energy use more proactively and 38% more willing to take steps such as getting a smart meter to monitor their usage in real time– 5% more than the UK average- which in turn can help to reduce Britain's carbon footprint.
Robert Cheesewright, Director at Smart Energy GB, said: "It's great to see some TV shows leading the charge when it comes to energy saving and sustainability, but we want to see the good eco-habits we're all doing at home, such as recycling or having a smart meter, reflected in more of the shows we love.
"While we all suspected we are watching more TV during lockdown, it has been fascinating to learn how much of an influence it's having on us. That's why today, in partnership with BAFTA's albert, we are calling on the TV industry to recognise the potential it has to inspire audiences to play their part through showing energy-saving behaviours on screen.
"We're not asking for changes to the storylines that entertain us all, as now more than ever we need the escapism great TV offers. But with their powerful ability to inform our choices, the shows we watch should play a bigger role in the fight against climate change."
Professor Toby Miller of Goldsmiths University said: "As a nation we spend a huge amount of time watching TV, and it's an incredibly influential medium. Despite the climate crisis being a huge topic of interest, this is the first time we've been able to assess how well our favourite TV households fare when it comes to sustainability and positive eco-behaviours. Whilst many are doing it well, the findings show that productions across broadcasters and genres could do more in representing energy efficiency and healthy environmental behaviours, such using a smart meter to help to reduce energy waste and cut down your carbon footprint."
Michelle Whitehead from albert said: "albert firmly believes that our TV industry can help to inspire audiences to act for a sustainable future through its content, no matter the genre. This research is another really interesting way for our industry to look at how on-screen activity can help to normalise sustainable behaviours. Environmental champions come in many forms - it's not just the David Attenboroughs and Greta Thunbergs of this world who can inspire us but the Mick Carters too!"