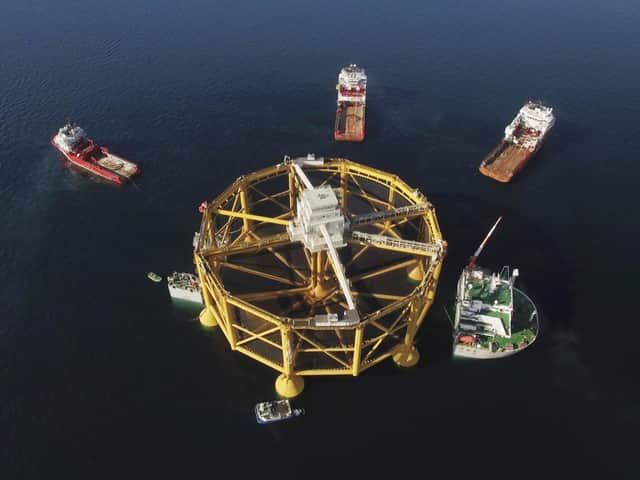 The worlds first offshore fish farm Ocean Farm 1 in Norway was established in 2017. Picture: contributed.
Scottish Sea Farms wants to trial the first open ocean farm north of the Border and is looking to regulators to approve the project.
Experts believe that farming fish in deep water, rather than traditional farms closer to shore, could have benefits for sustainability and for the marine environment.
The salmon grower is keen to explore the biological and technological considerations of farming in considerably deeper, more exposed waters – and, in doing so, measure the potential of such locations to help meet growing demand for Scottish farmed salmon in a sustainable way.
The firm says it will now enter into discussions with Marine Scotland, the Scottish Environment Protection Agency, and local authorities, before submitting a detailed planning application.
Scottish Sea Farms' MD Jim Gallagher said: "We put a great deal of time and care into identifying the best farming locations, both in terms of finding the optimum growing conditions and ensuring that the local marine environment can naturally sustain such activity.
"Over recent years, the scope of this work has widened to include the potential of more exposed locations; locations that could add to the volumes of salmon grown at our existing 42-strong farming estate."
He added: "For this ambition to be realised however, we need an engaged, robust and forward-thinking regulatory framework that enables Scotland's salmon farmers to continue growing in a responsible manner and helps the sector reclaim its competitiveness on the world stage."
If the project is approved, a multimillion-pound investment will come from Scottish Sea Farms' Norwegian owner Norskott Havbruk – a 50/50 joint venture between Lerøy Seafood Group and SalMar.
Scottish rural economy secretary Fergus Ewing said open ocean farming was something the Scottish Government was "keen to progress". He said: "This is exactly the kind of landmark inward investment opportunity that Scotland needs to thrive and grow, and I am determined that we seize that opportunity. The potential benefits of farming in deeper, more exposed locations have been raised many times over recent years, by all sides of the debate."
The world's first offshore fish farm – in Norway – was established by SalMar in 2017.
The proposed ocean farm would be Scottish Sea Farms' second sizeable capital investment in recent years, following the completion in 2019 of the company's £58 million Barcaldine Ras Hatchery, which aims to grow bigger, healthier, more robust smolts that are better able to withstand natural challenges.