Steel firm and accountant acquired by staff amid surge in employee ownership trusts
A steel business and an accountancy practice have become the latest Scottish firms to go down the employee-ownership route.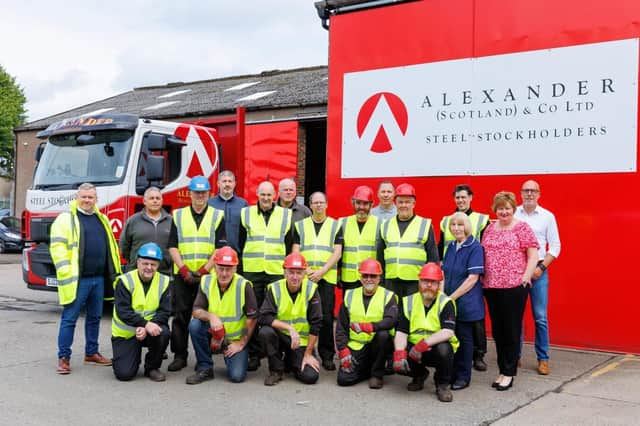 The news comes as it was revealed that Scotland is the third largest growth region in the UK for employee-owned businesses. Clare Alexander, head of Co-operative Development Scotland (CDS), which forms part of Scottish Enterprise, said: "It is great to see two more Scottish companies embracing the opportunities of employee ownership. The advantages are easy to see – not only does it give employees a meaningful stake in their organisation together with a genuine say in how it is run, but employee-owned businesses are also proven to be more resilient during times of economic crisis, more productive, more profitable and have more engaged staff."
Alexander (Scotland) & Co has been serving steel customers across the Central Belt for almost 75 years. From its humble beginnings at a small premises in Stirling, with just a horse and cart for delivery, the company has grown to 40 employees with two bases, in Stirling and Bathgate. Owner Glenn MacLachlan, who had been looking at his retirement options, said: "When we looked at the options with CDS, creating an employee ownership trust seemed to tick a lot of boxes. It offered longevity for the business but also gave control to, and rewarded, the people who were a key part of our success in the first place. The process was relatively speedy given everything that was involved, and I can retire now knowing I have left the business in safe hands."
Meanwhile, Livingston-based Glen Drummond Chartered Accountants has also taken the decision to move to employee ownership. Chris Wilson, who took over as director from a founding partner in 2016, said it was always his intention that, when the time came, he would hand the business over to the staff. He added: "I had been aware of employee ownership for years, having assisted several clients transition their business. I am confident our employees have the right mix of skills, and the positive group attitude needed to continue the success of the business. Together they can now guarantee their own job security, something that may have been a worry with an external sale."
Comments
 0 comments
Want to join the conversation? Please or to comment on this article.