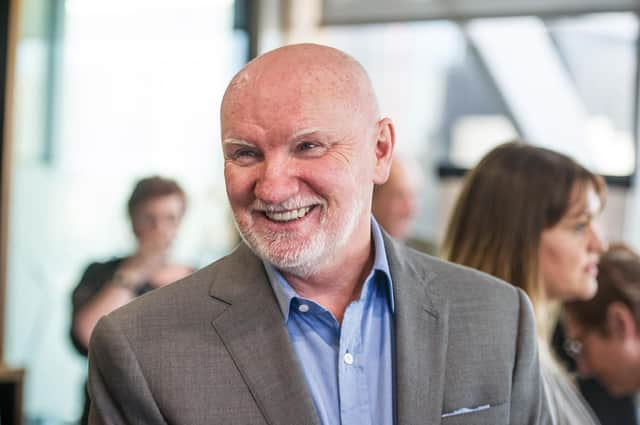 Ayrshire-born entrepreneur and philanthropist Sir Tom Hunter is one of Scotland's most prominent business people. Picture: John Devlin
The Ayrshire-born entrepreneur and philanthropist also hailed the contribution of the two businessmen behind THG, saying they, and others of their ilk, would lead the UK out of the pandemic crisis.
Hut Group founder Matt Moulding created a City sensation when he brought his company to the stock market in September in a multi-billion-pound flotation.
Hunter said: "[The Hut Group flotation] created more millionaires on its payroll than any UK company in history. The Hut Group has created 3,000 high quality jobs since March taking their total to 10,000, average age 26 years. We are very proud to be shareholders in The Hut Group.
"The moral of the story is I learned a lot more from Matt that I ever taught him. You've got to turn up to have a chance even when you don't want to.
"The UK will be led out of this crisis by entrepreneurs like Matt and [John Gallemore of THG] creating jobs and plotting the future not moaning about the past. Good luck to all the disrupters we need you more than ever."
Hunter made the comments as accounts were released for his West Coast Capital (WCC) business empire, encompassing WCC Assets and WCC Investments, as well as accounts for The Hunter Foundation.
The figures cover the 12 months to the end of March 2020, so do not take into account the full impact of the coronavirus crisis.
There was an overall net gain of about £30m after gifting cash and equities to the foundation amounting to almost £50m. The post-accounts gain from The Hut Group's initial public offering (IPO) is in the region of £100m.
Hunter said: "Normally I do a short commentary to go along with the accounts of West Coast Capital. So much has happened since then that it seems pointless going into any detail.
"These accounts should be read in conjunction with The Hunter Foundation because the two organisations are inextricably linked.
"In the year to March 31 West Coast Capital donated to The Hunter Foundation £14.4m in cash, gifted an approximate £5m investment to The Children's Investment Fund and gifted a further investment of approximately £30m to The Hunter Foundation.
"This is the start of transferring value from West Coast Capital to The Hunter Foundation – the majority will move over time.
"The purpose of West Coast Capital is to make money and transfer to The Hunter Foundation where we will invest for the common good."
He added: "In 2009 we were having a very bad financial crisis, which has been well documented. I was asked to judge a business competition to find the UK's best entrepreneurs and provide mentorship.
"There I met Matt Moulding and John Gallemore of The Hut. They were selling DVDs, CDs, computer games online, white labelling for Asda and other retailers.
"I asked if they knew this wasn't a long term proposition. They said of course, but we have to start somewhere. They won, got me as a mentor and I invested a small amount."
A message from the Editor:
Thank you for reading this article. We're more reliant on your support than ever as the shift in consumer habits brought about by coronavirus impacts our advertisers. If you haven't already, please consider supporting our trusted, fact-checked journalism by taking out a digital subscription: www.scotsman.com/subscriptions