Shetland engineering firm eyes fresh growth after sealing Irish tie-up
Shetland-based Ocean Kinetics is making a "significant" strategic investment in an Irish marine engineering company which will lead to an expansion of facilities and jobs.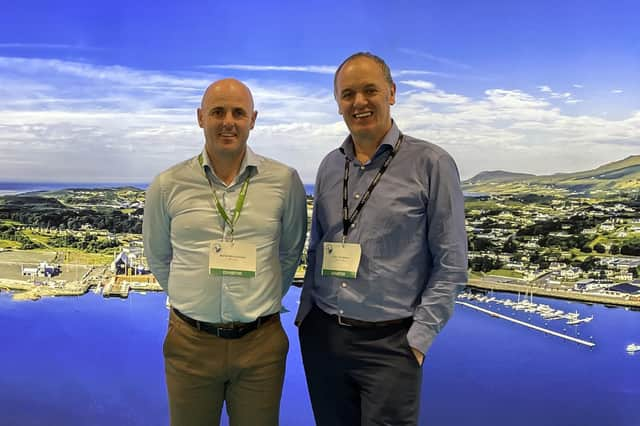 The Scottish firm said the investment in MMG Ocean created a partnership that aims to drive "innovation and growth" in the marine engineering sector. Ocean Kinetics' 25 per cent investment in the Killybegs-based company follows the two businesses' past collaboration on a number of projects, including a clean energy storage system for the aquaculture sector and the construction of marine grade metal frames for deployment in offshore wind developments.
The firm said the tie-up was proving to be mutually beneficial with work being referred, as appropriate, across the two businesses. For example, a contract with US company LDX for specialised cooling filters, which were fitted at the Intel Leixlip semiconductor facility in Ireland, relied on Ocean Kinetics' expertise for the manufacture of these high-spec components.
Ocean Kinetics, which has been operating since 1992, offers a range of specialisms, including fabrication in steel, stainless and aluminium, machining and manufacture, inspection and testing, industrial insulation and cladding. The company has workshops and design offices in Shetland as well as two workshops in Aberdeen, a workshop in Orkney and a sales office in Oban.
Managing director John Henderson said: "We are really excited about our partnership with MMG Ocean, which brings together Ocean Kinetics' extensive industry experience, market reach and resources with MMG Oceans' innovative product development, expertise and access to European markets. It undoubtedly underscores the synergy between the two companies and positions us as industry leaders across a range of sectors."
MMG Ocean managing director Martin McGuiness added: "Our collaboration with Ocean Kinetics opens up immense opportunities, and we believe that our partnership will give us the capacity to expand and deliver a much wider offering than each of us currently has. Fusing the design expertise and production capacity of both companies gives us the ability to fulfil major contracts in renewables, energy, marine, aquaculture and fisheries, decommissioning, power, and utilities sectors across the UK, Ireland, Europe, and beyond."
In 2018, MMG secured a European and US patent on its core product.
Comments
 0 comments
Want to join the conversation? Please or to comment on this article.