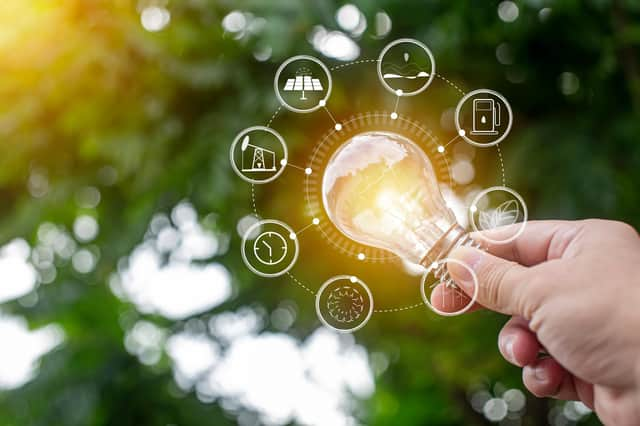 The webinar panel held forth on the development of a virtuous circle, whereby organisations and employees, clients and supply chains all act on each other to encourage a more sustainable approach to business. Picture: Shutterstock
Leaders must be brave, communicate clearly and work effectively with others to help create a thriving future, a webinar hosted by The Scotsman in association with law firm CMS heard.
The 25th November panel discussion, Leadership for a Sustainable Future, also discussed the emerging "virtuous circle" as organisations, their clients, employees and supply chains all push each other towards a more sustainable approach.
Zoë Arden, a Fellow of the Cambridge Institute for Sustainability Leadership, laid out very clearly why business leaders were grasping this agenda with increasing enthusiasm.
"We cannot live on a dying planet, let alone do business on it," she said. "A thriving future requires us all to be courageous leaders, communicators and collaborators. We can all be good communicators and tell better stories to drive change.
"We can all show leadership, whatever our context. It could mean doing something in your local community, or making your voice heard about how you want your organisation to act differently to ensure it has a positive impact."
Arden said that the climate crisis and the COP26 climate summit, to take place in Glasgow in late 2021 after a year's delay due to Covid-19, provided urgent context to sustainability conversations.
Allan Wernham, of event sponsor CMS, said leadership on sustainability was "fundamental to everyone's future prosperity", but it had to be genuine. To show it is serious, CMS has made sustainability a strategic priority at board level, become the first law firm to commit to the Science Based Targets initiative, and set a net-zero target of 2025. Wernham added that seven of CMS's eight UK offices are using 100 per cent renewable energy, including all three in Scotland.
Allan Wernham, CMS: We have to report progress transparently. We're working with CDP, a globally-recognised benchmarking organisation. We got a B for our own activity and an A-minus for work with suppliers and we want to get that B up to an A. Empirical evidence helps bring people with you
Liz Lowe, head of sustainability in Great Britain for Coca-Cola, said sustainability had been on the agenda of businesses for a long time but had become much more visible, thanks to a push from multiple directions to drive positive change.
These include high-profile campaigns and activism, the Blue Planet effect – described as a great example of storytelling which made a real difference – and changing individual attitudes.
"Consumers, investors, customers, employees and stakeholders, are all massively interested in sustainability actions," Lowe told the webinar audience. "Being a good business is good for business."
James Withers, chief executive of Scotland Food and Drink, agreed that sustainability storytelling was vital, whether it was Mackies producing the "world's first carbon-neutral ice cream", haggis maker Macsweens committing to send no waste to landfill, or Borders Biscuits reducing its plastic packaging by 90 per cent.
"Good examples inspire others," he said. "Their businesses are stronger and more efficient for embracing sustainability. They are reducing costs and developing a brand ticking all the boxes."
He added that it was crucial to retain a long-term focus in the face of the challenges of Covid-19 and Brexit, saying: "Sustainability is well-embedded into long-term thinking of businesses, although they are often just trying to get through the week at the moment. We are facing up to a loss of around £3 billion [on a baseline of £15bn] in 2020.
"It's been about survival, but their eye has not been taken off the real game in town – how we establish Scotland's reputation as a world leader in sustainable food production."
Allan Wernham agreed that there had to be a balance between short-term and long-term, saying: "Our success is very much driven by the motivations of our people and there is an appetite to be talking about bigger things, and to engage with people on sustainability".
Andrew Cave, head of sustainability at investment manager Baillie Gifford, underlined the importance of simple language and maintained that leaders had to "make it real". He said: "It can seem really technical and complex and there is a dizzying amount of acronyms and unhelpful jargon, but the underlying issues are not complex – we simply produce too much carbon for the atmosphere to tolerate.
"It's important for leaders to be authentic and credible, to take action – to turn the car fleet electric, for the CEO to take public transport. It's about taking specific actions and sharing stories to show it's not about other people, but all of us."
Cave suggested that humanity is on the cusp of real change: "It has felt like the warm-up to sustainable capitalism for years, not quite the live show. But we've moved on from reports to actions."
He added that things would only accelerate as an informed younger generation came through, saying: "Our employees are hugely interested in these issues. Millennials are really interested in the circular economy, but go back a generation to primary school kids and they are entirely steeped in this stuff. We have not even begun to see proper activists, employees and consumers coming into the mainstream economy; watch this space, in ten years we will see an enormous impact."
Allan Wernham agreed: "We need to think about the next generation. This is very much front and centre for them. CMS opened an ideas platform to thousands of employees and had phenomenal response – going from ideas to reality sends a very motivating message.
"And there's a virtuous circle we can drive down through our supply chain; how can our suppliers reduce carbon usage and how can we work with them?"Liz Lowe supported the idea of a virtuous circle: "We are increasingly interconnected. Coca-Cola's success as a business rests on the success of many other businesses; we are nothing without our suppliers and their suppliers."
She continued: "I'm excited by the slew of big companies coming out with net-zero ambitions and sustainability visions. But they must be more than headlines or good PR. Reputation is important, but it must be rooted in science. It's easy for companies to be called out and reputations can easily be destroyed. It's not a moment in time, it's continuous improvement."
Zoë Arden agreed that there is no simple answer to shaping a sustainable future, but storytelling would always be crucial. She said: "There are no magic bullets but one possible superpower we can all master is communication – but not spin or fiction. This is about real storytelling and story-doing."
She highlighted Brewdog as a master of the art: "Its sustainability report talks in language people can understand – ensuring we have a planet to brew beer on. And they are planting one million trees on a site north of Loch Lomond.
"Language has the power to shape the world in which we live and it's not about more words – it's less words, more impact."Storytelling and how we show up as leaders are inextricably linked to build the future we want."
The audience answered three poll questions during the discussion:
As many organisations remain in 'survival mode' due to Covid-19, is a focus on long-term sustainability more or less important now?
More important: 90 per cent
Less important: 10 per centWhere does a 'sustainability commitment' really sit within your organisation?
At the heart of it: 66 per cent
More of a box ticking exercise: 34 per centIs achieving strong corporate performance made easier or harder by also striving to deliver more ambitious environmental goals?Easier: 56 per centHarder: 44 per cent
Zoë Arden, Fellow of the Cambridge Institute for Sustainability Leadership, pictured above during the webinar, listed four key attributes that great sustainability leaders need:
Ability to grapple with big systems challenges
To be able to navigate complexity
To be prepared to take comfort in discomfort
Willingness to lead whatever the context
Arden added that great sustainability leaders had to be courageous and were always great collaborators – across government, business, civil society, faith groups, scientists, academia and more.
"We need safe environments where we can do new things and experiment," she said. "We need to be courageous and take risks. We need to hear from all different voices; that's when the magic happens."