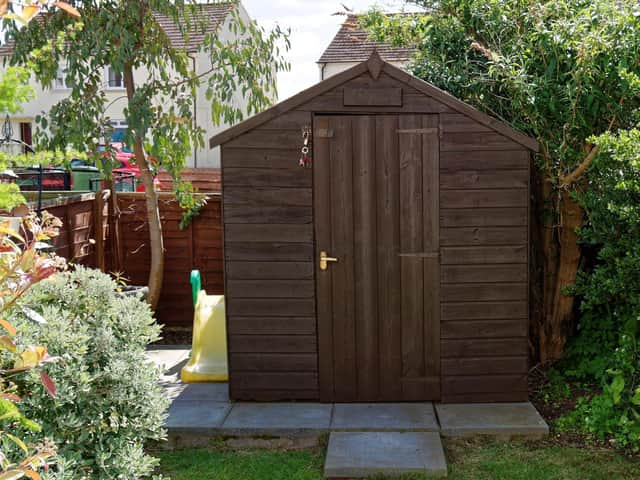 Almost one in three sole traders and micro-business owners in Scotland work from premises in their garden, the report has found. Picture: Pixabay.
A study by digital bank Starling found a growing number of home-based workers are moving into workspaces in the garden where they're more likely to get peace and quiet. Almost one in three sole traders and micro-business owners in Scotland work from premises in their garden, either occasionally, regularly or full time.
Among Scottish "shed-preneurs", the most commonly cited benefit is peace and quiet, with 54 per cent highlighting it. Other pluses identified include being more productive (38 per cent), being able to spend time with pets (23 per cent) and juggling family life with running a business (24 per cent).
The survey found full-time shed-workers are also four times less likely to be stressed at work than other self-employed people, more likely to feel they have a good work-life balance and are also more likely to be confident about their businesses' prospects.
Entrepreneurs who work full time from a shed have spent an average of £3,343 on construction and renovation of the space to make it suitable for work. Entrepreneurs who exclusively run their business from a garden shed save an average of £8,738 a year on rent, commuting costs, food expenses and other overheads.
Jeremie Warner, who runs mobile accessory company Poweralife from a shed converted into a workspace in the garden of his home in Glasgow, said: "I'm married with two young kids and it gives me a good work-life balance. I'm able to commute to the house, across the back garden, and be in for dinner time, bath time and bed time most days if I'm not out and about for meetings or travel.
"It's super cost effective when compared to an office of the same size in Glasgow or Edinburgh and is a fraction of the price. It's also a flexible space and has been changed and adapted over the past year or two as we've grown as a business."
Anne Boden, chief executive and founder of Starling Bank, said: "We have a tradition of entrepreneurialism in the UK and this, combined with the growing emphasis on a healthy work-life balance, has led to an explosion in people working from their homes."
Demand for additional space at home from self-employed workers has led a Glasgow-based start-up to recently invest in new facilities for constructing garden rooms for clients. Outside In Garden Rooms has taken warehouse space in Anniesland to increase its capacity.
Latest figures show there are 306,000 self-employed people in Scotland, representing 12.4 per cent of the workforce and an increase of 41 per cent since 2008.