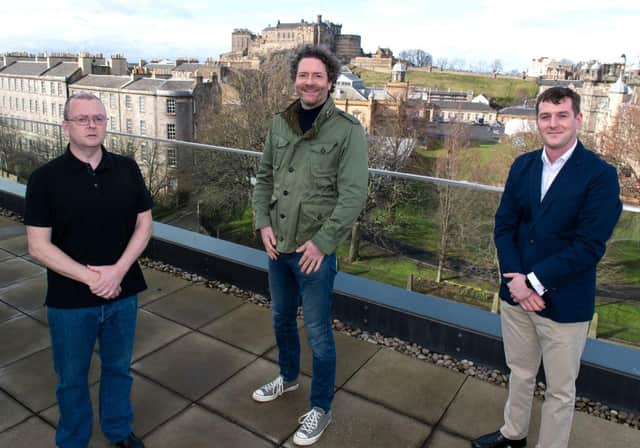 From left: Paddy, Chris and Gavin at Chroma Ventures' portfolio company Parsley Box's Quartermile headquarters in Edinburgh. Picture: contributed.
Chris van der Kuyl and Paddy Burns, behind Dundee games developer 4J Studios, have established Chroma Ventures to bring together their portfolio of stakes in companies that also includes Edinburgh's TVSquared and Parsley Box.
Additionally, the venture is looking to support new investments with discussions over a number of potential deals currently under way.
The entrepreneurs – co-founders of 4J Studios – have been active investors and advisors to a number of early-stage companies for several years, often alongside other investors.
Mr Van der Kuyl said they decided to establish a dedicated investment arm as they felt there was a need to put more structure around their investment activity "without losing the sense of freedom and flexibility that has defined our approach to date".
He explained: "We had been investing for some years and had hit a point where there was quite a substantial amount of money involved, the number of companies had grown, and we were really enjoying it and wanted to do more."
The duo have appointed Gavin Anderson, who has worked with the likes of Maven Capital Partners, EY and KPMG, as investment director to develop the portfolio.
Chroma Ventures will focus predominantly on firms based in Scotland and the UK initially, but with ambitions to extend its reach globally. It will typically make investments of between £500,000 and £5 million in support of "exceptional individuals and teams taking an entrepreneurial approach to developing innovative ideas and technology".
Mr Van der Kuyl said there was no set limit on the total pot of money available to invest. "We're certainly not turning down investments because we don't have the money to invest in them, it's more about making sure we've got the time to take them on as we are small and want to remain that way."
Although many of the firms the two entrepreneurs are involved in are data and technology led, Mr Burns said the investment approach was "fundamentally about people".
Support
He added: "It is about providing great teams with the capital and advice they need to thrive, in the same way that Chris and I benefited from the support of experienced entrepreneurs and investors when we were starting out more than 20 years ago."
In addition to Chroma Ventures' portfolio, which also includes indie games developer Puny Astronaut, ADV Holdings, Ace Aquatec, Team 17 and the property development company Chroma Developments, it has indirect holdings through LVP, the venture capital seed fund for the games sector, Social Investment Scotland (SIS) Ventures, the impact investment fund backing mission-led enterprises, and Seedhaus, the pre-seed stage investor.
Mr Burns and Mr Van der Kuyl's commercial property business, formerly known as Tayforth Properties, which was responsible for developing Water's Edge, the grade-A office development on Dundee's dockside housing a number of its portfolio businesses, has now been rebranded as Chroma Developments.
Mr Van der Kuyl started computer games company Vis Entertainment, which had a big hit with State of Emergency, and he was later chief executive of IT firm Brightsolid. In 2005, he joined forces with former schoolfriend Burns to co-found 4J Studios, which is best known for developing Minecraft for Microsoft, Sony and Nintendo games consoles.
A message from the Editor:
Thank you for reading this article. We're more reliant on your support than ever as the shift in consumer habits brought about by coronavirus impacts our advertisers. If you haven't already, please consider supporting our trusted, fact-checked journalism by taking out a digital subscription: www.scotsman.com/subscriptions