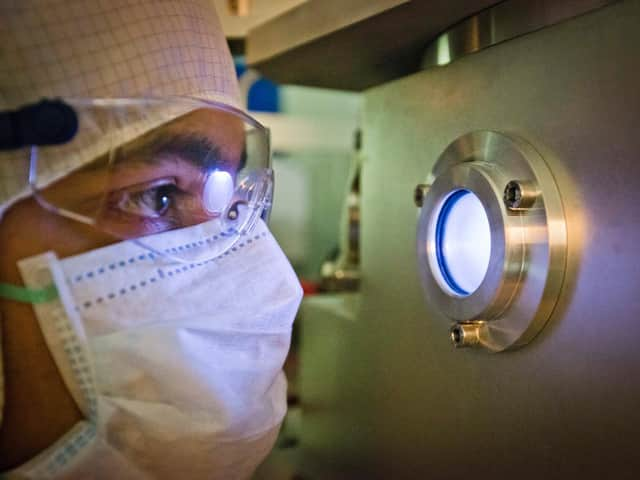 Sofants antenna technology is developed in a sterile environment. Picture: Contributed
Sofant has developed a low-power, low-cost platform which it claims reduces power usage in certain kinds of communications systems by up to 70 per cent.
Through its partnership with Memsstar, which provides deposition, equipment and tech products and services to specialist manufacturers, it is aiming for large-scale commercialisation and looking to roll out its innovation to new markets.
Sofant hailed the agreement as a means to "dramatically reduce" risk during the manufacturing phase.
The Edinburgh company added that its technology solves the most pressing power consumption and heat problems in 5G and satellite communications antenna systems.
Chief executive David Wither said: "While the Mems [microelectromechanical] market globally is mature with several consumer applications for the technology, radio frequency Mems are still relatively early in the adoption cycle due to the challenges of manufacture and production at scale.
"The manufacturing process is critical and has a major impact on the cost and performance of the device.
"This collaboration has dramatically reduced the development risk and cleared the path for volume production."
Memsstar chief executive Tony McKie added: "For the next generation of advanced Mems devices, process technology will be more critical than ever to meet performance, reliability and yield targets.
"It's exciting to see Sofant Technologies moving into volume production as a result of our collaboration, validating our Mems platform and process expertise as well as our approach to Mems development and manufacturing."