Scottish guest house only yards away from one of the world's oldest golf courses is up for sale
The six-bedroom property dates back to the 1800s.
A Scottish guest house within walking distance from one of the world's oldest golf courses is up for sale.
The Glenderran Guesthouse in St Andrews is just 250 yards from the Old Course, more commonly known as "The Home of Golf", one of the country's most iconic spots for playing the sport.
The property, in 9 Murray Park, has six bedrooms including accommodation for the owner with a private garden and a recently installed modern kitchen.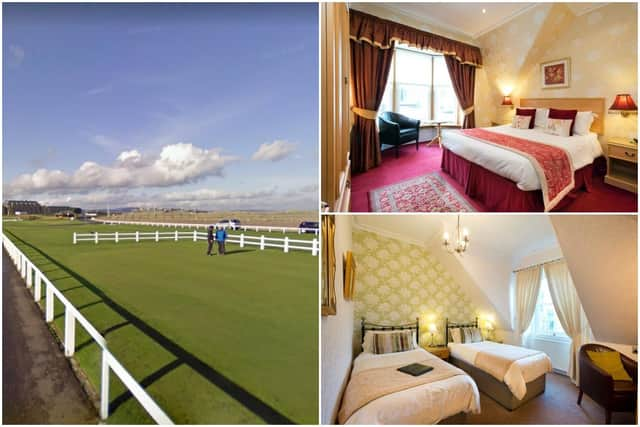 The guest house is rated four star and is often in tripadvisor's top ten places to stay in St Andrews.
Dating back to around 1880, the building boasts a traditional Victorian terrace style.
It sits in the heart of historic St Andrews and is easily accessible by road and rail.
The nearest cities are Dundee (13 miles), Perth (33 miles) and Edinburgh (about 50 miles).
Scottish Business Centre, a property agent currently advertising the guest house, has posted further details about the property on its website.
In the property's description it says: "On first entering Glenderran Guesthouse you are instantly aware of care and attention to detail within this outstanding four Star Gold operation.
"Boasting a most welcoming ambience and displaying a real sense of quality throughout, whilst managing to retain a home from home feel, potential buyers will not fail to appreciate the high standard of B&B operation being offered for sale.
"Ever since taking on the business over 16 years ago, the vendors of Glenderran Guesthouse have focused on improving the overall fabric of the property and on the level of service on offer.
"Year on year our clients have reinvested much of the profits that the business generates in the upgrading of the fixtures and fittings and improving the overall quality of the property."
The previous owners have retired after running the place for 16 years.
Reports differ on which golf course is considered the world's oldest.
According to the Guinness World Records website the Old Course has been around the longest.
On its website it says: "The Old Course at St Andrews Links in Fife, Scotland, UK, is the oldest golf course in the world. The Archbishop Hamilton's Charter in 1552 is the earliest documentary evidence that allowed the people of St Andrews to play golf on the Links.
"The charter is principally a license to allow Archbishop Hamilton to breed rabbits on the links but the document also allows them to continue the "playing at golf, futball, schuting at all gamis, with all uther maner of pastyme as ever thai plais."
Yet it has been reported the Old Links at Musselburgh where Mary Queen of Scots is thought to have played in the 1500s is officially the oldest in the world.