Scottish companies named on list of UK's '100 most impressive small firms'
Several Scottish companies have been hailed as being among the UK's "100 most impressive small firms" ahead of an annual campaign to support local businesses.
The launch of the SmallBiz100 listing kicks off the countdown to Small Business Saturday, which is set to return on December 2 this year. Businesses from across Scotland that have earned a place within the line-up include: D'lux Gift Box, which is behind luxury pamper gift boxes curated in Glasgow; Me-Time Therapies, a Musselburgh-based holistic health and wellness venture offering handmade natural products; Raven Botanicals, a Haddington business making bioactive skincare products using locally grown and ethically sourced ingredients; and SD Barbering, a Glasgow-based barber shop with a strong focus on helping the community.
Small Business Saturday is credited as the UK's most successful small business campaign, taking place each year on the first weekend in December. It celebrates small businesses and encourages consumers to "shop small" and support companies and ventures in their communities.
Gill Erskine, who set up WildStrong, which is behind outdoor group movement classes in Fife and also features in SmallBiz100, said: "We're so pleased that WildStrong was selected as part of the SmallBiz100. Starting a business in the current climate whilst having a young family can seem like an impossible juggle, but being part of a national support network of other entrepreneurs, and all that comes with that, keeps us going."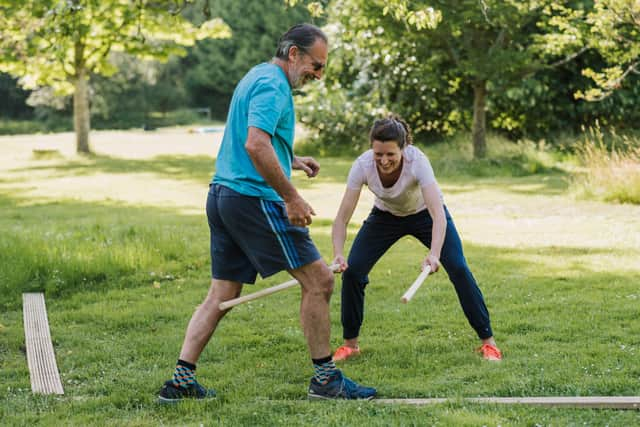 Michelle Ovens, director of Small Business Saturday UK, said: "The fantastic small businesses featured in this year's SmallBiz100 sum up the phenomenal contribution that small firms make to our economy and local communities. It continues to be really tough out there in the economy for small businesses, so there is a huge need to celebrate our incredible small business economy and throw our arms around them. Small Business Saturday remains a critical and powerful way for the public to do this."
The grassroots non-commercial campaign was founded by American Express in the US in 2010. The brand remains the principal supporter of Small Business Saturday in the UK. Since the UK campaign began in 2013, it has reached millions of people and seen billions spent with small businesses on the day itself, with an impact that lasts all year.
The most recent SME (small and medium-sized enterprise) barometer research from American Express and Small Business Saturday reported that more than a third (35 per cent) of small businesses are finding it increasingly hard to run a small business, while 82 per cent feel there needs to be more celebration of entrepreneurship. Despite the challenging backdrop, almost two thirds (64 per cent) are defying the odds and forecast that business performance in the final quarter of 2023 will be better than the previous two years.
Dan Edelman, general manager, UK merchant services at American Express, added: "This year's SmallBiz100 once again showcases the incredible vibrancy and vitality at the heart of the nation's small businesses, which contribute so much to local communities across the UK. As we move into the second decade of this vital campaign, we look forward to continuing to celebrate small businesses and those running them."
Comments
Want to join the conversation? Please or to comment on this article.