Scottish business and sustainable capitalism: 300 years of history may solve modern issues
Advertisement feature: The spirit of Adam Smith and the Scottish Enlightenment can be rekindled to address the 21st century's greatest challenges, according to an academic who has taken up a new post in the name of the celebrated economist and philosopher, writes David Lee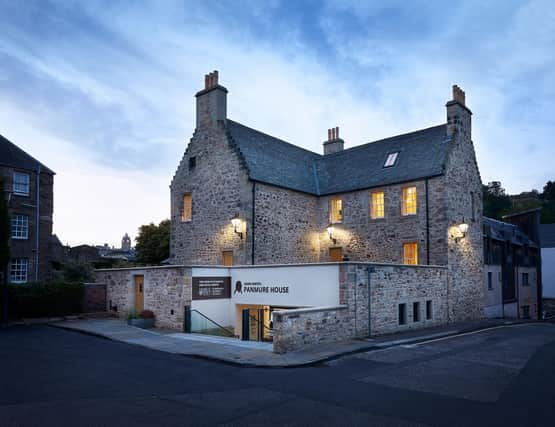 Professor Adam Dixon, the first Adam Smith Chair in Sustainable Capitalism, wants to harness the "spirit of inquiry" of Smith and his contemporaries, and the way they brought different disciplines together to examine major issues.
Professor Dixon says that this approach - in the tercentenary of Smith's birth in 1723 - can be deployed to tackle enormous global challenges like climate change, the ageing population and the rapid advancement of artificial intelligence.
"I have the opportunity to rekindle the spirit of the Scottish Enlightenment, [to] take forward the convening power of Adam Smith," Professor Dixon explains. "I want to bring together policymakers, business leaders, those making serious investment decisions, bring them to the table, and think about these particular global challenges in a constructive way."
He says while Smith is best-known for The Wealth of Nations, he was so much more than that.
"Adam Smith was a very broad thinker," says Professor Dixon. "He's obviously considered the father of modern economics, but he was also a moral philosopher and wrote about art and literature. He debated and brought together scientists, philosophers and lawyers into conversation.
"And his theories and his thinking came from observation of daily life and experience. As such, his work is quite practical and relatable."
Harnessing Adam Smith's approach can help tackle 'silo thinking' in the modern world, Professor Dixon believes. He says universities, businesses and governments are all guilty of this - and that those huge global challenges cannot be addressed without them working together much more effectively.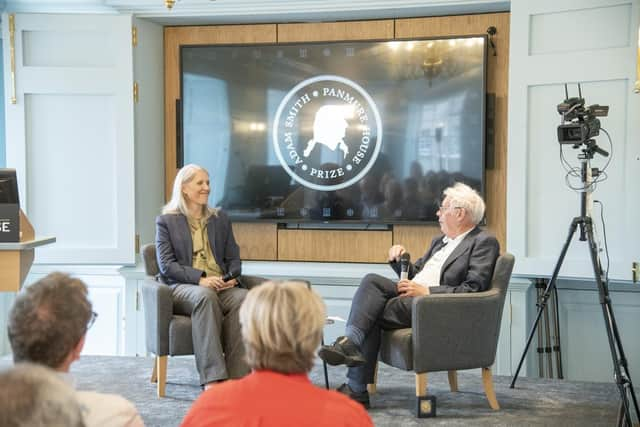 "It's important in addressing the challenges we face that we think broadly, read widely and bring into conversation insights and ideas from a range of disciplines, and from different places in the world.
"That's an important part about Smith and some of his [contemporaries] - they were also looking elsewhere in the world. It wasn't simply Western civilization and Roman and Greek philosophy they were thinking about, they were also looking at Chinese civilization. It's that reaching out that is really important. And so that's why we can still look to Smith and his contemporaries, not necessarily in trying to reinterpret their work for the 21st century but taking their spirit of inquiry. That's what we want to do."
Professor Dixon wants to do this through a practical approach called "engaged research".
He explains: "We're not looking at the world from afar....we're having constant and sustained close dialogues with those making decisions with the hope that we are influencing better decision-making and better understanding of the solutions on offer. It's about fostering frank and open debate - with a healthy dose of scepticism."
The American-born academic says he is enormously privileged to have become the first holder of the Chair in Sustainable Capitalism at Edinburgh Business School, part of Heriot-Watt University. "I always see myself as standing on the shoulders of giants and thinking to myself if I can make just a minor addition, that's enough," he says.
The role, which Professor Dixon took up this year, is believed to be the first Chair in Sustainable Capitalism in the world. It has, he says, been met with scepticism by some academics and online commentators - who argue that capitalism can not be truly sustainable.
Professor Dixon disagrees, and wants to foster an open and honest debate about what sustainable capitalism is. He says: "Capitalism comes in a lot of variations - and we can, and should, critique it. What I would like to do in my position is critique and understand the limits of capitalism, but also the potential." His role is not, he stresses, about "trying to sustain some unsustainable form of economic activity".
He continues: "If I have to give a definition now, sustainable capitalism is a form of capitalism that's more inclusive, that looks out for those that don't benefit directly from the dynamism of innovation and growth, both at home and abroad.
"I think most people would get behind that idea of a socially inclusive form of capitalism. [It's also] a form of capitalism that appreciates and understands nature and the environment and seeks pathways that are less destructive than what we're currently seeing and addresses some of these problems."
Professor Dixon believes the idea of sustainable capitalism to tackle significant challenges is highly relevant in considering the threats to democracy in an era of rapid globalisation.
"I grew up with the Berlin Wall coming down, global trade intensifying and [the world] becoming increasingly interdependent.
"There was a sense at the end of the Cold War that the world would become more liberal and democracy would increase across the world.
"That's not happening, especially looking at the rise of China. It is dynamically capitalist, and very much integrated in the global capitalist system, but doesn't seem likely to become liberal; if anything, it's become more authoritarian."
Professor Dixon argues the Chinese model is increasingly attractive to some developing countries, who are eschewing democracy and instead looking at 'strongman' authoritarian rulers to kick-start economic development.
However, he says: "Ultimately, liberal democracies are the most creative and innovative places, and we should cherish that, but at the same time, we live in a world that's increasingly illiberal.
"We like to think of our democracies in decline in the U.K, in Europe or the United States, but I still think democracy is still fairly robust. It can be quite dirty and divisive, but that's kind of how it operates. But I think it's still relatively healthy."
This means those with decision-making power - governments, businesses and investors, for example - are making decisions in a very different global context, Professor Dixon believes.
"We are having to face a world that is different, which poses a challenge because we still should protect our values and our ideals. But at the same time, we share the world with the likes of China, and it's in our interest for China to to work with us and I think that relationship - where we fight to protect our values and interests, but at the same time work with those we share the planet with - is incredibly important."
Dixon says it is vital to address modern-day global challenges from all perspectives: "I think it's easy to look at the world from the perspective of New York or London with deep, efficient financial markets and stable countries with the rule of law, but the rest of the world is increasingly not that. And that is the broader challenge - how do you look at these challenges from the perspective of geopolitics? That's where I think we can add value."
Adam Dixon says he hopes to hold the Chair for many years, but any legacy he leaves behind will not be about him personally: "It's not so much about what my name carries on," he says. "It's more about what conversations, what dialogues, have I had that have contributed to different practices, different policy choices, or just even a different understanding of the world that we're in.
"I hope to have hundreds of those kinds of conversations. I hope to reach as many people as I can. Then I'll be happy."
Adam Dixon says the first time he stepped into Adam Smith's Panmure House, it was a "really special" feeling.
The townhouse where Smith lived for the last 12 years of his life (1778-1790), nestled between the foot of the Royal Mile and Calton Road in Edinburgh, had fallen into disrepair before it was brought back to life in painstaking fashion.
It was bought by Edinburgh Business School in 2008 and rescued and revived with the aim of creating a place to reflect upon the legacy of Smith, and a venue for social and economic debate. It was officially reopened in late 2018.
Professor Dixon says: "The first time I set foot in Panmure House, it's just really special. As an academic and political economist, someone that's read Smith, and recognised his influence on the social sciences in general, it's amazing to be in the place where he lived. This is where he dined and interacted with others in a really important period in Scottish [and global] history. It's where this wellspring of democracy was happening
"Its intimacy is quite special. I don't want to say it's like a church but Panmure House has that same kind of purpose and meaning. You walk into it, and think to yourself 'Wow'. It's a place where we can have open and frank debate, and value free expression and free speech to really put ideas under pressure."
The Panmure House Prize was created to reward research into long-term investing and its relationship with innovation. The $75,000 Prize is awarded annually to emerging leaders in academia who are planning to produce outstanding research on the topic of the long-term funding of innovation in the spirit of Adam Smith.
A distinguished judging panel, including James Anderson as Chair and Oxford Economics Professor Sir John Kay, will select the winner, and Adam Dixon likens it to an "academic Dragon's Den" where the winner gets to interact with the expert panel to discuss their idea.
The Panmure House Prize is sponsored by Baillie Gifford with FCLTGlobal as partners. It is now accepting global entries for its third year, with a closing date of 4 April. The public is invited to watch the 2022 winner results meeting on 15 September 2023 via livestream. More information on the Panmure House Prize, Sustainable Capitalism and Adam Smith's Tercentenary can be found on panmurehouse.org