Scottish based tech companies leading the fight against climate change
In the global pursuit of combating climate change, Scotland has emerged as a vanguard of innovation, with its tech companies at the forefront of driving impactful change.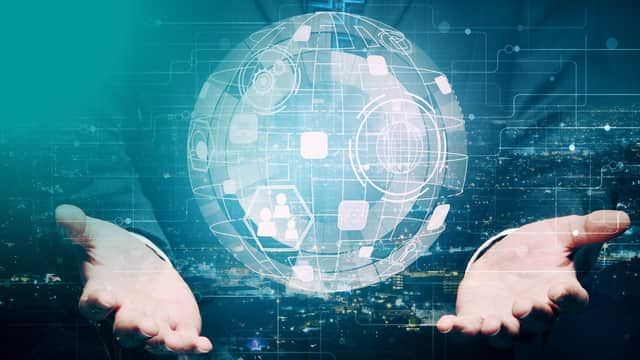 Scottish-based technological enterprises are seen to be demonstrating an unwavering commitment to reducing carbon footprints and reshaping industries towards sustainable practices.
With a remarkable convergence of pioneering spirit, cutting-edge research, and collaborative endeavours, these companies are not only redefining the landscape of technology but also providing a beacon of hope in the urgent battle against the escalating climate crisis.
Climate technology markets have been identified as a priority in Scottish and UK Government economic and industrial strategies, with the development of climate tech estimated to be worth $1.5 trillion and $2 trillion of capital investment globally. Responding to the challenge of climate change is a necessity for the future of our planet, but also presents an opportunity for our economy and the prosperity of people living on our shores.
With ambitious goals and the lofty target of reaching net zero emissions as a nation by 2045, let's take a look at some of the companies and people leading the frontline charge.
Zumo, an Edinburgh based digital-asset-as-a-service platform, enables financial institutions to launch digital asset propositions engineered with a focus on compliance and sustainability.
In 2021 Zumo took a lead in the industry response to tackle the challenges around decarbonising digital assets. First it ran a pilot project to buy renewable energy certificates (RECs) to compensate for the electricity usage of bitcoin bought via a direct-to-consumer crypto app, which is powered by Zumo's infrastructure. It also provided its expertise to the World Economic Forum Crypto Sustainability Coalition, and earlier this year launched Oxygen, a provable and scalable digital asset decarbonisation solution that helps asset managers launch ESG-aligned spot bitcoin ETFs, and banks and other financial institutions to account for the carbon footprint of their digital assets activities.
Commenting on Zumo's role in tackling climate change, CEO Nick Jones, said: "Zumo's ambition is to be the one-stop shop for tokenised ESG assets. We're harnessing blockchain as a 'digital enabler' to help tackle climate change and support the energy transition to a more sustainable infrastructure. Being able to accurately measure and mitigate the carbon footprint of digital assets and report on it is a great first step, and Zumo will continue to develop innovative solutions that help to drive the regenerative finance (ReFi) movement."
Homes in the UK rank amongst the worst in Europe for energy efficiency and over a fifth of the UK's emissions come from residential properties. In Scotland alone, just under half of houses (47 per cent) have EPC ratings worse than C which is unsustainable both environmentally and financially – as leakier homes mean higher energy bills at a time when we're already facing a cost-of-living crisis.
Co-founded by Robin Peters, Paul Kettlety, and Mike Teall, Snugg is described as an online platform that makes home energy efficiency simple and affordable. The company secured their first round of seed funding in July 2022 and by October in the same year had already won the Scottish Financial Technology Rising Star Award.
CEO Robin Peters said: "Our online platform helps homeowners to identify the current energy efficiency status of their property and creates personalised recommendations for improvement. This includes actionable advice such as suggestions for trusted local installers or funding and grants that may be applicable.
"By making it simple and affordable for everyone to have an energy efficient home, we hope to accelerate the UK's transition to net zero, while lowering homeowners' energy bills, and increasing the value of their property."
Trade in Space use geospatial analysis to provide data driven insights to food producers in a range of areas including deforestation, land use change, crop mapping, carbon, pests and disease and climate resilience. Their work supports agricultural supply chains to be more sustainable and transparent, by using earth observation and blockchain services.
They are most active in the coffee and cacao sector, where their tools are used to help operators record data relating to the originating farm, track and trace their products through the supply chain, and determine if they comply with deforestation free commitments. Their services have also been used to secure and monitor substantial green investments.
Founder and director, Robin Sampson commented: "Space technology plays a really important role in the way we manage and monitor the climate crisis. The data we obtain from satellite remote-sensing informs how we manage food production and monitor environmental change.
"Space can help the fintech community with informed decision making, investment monitoring and will help ensure a future of green finance."
These are just a few of the companies leading the way. A recent report from the Edinburgh Climate Change Institute estimated that there are around 600 companies registered or headquartered in Scotland who are using technology to tackle climate change. Whilst individuals can and will deliver climate impact, bringing these organisations together to work in collaboration should underpin Scotland's commitment to respond effectively to the challenges of climate change.
Delegates can join Zumo, Snugg and Trade in Space along with a host of other organisations from a range of sectors at the upcoming FinTech-Tables conference on "Tackling our climate crisis through innovation and collaboration" on the 3rd October at the University of Glasgow.
Full event details and free registration are available here.