Scots housebuilder Springfield hit by 'reduced homebuyer confidence': dividend axed
Springfield Properties, Scotland's only listed housebuilder, saw its shares hit after announcing plans to suspend dividend payments and despite the firm taking "decisive" cost-cutting measures in the face of a challenging housing market and rising debt.
In an unusually timed lunchtime results statement, the group warned of "significantly lower levels" of new reservations in private housing due to demand being impacted by "continued high interest rates, mortgage affordability and reduced homebuyer confidence". Management does not expect the situation to materially improve before next spring. It pointed to a significant impact from build cost inflation, particularly on fixed-price contracts in affordable housing, affecting margins across the group.
While it has completed delivery of its first contract for private rented sector (PRS) housing, Springfield said plans for further PRS projects had been withdrawn following the Scottish Government's introduction of rent controls. "Decisive action" taken across the business to address the tough market conditions has resulted in annualised cost savings of £4 million, which are forecast to benefit the group in the new financial year.
The board has adopted a strategy focusing on "maximising cash generation" in order to reduce group debt. It will "carefully manage working capital" and curtail speculative private housing development by only commencing building homes when they are reserved. Shareholder dividend payments are being halted until the bank debt is "materially" reduced.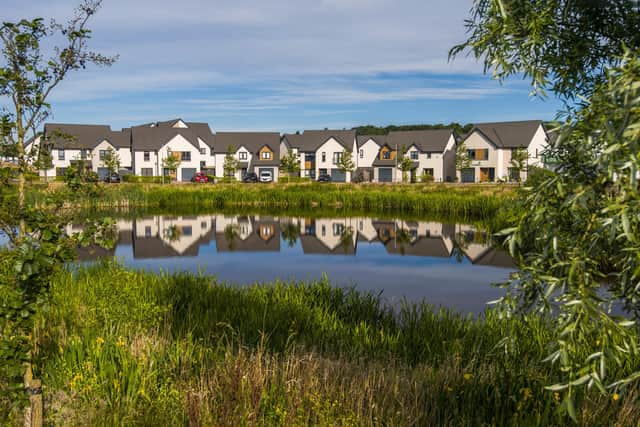 Chief executive Innes Smith said the fundamentals of the business and the firm's position within the Scottish housing market "remain strong". He added: "With Scotland one of the few places across the UK where it is still cheaper to buy than rent a home privately, affordability for home buyers is favourable. Plus, with house prices across Scottish regions holding strong, the market here has proven to be far more resilient than elsewhere.
"We are pleased to see mortgage rates begin to normalise for our customers and look forward to experiencing re-energised customer demand when buyers seize this good time to buy. We will build homes as they are reserved to react to levels of demand."
The results for the year to the end of May 2023 showed that overall revenue was up 29 per cent to £332.1m, with strong growth in private housing reflecting the twin acquisitions of Tulloch Homes and Mactaggart & Mickel Homes. Affordable housing revenue fell by 16 per cent, however, and group profit before tax was down 22 per cent at £15.3m. The company finished the year with net debt of £67.7m, up from £38.1m previously.
It highlighted the strength of its potential housing pipeline with a total owned land bank of 6,712 plots, 83 per cent with planning permission, and strategic options over a further 3,255 acres, equating to some 33,000 plots.
Springfield told investors: "The group is actively seeking land sales, on favourable terms, in order to accelerate the realisation of cash from the group's large land bank - with the target of selling 800-1,000 plots within two years. The group will also take action to further reduce its cost base where necessary and has paused the payment of dividends until debt has been materially reduced."
Shares were down about 10 per cent in afternoon trade.
Comments
 0 comments
Want to join the conversation? Please or to comment on this article.