Scots firms should embrace AI and its range of benefits, with uptake and usage currently low, says recruiter Hays
Businesses in Scotland are being encouraged to embrace artificial intelligence (AI) with open arms, amid low uptake and usage and benefits including high potential cost savings and improved productivity, according to a new report.
Recruitment firm Hays, whose Scottish office network encompasses Edinburgh, Glasgow, Dundee and Aberdeen, has found however that 57 per cent of employers and 56 per cent of workers north of the Border believe AI in the workplace will bring positive impacts, and should be embraced rather than feared.
The research, which received more than 8,800 responses from professionals and employers across the UK, including almost 450 in Scotland, also showed that just over a third of employers are undecided on whether AI is positive, whilst only 9 per cent think it should be feared.
Hays added that only one in five employers reports currently using AI tools, but usage is higher across a number of professions including marketing, where more than a third of professionals say they have used such an option in their current role, with AI usage also high in technology, architecture and sales, at 30 per cent, 23 per cent, and 17 per cent respectively.
Keith Mason, Hays Scotland director, said: "It's clear from our research that the attitude towards using AI within the workplace is largely positive. However, uptake and usage remain low, whilst employers across all sectors get to grips with how AI could benefit their organisations. Currently, only 34 per cent of employers say they're investing in staff training to upskill in AI tools and technologies. Out of these, just over a quarter are using tools such as ChatGPT."
The research from Hays also showed that fewer than one in five workers report having already used an AI tool such as ChatGPT in their current role, but increased to 37 per cent for professionals aged 20 to 29.
Mr Mason added: "The main benefits to an organisation in using AI are cost savings, process efficiencies and improved productivity. But it's really important that AI is integrated in a balanced way, where job transformation is the main objective – not the replacement of human workers."
Pace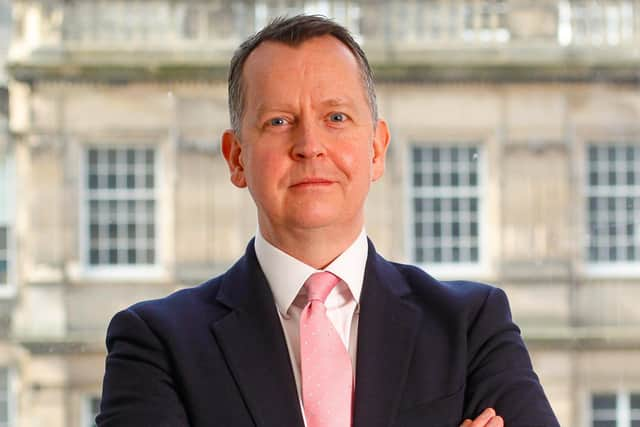 Hays also said it is seeing recruitment in AI growing in Scotland, but there are concerns about how it can be regulated and used essentially for good. Mr Mason continued: "What's concerning is the speed at which AI technology is progressing, yet over half of employers say they don't have the right skills within their workforce to make the best use of AI. It's a huge opportunity for professionals to upskill in getting to know how AI could affect their profession, and how they can utilise AI tools to advance their careers.
"The research clearly shows that embracing AI and providing appropriate training will not only bridge the digital skills gap, but also position businesses as innovative and desirable in the evolving job market."
Separately, 54 per cent of Britain's employers expect AI technologies to have a positive impact on their headcount over the next two years, according to a survey by Experis, a specialist in IT hiring and part of global recruitment giant ManpowerGroup. It also found that more than two thirds expect AI tools and technologies – including ChatGPT, machine learning and virtual reality – to have a positive impact on upskilling and reskilling.
Comments
 0 comments
Want to join the conversation? Please or to comment on this article.