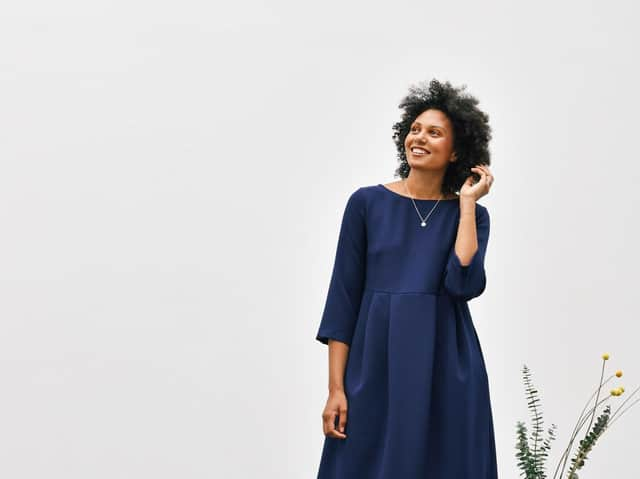 Homer + Howells offers digital, downloadable patterns to empower at-home sewers. Picture: Contributed
Nicola Homer, previously a Topshop garment technologist, and Susan Howells, a former pattern cutter for the likes of Christopher Kane, have established pattern design company Homer + Howells.
The Glasgow company, which has received a loan from Transmit Startups, has unveiled its first collection of designs, complete with digital, downloadable patterns.
Homer + Howells aims to empower home sewers with "the tools and skills to dress themselves in sustainable modern clothing" and create their own capsule wardrobe.
Nicola Homer (left) and Susan Howells have launched a business offering sewing patterns for the modern woman. Picture: Contributed
Howells said: "Consumers are increasingly interested in knowing where and how their clothes are made as well as the ethical and environmental impact of manufacture. The obvious alternative to fast fashion is to make your own clothes."
The idea for Homer + Howells was born when the pair relocated back to the west of Scotland – Nicola to Glasgow and Susan to Helensburgh – and began exploring ways of collaborating and creating a business that could flex around their young families.
Homer said: "Our easy-to-follow instructions enable customers to sew designer-quality clothes using their home sewing machine. Our collection of patterns represents a modern woman's wardrobe: wearable, functional styles that have longevity.
"We love clean lines, contemporary cuts and flattering silhouettes. And of course, our patterns are size inclusive, designed for real body shapes."
Business adviser Morag Kelly, of Transmit Startups which has provided financial backing to the firm, added: "It's been great working with Susan and Nicola who are so passionate about their business and about raising awareness around sustainable fashion.